"The Q Terra rocks our boat with its stylish design and a powerful set of software features"
As 2015 draws to a close, it'll soon be time for us to look back and reflect upon the noteworthy smartphones that made their way to us this year. But hang on – there are still a few more weeks to go before we ring in the new year, and it looks like there are a few more launches lying in store for us. We aren't talking about just run-of-the-mill devices, some of the expected new smartphones look very compelling indeed. One of them is the Q Terra, which will mark the debut of Chinese brand Qiku in India. The brand is going all out with its very first launch in the country, since the Q Terra looks like a truly loaded device – right from the specs to the design and features. We've got our paws on an early pre-sales unit, so without further ado, we're going to tell you why we think it's a very solid contender.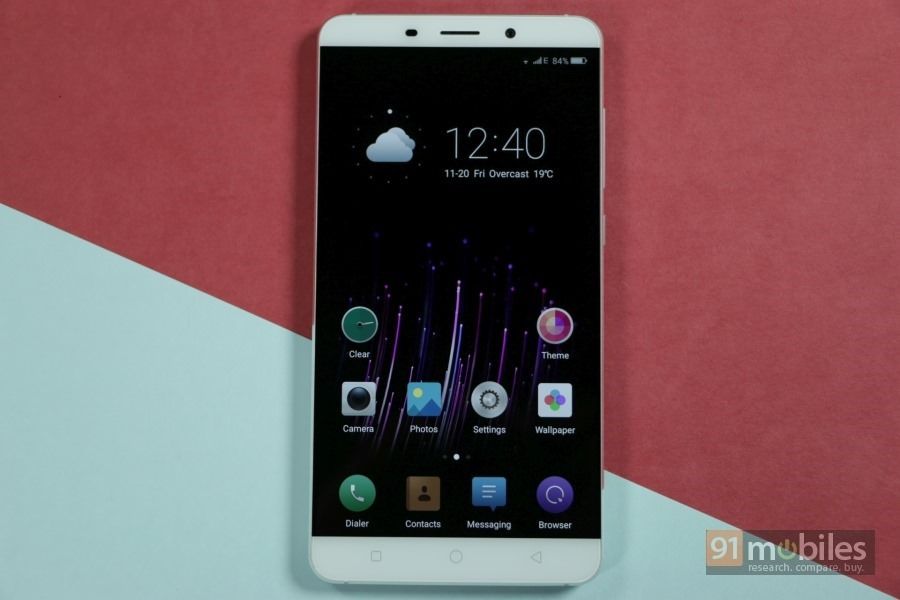 The Q Terra lands firmly into phablet territory with its 6-inch display, but the product designers deserve kudos for making sure that the device doesn't get too unwieldy in terms of handling. The almost non-existent side bezels and the svelte body are to thank for that. The dimensions are hardly bigger than most smartphones with 5.5 and 5.7-inch screens. Talking about that oh-so-sexy bod, the phone comes wrapped in an all-aluminium casing that features a matte finish, and is gently curved at the rear. The moment we laid your eyes on it for the first time and then got our hands on it, we knew it was a premium handset. It just exudes a lot of class. The chamfered edges add to the overall look, and so does the 2.5D curved glass on the screen.
Worth mentioning that the Q Terra comes in two variants, so we'll lay out the core specs for you. The Q Terra model we have with us offers a 6-inch, 2.5G curved display, which sports full HD resolution and is layered with Corning Gorilla Glass 3. The horsepower is provided by a hexa-core Snapdragon 808 processor, which is mated to 3 gigs of RAM. Our demo unit comes with 32GB of expandable storage, but the model that'd be launched in India will come with 16GB. The hybrid dual-SIM phablet supports 4G networks, as well as USB OTG. The camera department consists of a dual-camera setup at the rear, with two 13-meg sensors, and you can use the 8MP front snapper for selfies. A 3,600mAh battery that supports fast charging powers the show. There's a more premium variant of the Q Terra as well, dubbed the Terra Prime, and that bumps up the screen resolution to 2K, and comes powered by an octa-core Snapdragon 810 processor, working in tandem with 4GB of RAM and offering 64GB storage.
The fascia bears the screen, three capacitive navigation keys below (which are not backlit, unfortunately), and the usual earpiece, front camera, sensors and notification LED on top. That front-facing shooter has an 8MP sensor. The micro-USB port is at the bottom, flanked by the primary mic and the speaker grille on either side. The 3.5mm audio socket is at its usual spot on top.
The right spine is where you'll find the volume rocker and the power key, while the left holds two ejectable trays. The one on top accepts a micro-SIM, while the one below it can take either a nano-SIM or a microSD card.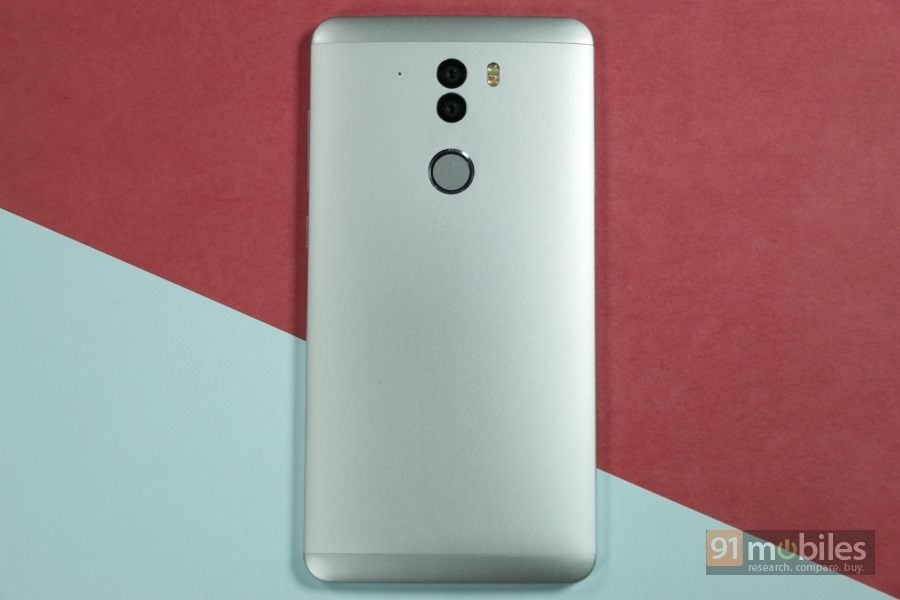 Switch to the rear and behold – the first thing you'd probably notice is not one but two camera lenses. As we mentioned earlier, the Q Terra boasts a dual-camera setup, with both sporting 13-megapixel sensors. One of them is an IMX278 colour sensor, while the other is a black and white IMX214 sensor. You'll also find a true-tone flash and a circular fingerprint scanner. There's no branding on our unit since it's a pre-sales unit.
A press of the power button awakens the device from slumber and that's when things get even more interesting. The 1080p, 6-inch display comes to live, and impresses us with its sharpness and vivid colours. While we'll touch upon the software features in a bit, there's an option to enable a glove mode if you need it.
You can also tweak the screen output, and enable a sunlight mode for better legibility in bright light. There's even an eye protection mode and a black and white mode, along with a user customisable mode that lets you set saturation, colour temperature and contrast the way you want.
The Q Terra runs 360 OS, which is an Android fork that utilises version 5.1.1 of Google's mobile platform. As with most ROMs from Chinese smartphone vendors, here's no dedicated app drawer, but you do get a mind-boggling array of features… even more than we've seen on other platforms. This would be an opportune time to make you familiar with some of the key ones, so here goes. We would like to point out that since ours isn't the final retail unit, some of the preloaded apps (and even a few menu items) are in Chinese. Some functions require setting up a Qiku cloud account as well. Therefore, some of the stuff you see in the screenshots, and possibly, even a few features could be different in the final build of the OS. Power users would appreciate the option to uninstall almost all apps that come preloaded on the phone.
At first glance, the UI is simple enough, with the usual icons, folders and widgets spread around on the homescreens. The notification shade displays an expandable list of quick settings on top, and the notifications listed below. An icon labelled 'Clear' lets you clear background apps with a single tap, but you can also do the same from within the recent apps view, which is presented in a card-based format. Tapping 'Clear' starts a very cool-looking animation that shows a bunch of small particles encircling the icon and then disappearing into it like a whirpool (or like water in a toilet bowl when flushed). Another icon tagged 'Wallpaper' changes the background with a tap, akin to the Rock Wallpaper app on Coolpad smartphones.
The Theme app lets you download and apply themes to change the look of the UI. There's another app called Freeze, that lets you freeze installed apps to prevent them from waking up in the background on their own, helping improve performance and battery life. While we've seen options to freeze apps in other ROMs, in most cases, the settings are hidden deep within settings or system manager apps. In the Q Terra's case however, freezing apps is a piece of cake. All you need to do is drag the icon of the app you want to freeze and drop it over the Freeze icon, and voila, you're done. To unfreeze, you can just open the Freeze app and tap on the icon of the app you want to, er, thaw. Again, you'd be rewarded with nice animations while freezing and unfreezing apps.
Dive into the device settings, and you'll find a plethora of other goodies. There are a bunch of battery saving modes, and apart from a screen-off power-saving mode and a more extreme Super Powersave mode (which is similar to the Ultra Power Saving mode we've seen in Samsung phones), you also get a GPU Powersave mode that optimises graphics processing to extend usage time. You can control app notifications, and there's a permissions manager along with an autorun manager as well. One of the coolest (ironically) options we've ever seen is called Heat Source, and this gives you the current CPU temperature and lets you set an alert in case the temperature crosses a preset level. Yet another interesting feature is called Anti addiction, and this can be set to alert you in case you use your Q Terra for long periods of time Other features include an anti-theft mode, and a private space for personal content. There doesn't seem to be an extensive support for gestures, but you can make use of a one-handed mode that shrinks the UI to either side of the screen. You can also use three fingers to swipe up or down the screen to capture screenshots, and double tap on the home button to put the device to sleep.
Registering your fingerprints for use with the biometric scanner is a simple process, and you can register up to five fingers. Apart from just unlocking the device, you can also use the fingerprint scanner to shoot pics, answer calls and launch apps. Fingerprint-based authentication can also be set up to protect installed apps, so the marked apps can't be accessed without verifying your identity. In our usage, the fingerprint scanner worked in a jiffy and seemed quite accurate too.
Coming to the cameras, both 13MP sensors at the rear shoot together and combine the images to produce a single image. The company claims that the secondary black and white sensor helps add more detail and sharpness to the images, and sure enough, some of the preliminary results we've seen show a lot of promise. The camera app interface looks loaded with features, in keeping with the rest of the UI. It even throws up an alert if one of the dual lenses at the back get obscured whilst you're shooting. The available modes include Auto HDR, beauty, and night.
There's an SLR mode for bokeh, and a Pro mode that lets you change almost every conceivable setting that might affect the captured image, including white balance, ISO, exposure, focus, saturation and contrast. A few more modes are tucked away under an overflow menu on the corner, offering options like long exposure, panorama, watermark, GIF and refocus. A range of colour filters are available too.
Thanks to the powerful hardware specs, our experience with the Q Terra has been pretty smooth so far, and we haven't encountered any lags or freezes yet. We'd need to wait for the final retail unit before we can put it through a proper review to gauge camera quality, battery life and real-life usage, as it'd be unfair to do so using an early unit running a test build of the platform.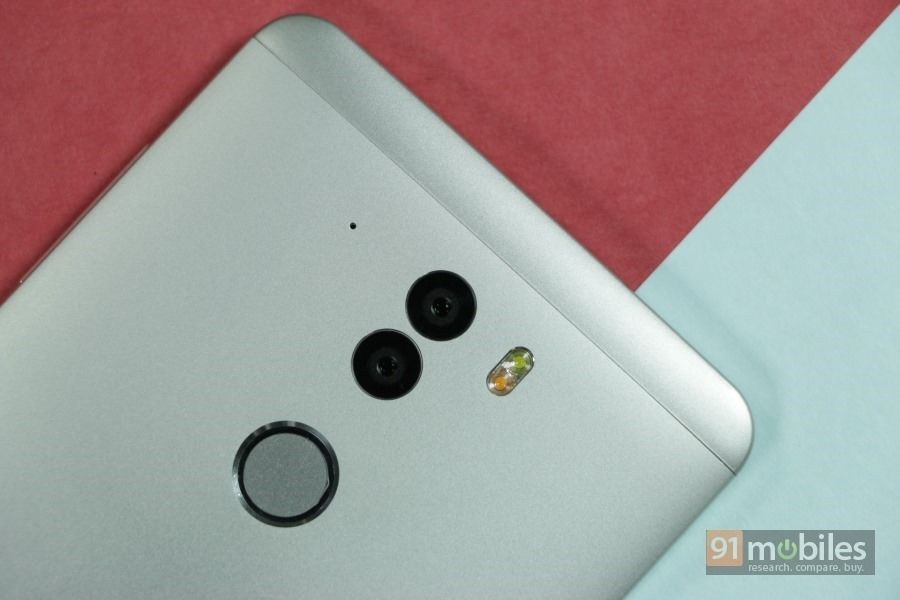 While most new smartphone brands like to test waters by launching budget devices first, Qiku is making a bold move by debuting with a premium handset. As of now, we aren't sure of the exact pricing or even the exact launch date. We do know that the Q Terra can be expected to land in India later this month or early December, while the more premium Terra Prime would be launched later in January 2016. We've spent some quality time with it and can say for sure that it looks like loaded contender indeed. The specs are good, but the design is one of the key highlights. Those dual cameras also hold a lot of promise. If you were to ask us though, the real star of the show could be the software platform, offering features that should appeal to power users. If Qiku can price it sensibly, the Q Terra could offer some serious competition to existing options. We're pegging it around the Rs 25,000 mark, give or take a few, which means the likes of OnePlus 2 (review) and Honor 7 (first impressions | camera review) have a very good reason to sweat bullets.
Photos by Raj Rout