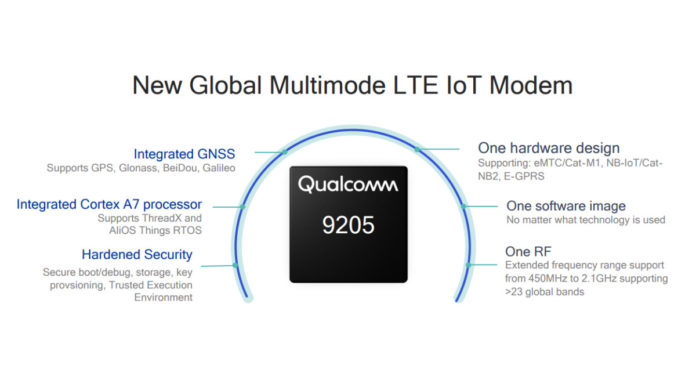 "The Qualcomm 9205 LTE modem claims to improve wide area connectivity, while significantly cutting down on overall power consumption."
Qualcomm has unveiled the next generation modem built for specific use cases in the realms of the Internet of Things (IoT) and wearable devices. The new Qualcomm 9205 LTE modem is claimed to improve wide area connectivity while significantly cutting down on power consumption. These two features will be absolutely crucial going forward as the advent of 5G networks is expected to significantly increase the outreach and presence of IoT devices — everyday appliances that will rely on constant connectivity and always-on circuits to interact and automate tasks.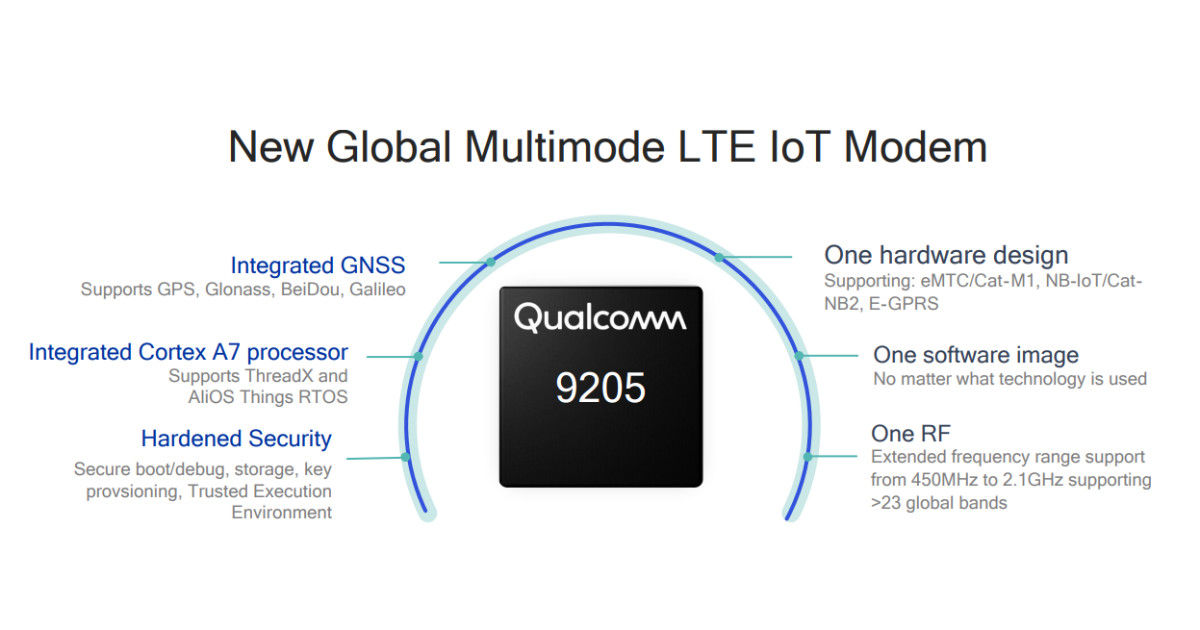 The Qualcomm 9205 LTE modem brings in a single chipset all the necessary infrastructure for building cellular enabled IoT appliances. As such, the Qualcomm 9205 chipset includes support for global, multi-mode, low power wide area (LPWA) connectivity standards like LTE-M1 and LTE-NB2. It also includes 2G/E-GPRS connectivity for those areas where LTE IoT technology has not been deployed so far. This will allow the modem to find maximum implementation in a wide range of IoT and internet-enabled gadgets such as wearable devices, while keeping maximum network compatibility.
Vieri Vanghi, vice president of product management at Qualcomm Europe, said in a statement, "The innovations included in the Qualcomm 9205 LTE modem are critical to support many of the 6 billion IoT devices expected to use low-power, wide-area connectivity by 2026. LTE IoT technologies are the foundation of how 5G will help connect the massive IoT, and we are making these technologies available to customers worldwide to help them build innovative solutions that can help transform industries and improve people's lives."

The Qualcomm 9205 LTE modem's design allows it to consume up to 70 percent less energy when in idle mode, which will significantly cut down on overall power consumption. It has also been designed to be 50 percent smaller in size over its predecessor, the Qualcomm 9206, and on an overall note, is more cost effective too. This will further maximise its scope of implementation in IoT devices, which would ideally need the aforementioned LPWA architecture to work. It is powered by the ARM Cortex A7 cores clocked at up to 800MHz, with support for ThreadX and AliOS Things real-time.
The 9205 LTE modem further includes a radio frequency transceiver that supports frequency spectrum across 23 bands — from 450MHz to 2.1GHz, and also includes an RF front-end as well. Other features of the modem include system-level ultra low voltage cut-off for adaptive battery usage, and a robust global positioning mechanism for GNSS, include GPS, GLONASS, Beidou and Galileo. In a move that many manufacturers and developers would also appreciate, the 9205 modem will be compatible with older generations of LTE software.
Modules based on the new Qualcomm 9205 LTE modem should be seen available in the market for commercial usage, beginning early 2019.