"The Snapdragon 735 is tipped to come with optional 5G modem compatibility, raising speculations of mid-range, mainstream 5G smartphones"
Right on the heels of Qualcomm introducing the premium Snapdragon 730 in its processor lineup, an alleged specifications sheet of the upcoming Snapdragon 735 has been leaked on the internet. The leaked details about the future processor do not reveal any particular surprises, and is in line with what is expected of Qualcomm's mid-range, premium processors. However, it does show the chipset has optional support for 5G modems, suggesting it could play a crucial role in bringing the next-gen 5G connectivity to mid-range handsets.
According to a report by a website called Suggest Phone, the Snapdragon 735 will be built using the 7nm fabrication process and is an octa-core unit similar to the top drawer Snapdragon 855. However, unlike the 2+2+4 configuration offered by the Snapdragon 855, the upcoming premium processor is slated to offer a 1+1+6 octa-core layout, featuring customised Kryo 4xx-series cores. Clock speeds are reported to be pegged at 2.9GHz, 2.4GHz and 1..8GHz, with six of the cores slated to be running at the low steam speed of 1.8GHz. Given the 7nm architecture and this configuration, the Snapdragon 735 should be fairly power efficient.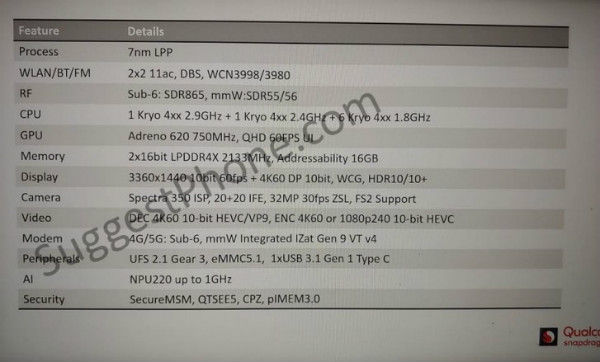 Taking care of the graphics duties is the Adreno 620 GPU, along with compatibility and support for up to 16GB LPDDR4X memory, giving it fairly serious performance potential. What's more notable is that the processor comes with 5G connectivity, and is compatible with both sub-6GHz and millimeter-wave 5G spectra. This essentially means that the Snapdragon 735, when launched, may be used in mid-range or premium smartphones as a cost-effective but high performance chipset, giving it an interesting edge and very close positioning to the Snapdragon 855 flagship SoC.
Other features of the alleged processor are in line with what you would expect. These include support for HDR10 displays, along with the Spectra 350 ISP, which can support up to a 20MP dual camera or a 32MP single camera unit. The Snapdragon 735 is also slated to feature a separate neural processing unit, giving it ancillary power for artificial intelligence tasks. This is particularly beneficial, seeing that more smartphones of late are applying AI features to enhance the overall performance.
It is not yet clear as to when might the Snapdragon 735 be released. Snapdragon 730 was launched only recently and is said to offer a solid performance package along with cost and power benefits. Qualcomm may be looking at a fine balance of features, performance, power efficiency and price to plug the Snapdragon 735 into, but given the minute differences of perceivable performance, it remains to be seen if the Snapdragon 735 manages to eat into the Snapdragon 855's market potential, or vice versa.