The latest and greatest from Qualcomm is an iterative upgrade to the SD835, but focusses on next-gen technologies such as artificial intelligence and eXtended Reality
Leading chipmaker Qualcommhas completed a decadewith its Snapdragon processors and its clear that both the brand and the devices being powered by its SoCshave come a long way. Aiming to take that to the next level, thecompanyannounced its latest and greatest SD845 yesterday at the ongoing Qualcomm Snapdragon Tech Summit. And today, it has given us details on the features and specs pertaining to its new flagship SoC. In a nutshell, the latest processor comes across as an iterative upgrade to the existing Snapdragon 835 SoC in terms of performance, but goes big on up-and-coming technologies like AI, eXtended Reality (combination of AR, VR and MR) as well as bringing better imaging capabilities. Contrary to rumours suggesting thatQualcomm's new chip will be utilising the 7nm fabrication process,the SD845 remains a 10nm FinFET chip (albeit utilising the second-gen LPP fabrication) and has an octa-core configuration.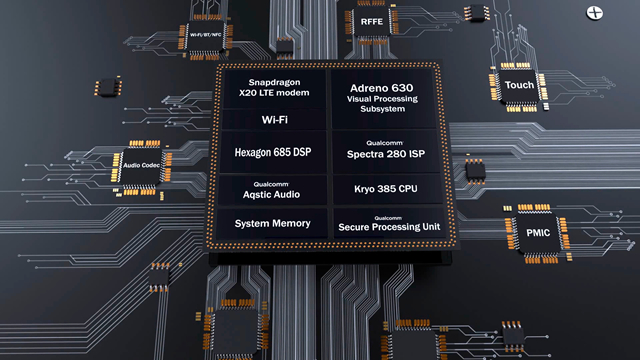 Like its predecessor,the Snapdragon 845 uses semi-custom Kryo architecture, with four cores handling powerful tasks, and the remaining power-efficient cores taking care of regular day-to-day duties. The four powerful 2.8GHz cores in the Kryo 385 CPU offer 25 to 30 percent better performance than the Kryo 280 embedded in the Snapdragon 835, as per the company. The other four cores tuned at 1.8GHz are also claimed to be 15 percent more powerful. These improvements come with the use of high-end ARM Cortex-A75 and Cortex-A55 processor designs, successors to the Cortex-A73 and A53 powering the SD835. Overall, the new chip will be 30 percent power efficient in comparison to its predecessor.
The graphics department also gets a boost with the new Adreno 630 GPU, which offers immersive experiences to offer visual processing. It promises 30 percent improved performance and power efficiency along with up to 2.5 timeshigher display throughput.
The Spectra 280 ISP aims to take smartphone photography to the next level. As per the company, SD845-powered phones will score more than 100 on DxOMark, and will also get improvements in terms of video recording. The new ISP supports Premium 4K capture at 120fps along with support for up to 480fps slow-mo recording at 720p.
Withmost tech giants taking an AI-first approach, Qualcomm is also bringing on-device Machine Learning capabilitiesto the SD845. Its the companys third-gen chipset to focus on AI, with the first one being the Snapdragon 820. Qualcomm claims that the latest processor offers three times improved AI performance versus the Snapdragon 835. Itll also support various AI frameworks such as Googles Tensor Flow and Facebooks Caffe 2. AI will also enable video style transfer, deep portrait (software-based bokeh from a single camera) and authentication via Face Unlock.
The latest chipset from Qualcomm also puts emphasis on security with a dedicated Secure processing unit, which comes with its own processor, memory, and random number generator. On the connectivity front, the Snapdragon 845 supports dual-SIM dual-VoLTE compatibility. It also supports Gigabit LTE with Qualcomms X20 Modem, and support for the latest Wi-Fi 802.11 ad. It alsofeaturesproprietary TrueWireless technology which enhances Bluetooth 5 capabilities for connecting simultaneously to multiple devices and up to 50 percent lower battery consumption.
All said and done, we can't wait forSD845-powered flagships to land, which promisepowerful performance, AI capabilities and immersive experiences among other things. Xiaomi has already confirmed that the upcoming Mi 7 will be utilising the Snapdragon 845 SoC, though it remains to be seen if that device will land in India or not. Even if it doesn't, we're expecting biggies like Samsung, LG, Sony, Google and even OnePlus to take advantage of what Snapdragon 845 has to offer.
Disclosure: this writer attended the Qualcomm Snapdragon Tech summit on Qualcomm Indias invitation.