"Here's everything you need to know about the latest flagship chipset from Qualcomm, the SD845"
What do the Samsung Galaxy S8 duo, Note8, Google Pixel 2 siblings, OnePlus 5 / 5T, Xiaomi Mi Mix 2 and the most 2017 flagship smartphones have in common? Well, all of them are powered by Qualcomm's top-of-the-line chipset, the Snapdragon 835. And we can expect the trend to continue next year as well with Snapdragon 845 fuelling 2018's premium smartphones. Announced yesterday, the SD845 chipset might not seem to be drastically different from its predecessor in terms of specs, but there's more than meets the eye. And if you are wondering why we think so, then this post is for you. Do bear in mind that it might turn out to be jargon-heavy and slightly technical. Read on to find out what we learnt about the latest SoC from Qualcomm at the ongoing Snapdragon Tech Summit.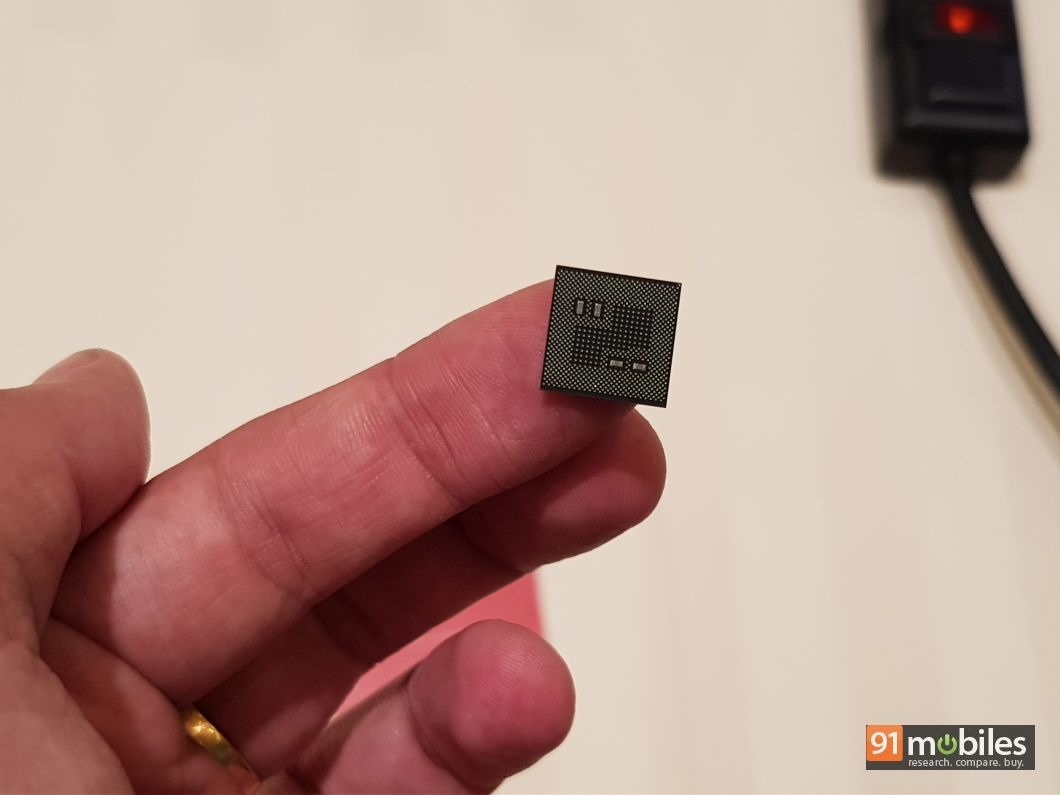 Superior immersive experiences
The Qualcomm Snapdragon 845 carries the tagline – 'New architectures for AI and Immersion', which suggests that the leading chipmaker is focussing heavily on offering immersive experiences through smartphones. With eXtended Reality, which combines augmented reality, virtual reality and mixed reality, users would be able to get an immersive experience which will make the virtual world seem more real. SD845-based devices will offer six degrees of freedom with SLAM (simultaneous localisation and mapping) in a room-scale environment, which will be supported for hand controllers too. It'll also have features such as wall-collision detection. The rendering will be smoother as well at 2K x 2K @ 120Hz.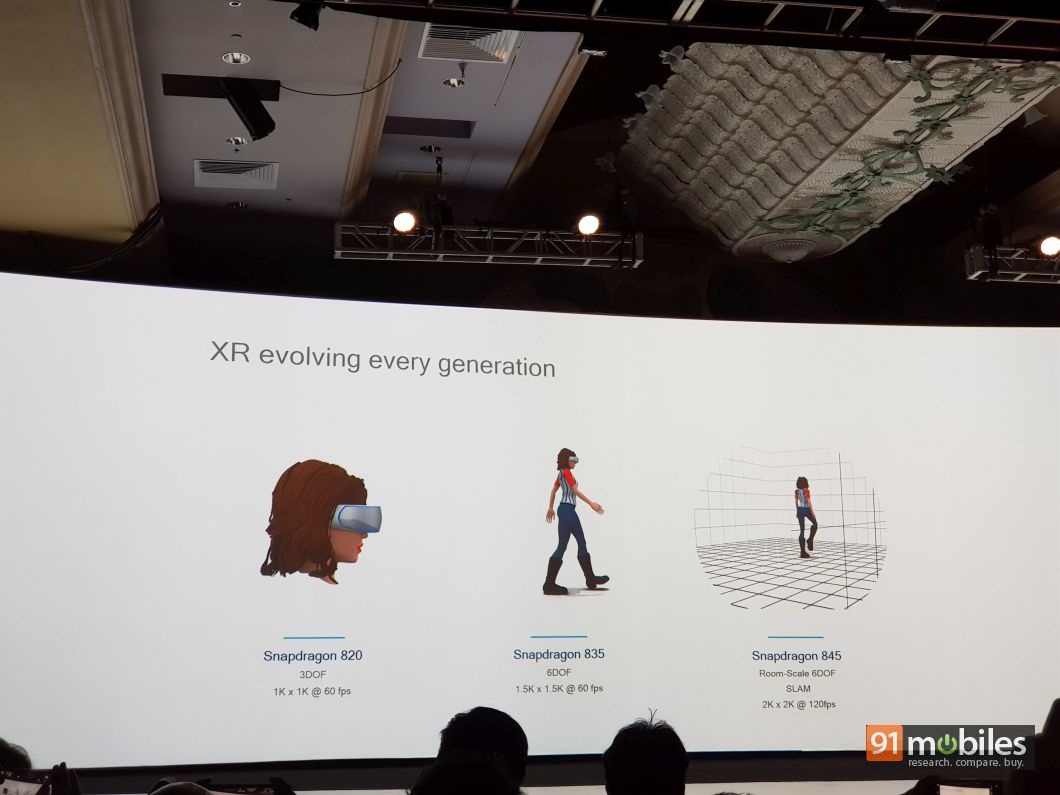 Furthermore, with tile-based Adreno foveation, the chipset ensures immersive visual experience which tracks your gaze to optimise what you're seeing.
Enhanced AI capabilities
Qualcomm started focussing on artificial intelligence last year with the Snapdragon 820, and the SD845 will mark its third offering that emphasises on AI. There won't be any aspect on the latest chipset which AI won't touch, be it photography or ensuring natural interaction with voice assistants. In fact, the processor will give developers the ability to choose which cores they want to utilise – Hexagon 685 DSP, Spectra 280 ISP, Adreno 630 GPU, or Kryo 285. All this will help the latest chipset to improve AI performance by up to three times.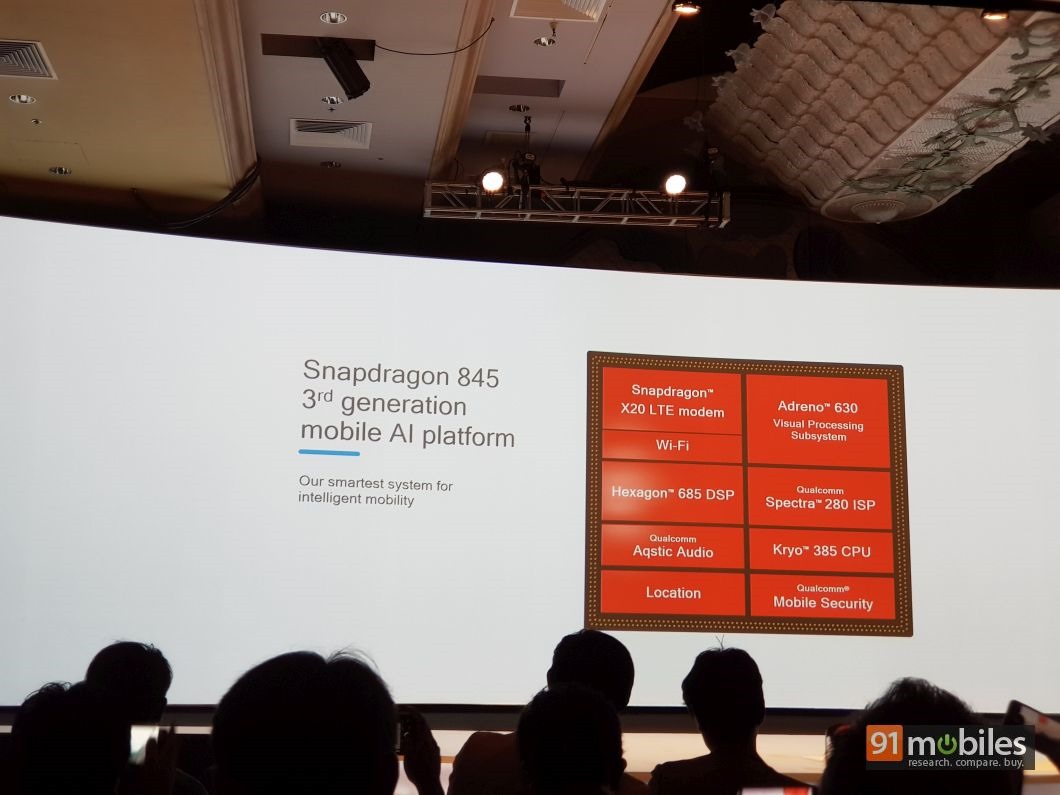 Thanks to its open ecosystem strategy, the all-powerful SoC will support popular AI frameworks like Google's Tensorflow and Tensorflow Lite, Facebook's Caffe2, and newly-introduced ONNX (Open Neural Network Exchange) from Facebook and Microsoft.
Taking imaging to the next level
Qualcomm's VP of Product Management, Tim Leland claims that Snapdragon 845-equipped devices will score more than 100 on DxOMark, which has become the de facto benchmark to rank camera prowess. This will be possible by collecting more colour volume and capturing 64 times high-dynamic range colour info in comparison to its predecessor. The Spectra 280 ISP will be able to achieve that by moving from 8-bit colour to 10-bit colour, using a wider colour gamut of Rec2020 instead of Rec709 and increasing luminance. All this enables the smartphones to identify more colours, resulting in better images. Low-light capabilities also get a boost, and it also has the ability to capture multiple 16-megapixel stills at 60fps and combine them together in a bid to reduce noise. A new feature called ImMotion allows one to capture stills with certain parts of the frame that are moving.
The processor brings improvements in the video department as well, supporting Ultra HD Premium Video Capture at 60fps. While Sony still holds the title of the highest frame rates for slow-mo capture (at 960fps), the image signal processor in the SD845 offers the capability of recording them at 480fps at HD resolution. With Motion Compensated Temporal Filtering, the videos will have more details even in low light.
As mentioned above, AI capabilities will extend to other aspects, and that allows for depth sensing. It offers the ability to get excellent software-based bokeh effects with a single camera module. This capability will also allow handsets to use Face Unlock authentication mechanism.
Numerically, the devices using SD845 will be able to offer single 32MP cameras or dual 16MP sensors.
Fiber-like speeds on the go
Qualcomm introduced the X16 Modem with the Snapdragon 835 to offer Gigabit LTE speeds, and that gets even better with its successor. The X20 Modem supports speeds of up to 1.2Gbps with LTE category 18. It also supports the latest wireless standards such as Wi-Fi 802.11 ad, offering speeds of up to 4.6Gbps in the 60GHz spectrum.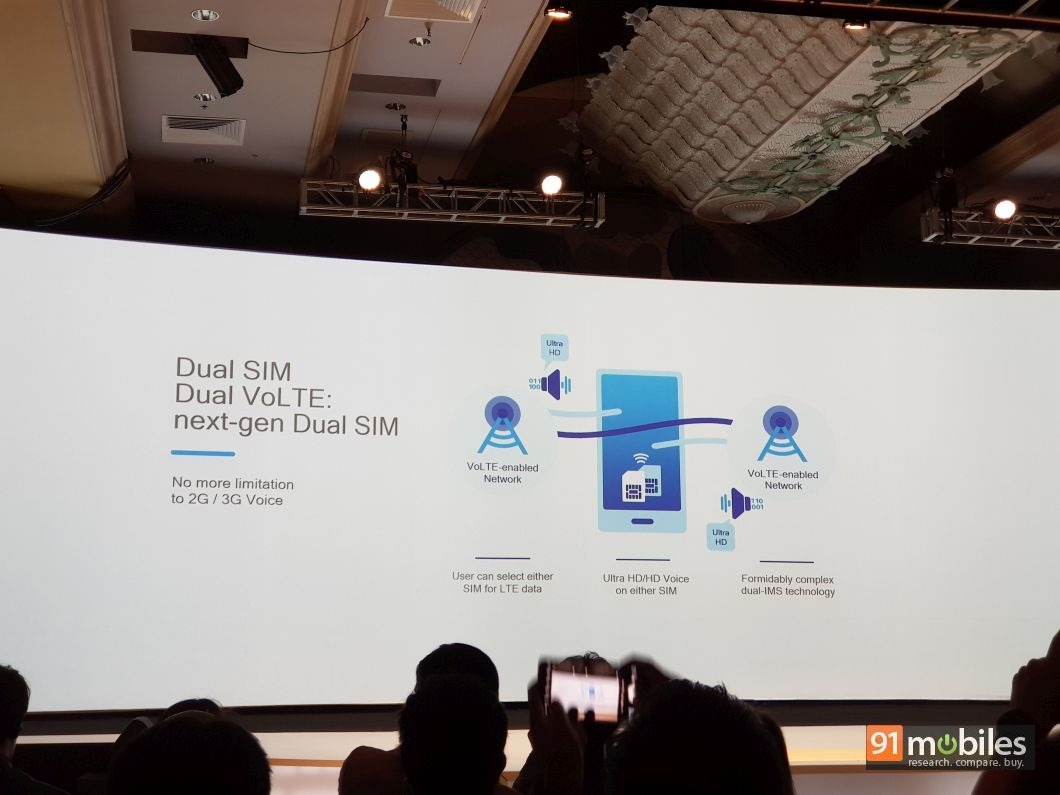 For dual-SIM markets like India, the phones powered by Snapdragon 845 will now be able to offer VoLTE capabilities on both the slots.
The company also improves upon the Bluetooth 5.0 with its proprietary TrueWireless technology that lets you to connect multiple speakers or headsets simultaneously. It also supports ultra-low power wireless earphones, promising to reduce power consumption by up to 50 percent.
Vault-like security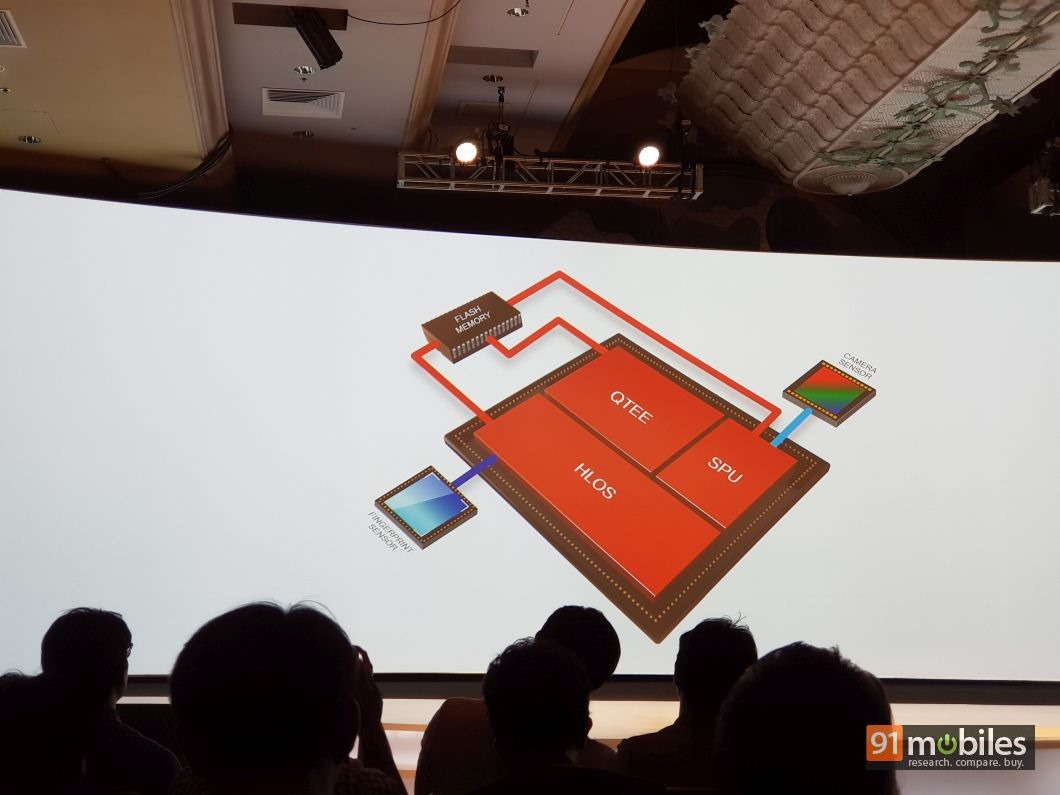 The Qualcomm Snapdragon 845 also gets a Secure Processing Unit, which is a separate core on the SoC that promises secure biometric authentication and data protection. The SPU not only comes with its own core, but separate power too, making it independent from the rest of the cores. It offers improved biometric security for any methods – fingerprint, face iris or voice, and also ensures secure payments. In the future, it'll also offer abilities like eSIM security.
Performance improvements
Qualcomm's Snapdragon 845 has also got a performance boost from the previous gen. Based on Samsung's second-gen 10nm LPP (Low Power Plus) process, it's an octa-core chipset utilising the big.LITTLE architecture. Similar to Snapdragon 835, the latest processor uses a semi-custom Kryo 285 processor with four powerful Cortex A-75 cores and four battery-efficient Cortex-A55 cores. The clock speed has also gotten a jump as the high-end cores are tuned at 2.8GHz offering performance uplift between 20 to 25 percent. Even though the LITTLE cores run at the same 1.8GHz, they promise performance improvements of up to 15 percent. Together they ensure 30 percent lesser power consumption.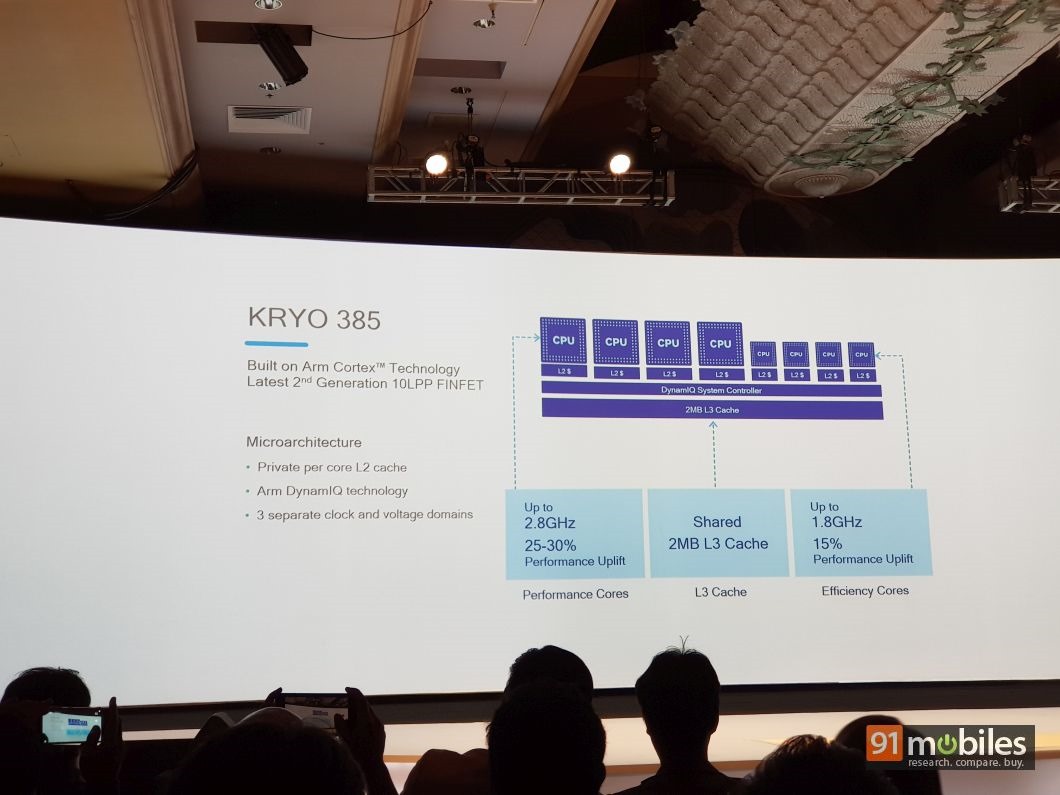 The Adreno 630 GPU ensures smoother gaming experience with 30 percent performance boost and power efficiency. It also offers 2.5 times faster display throughput. The latest SoC also includes a new 3MB system cache to transfer data between different cores faster, in addition to 2MB shared L3 cache for the processor.
Along with ensuring that smartphones powered by SD845 offer good battery life, the chipset also comes with Quick Charge 4+, which promises up to 50 percent charge in just 15 minutes.
That's a lot to parse through, but it's clear that Snapdragon 845-powered devices will be bringing impressive capabilities – going beyond the usual use-cases. We won't have to wait long either as the processor should start appearing in devices in early 2018. Are you excited about the latest and greatest from Qualcomm? Let us know in the comments below.
Disclosure: this writer attended the Qualcomm Snapdragon Tech summit on Qualcomm India's invitation.