"The Snapdragon 865 SoC also promises powerful gaming capabilities and faster AI processing"
Qualcomm Snapdragon 865 has just gone official, and the brand has now revealed more details about its flagship chipset. Among the USPs is its support for 5G Modem-RF System that supports download speeds of up to 7.5Gbps and up to 2gigapixels per second speed for imaging.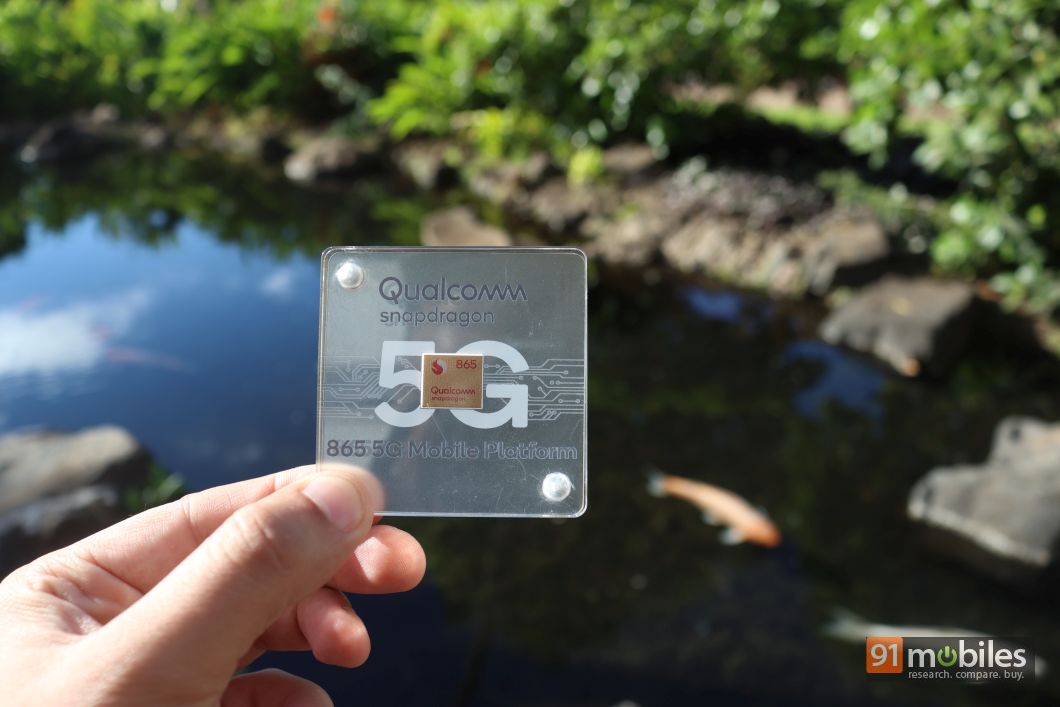 Starting with the architecture, the Snapdragon 865 is an iterative upgrade over the Snapdragon 855 SoC. Built with TSMC's 7nm fabrication process, it comes with Kryo 585 CPU and Adreno 650 GPU. The latest Kryo chip utilises the latest ARM Cortex-A77 cores with a prime core clocked at 2.84GHz, and three cores running at 2.4GHz. Then there are four power-efficient cores that hum at 1.8GHz and are based on ARM's Cortex-A55. Overall, this promises a 25 percent performance boost and power efficiency when compared to its predecessor. The graphics processor also has a performance uplift of up to 25 percent. The cores share a 4MB L3 cache along with having dedicated L2 cache on their own. The silicon also supports LPDDR5 RAM.
In the camera department, Qualcomm Snapdragon 865's Spectra 480 ISP can support camera resolution of up to 200-megapixels. It also claims to have an impressive processing speed of up to 2gigapixels per second. There are some significant improvements with regards to videography as well, including the ability to shoot 8k videos at 30fps. The devices powered by the SoC can also capture 64MP photos while taking a 4k video. There's no time limit on 960fps recording either and videos also support Dolby Vision standard.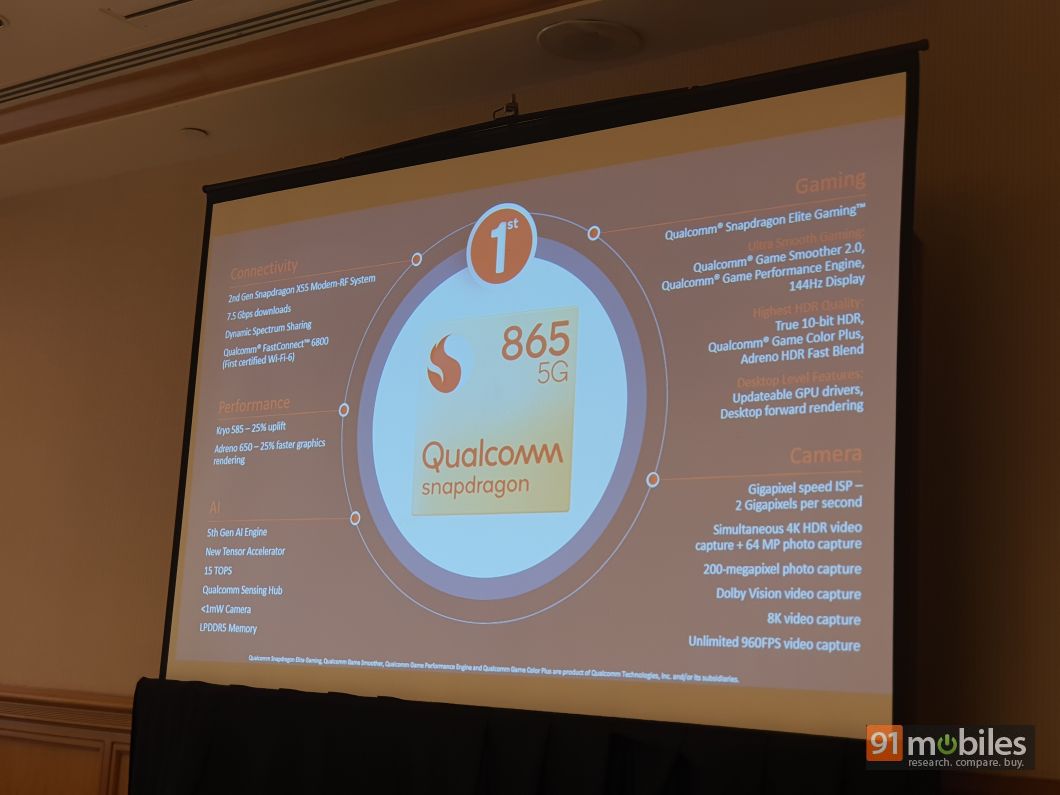 What's really interesting is that while Qualcomm has been among the biggest proponents of 5G, it hasn't opted for an integrated solution and instead, device manufacturers will have to use the 2nd-gen X55 modem to offer 5G. The modem supports dynamic spectrum sharing and download speeds of up to 7.5Gbps. The chipmaker is also making use of a dedicated FastConnect 6800 chip to offer support for Wi-Fi 6.
The Snapdragon 865 offers 5th-gen AI Engine which is said to offer twice the processing speed of Snapdragon 855 at 15 TOPS. There's also support for New Tensor Accelerator. With the new Sensing Hub, the chip is contextually aware of its surroundings while being power-efficient.
For gaming, the Snapdragon 865 comes with the Snapdragon Elite Gaming and supports displays with refresh rates of up to 144Hz. The company is also offering desktop-grade features with its latest offering with capabilities like updateable GPU drivers (can be downloaded directly from the Play Store when a new update arrives) and desktop-forward rendering. The chip also features 10-bit HDR that will make watching the compatible media quite immersive.
Qualcomm's Snapdragon 865 will be making its way to the market early next year, with brands like Xiaomi and OPPO already revealing their plans to launch flagships powered by the brand's latest and greatest.
Disclosure: this writer is attending Snapdragon Tech Summit in Maui, Hawaii on Qualcomm India's invitation