"Snapdragon 865 is expected to offer a performance increase of about 20 percent, while the GPU should offer an equivalent upgrade too"
Qualcomm is set to take the wraps off the Qualcomm Snapdragon 865 SoC, billed to be the flagship smartphone chipset for 2020, and successor to the Snapdragon 855 Plus. While the company is expected to unveil the latest generation processor in early December, a new leak on Weibo by a reliable Chinese tipster has suggested the possible specifications of the Snapdragon 865 SoC, and going by what Qualcomm has offered with its flagship chipsets of late, the leaked information looks fairly credible.
According to the leak, the Snapdragon 865 will maintain the 1+3+4 core cluster design, featuring four Cortex-A55 cores by ARM clocked at 1.8GHz to handle everyday, mundane tasks. The bulk of intensive tasks will be handled by the three larger cores, which now feature ARM's latest flagship, the Cortex-A77, clocked at 2.42GHz. At the tip of the structure is a single ARM Cortex-A77 core clocked at 2.84GHz, which will be used in the heaviest tasks to offer a performance boost during graphic-intensive games, and other resource intensive tasks.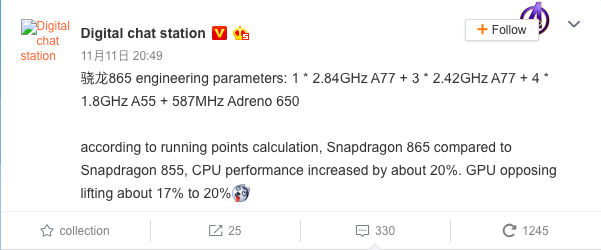 Speaking of graphics, the Snapdragon 865 is said to come with Adreno 650, the natural successor of the Adreno 640 GPU. While more details about the GPU are awaited, the overall configuration will reportedly present a 20 percent increase in overall performance, as well as 20 percent increase in graphics performance, over the Snapdragon 855+. The latter is Qualcomm's peak offering right now, and offers the same clock speed and core configuration as has been touted for the Snapdragon 865. On overall terms, it might be safe to expect the Snapdragon 865 to be more of an incremental upgrade.
It is important to note that the Snapdragon 865 SoC will feature 7nm EUV lithography fabricated cores, which should be fairly power efficient. It will most likely come with optional support for Qualcomm's next generation 5G modem, and reports indicate support for LPDDR5X RAM modules as well, giving phones faster memory standard to use.
It is important to note that Qualcomm typically sources its cores from ARM and subsequently configures them to its own requirement under the 'Kryo' core lineup, and while this has not been explicitly mentioned yet, the Snapdragon 865 should likely do so as well. More details should come by as the launch date for the SoC nears.