"According to industry expectations, the Snapdragon 865 platform will offer both integrated and non-integrated 5G solutions for better cost-effective solutions"
Despite being only a few months into the life cycle of the Qualcomm Snapdragon 855 platform, Qualcomm is at a seemingly advanced stage with its next generation platform, the Snapdragon 865. Codenamed Snapdragon 8250, the new processing platform from the world's leading mobile chipset manufacturer will presumably bring with itself a host of new features, upgrades and improvements. Moreover, given that it will power a major chunk of devices in 2020, 5G will play a big role in deciding what the new processor (and phones that it powers) will bring to the table. Now, according to recent reports, the Snapdragon 865 mobile platform may be officially made available in two variants.
Qualcomm Snapdragon "Kona55" Fusion sounds like SM8250 + external 5G modem. _Not_ internal. I thought they were gonna merge 5G into the main SoC with the next gen?

— Roland Quandt (@rquandt) May 3, 2019
According to Roland Quandt of WinFuture.de reports across the internet, the Qualcomm Snapdragon 865 may be made available in two variants – one with the standard platform and an optional Snapdragon X55 5G modem, and the other with integrated 5G solution. With the new generation connectivity standard set to become mainstream next year, offering an integrating flagship processing platform with the latest connectivity chip and antennae will be crucial, as this would allow smartphone manufacturers to free up the space that an additional modem would take up. In turn, this could be used to fit in any extra feature, such as an audio DAC, a larger battery or any additional module as OEMs deem fit.
However, 5G connectivity is unlikely to be rolled out worldwide even by 2020, and the initial plans would certainly be at a steeper pricing than the mobile plans that users are expected to. A mainstream 5G rollout is only expected to happen in a select few nations such as the US and South Korea, which have been early adopters of the technology. As a result, a two-variant strategy makes sense for Qualcomm, since this would allow them to even price their product better.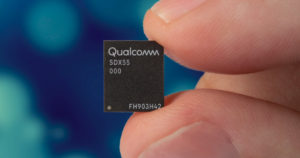 For instance, in a Korea-centric flagship smartphone, the integrated Snapdragon 865 platform can be used, hence making space for additional modules such as neural processing engines. However, for the India variant of the same device, the OEM may choose the second variant that comes with the optional 5G module, thereby providing some cost benefit to OEMs, which in turn would allow them to price their products better in a value-sensitive market such as India.
The information comes courtesy of early leaks, so the validation of these reports remain to be proven in the long run. However, it does make a lot of sense commercially, to produce a two-variant commercial availability of the processor. The next generation Snapdragon 5G platform is expected to present compliance with both sub-6.0GHz and millimetre-wave 5G connectivity, thereby bringing versatility to a smartphone's connectivity. It may also lay precedent for upcoming processors from other manufacturers to follow suit, all of which shall be revealed in days and months to come.