"The Qualcomm Snapdragon X55 second generation 5G modem brings multi-mode, dynamic spectrum sharing, for 7Gbps download and 3Gbps upload speeds."
Qualcomm has unveiled its second generation 5G modem for commercial deployment, the Snapdragon X55. The new modem replaces Qualcomm's first 5G modem, the Snapdragon X50, which was debuted alongside the Snapdragon 855 platform in late 2018. The X55 brings a bunch of notable improvements over its predecessor, and has been designed from the ground-up for global deployment of devices within the scope of a 5G-based internet ecosystem.
The Snapdragon X55 5G-enabled integrated chipset is fabricated in the 7nm process, and is a multi-mode modem that can seamlessly deploy network connectivity ranging from 2G, all the way to 5G. In terms of 5G network deployment, the Snapdragon X55 can operate in both the millimeter-wave (mmWave) and the sub-6.0GHz (sub-6) 5G network modes, achieving up to 7Gbps download and 3Gbps upload speeds — a significant upscale from before. It also envelops Cat.22 LTE connectivity speeds, bringing gigabit-class downloads of up to 2.5Gbps in both frequency division duplex (FDD) and time division duplex (TDD) modes.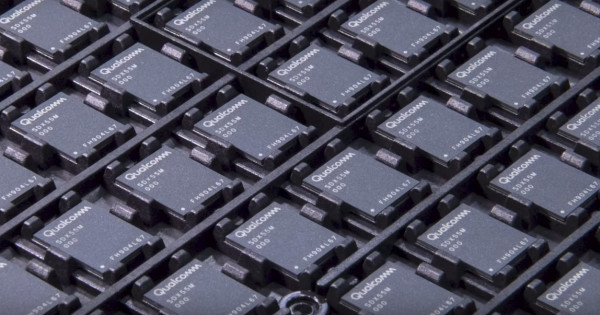 One key advantage of the Snapdragon X55 is its dynamic spectrum sharing, which allows operators to use existing 4G spectrum to dynamically improve network speeds and efficiencies, thereby easing the phased 5G infrastructure rollout and future-proofing devices. Essentially, devices equipped with the Snapdragon X55 modem will be able to seamlessly switch to 5G networks, once they are deployed across the world. The Snapdragon X55 is paired with the QTM525, Qualcomm's new 5G antenna module.
The QTM525 transceiver deploys the front-end for the mmWave 5G network mode, built using the 14nm process and also incorporating the front-end for the Category 22 LTE network. There is a separate transceiver for implementing the sub-6 radio frequency front-end, which further brings adaptive antenna tuning to increase efficiency of operation and power consumption, hence making it suited for future devices.
With 5G set to take over the connectivity-oriented world, the high efficiency, high speed, low power Snapdragon X55 setup will find implementation in devices such as smartphones, all-in-one PCs, enterprise servers, automobiles, and drive the whole Internet of Things (IoT) ecosystem forward. The Snapdragon X55 is presently under engineering sample testing with vendors, and is expected to roll out commercially from end-2019.