"Razer's new laptop offers three 17.3-inch displays"
Razer has announced an extraordinary product at this year's CES, called Project Valerie. It is a gaming laptop that features three 17.3-inch 4K IGZO displays, which are managed by NVIDIA's G-Sync monitor technology to offer the best multi-display experience. The hardware onboard is also capable of running games on an Oculus Rift or HTC Vive VR headset.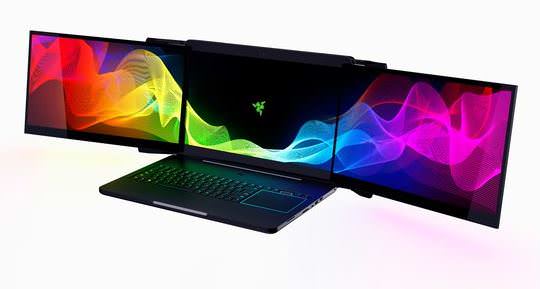 The notebook offers a NVIDIA GeForce GTX 1080 GPU, and supports NVIDIA's Surround Sound View technology. It comes with 32GB of RAM and a vapour-chamber cooling rig.
"Project Valerie is the second Razer notebook to utilize Razer's Ultra-Low-Profile Mechanical switches. Each switch features a true actuation and reset point. Key presses are registered with 65 grams of force, mimicking the feel of full-size mechanical keyboards. The keyboard, trackpad, extended monitors are also Powered by Razer Chroma, which unlocks a virtually endless array of dazzling lighting effects that can be customized by the user or synced to in-game events," said the company in blog post.
There's no word on the potential pricing and availability of the Razer Project Valerie gaming laptop, so don't expect it to hit the stores soon