"Realme 3 Pro and Realme XT will be among the first smartphones to get updated to Android 10"
Oppo launched ColorOS 7 in India on Tuesday, which brings Android 10 features like system-wide dark mode and enhanced privacy features. ColorOS 7 will not only be coming to Oppo smartphones but to Realme phones as well. Earlier this week, Realme released a roadmap for ColorOS 7 and it's scheduled to start from January 2020 with Realme 3 Pro and Realme XT being first in line to get the Android 10 update. Realme X2 Pro users, meanwhile, will have a chance to experience the beta version of ColorOS 7 based on Android 10 from December 18th onwards. Furthermore, the Realme XT users who have already participated in the ColorOS 6.7 program will also receive ColorOS 7 updates by November end.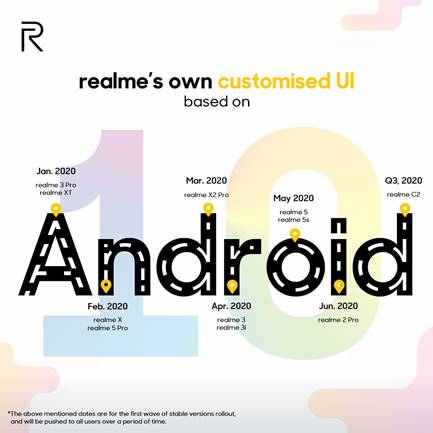 As mentioned above, ColorOS 7 update will reach Realme 3 Pro and Realme XT in January, followed by Realme X and Realme 5 Pro in February and Realme X2 Pro in March. The Realme 3 and Realme 3i will get the Android 10-based update in April, Realme 5 and Realme 5s in May, and Realme 2 Pro in June. The company will round off the update cycle with Realme C2 in Q3 2020.
Realme has already revealed that its version of ColorOS 7 will be different from Oppo's versions. The company is yet to detail what it means by that but it is widely expected to offer a near stock Android experience. As for its former parent company OPPO, the UI comes with a new custom skin – which is lighter, decluttered the unwanted UI elements, and tweaked the overall colours to make it easy on the eyes. The app icons are refined and now have a lighter visual look; the ColorOS 7 also brings the new OPPO Sans font. Lastly, there is a system-wide dark theme, along with the option to schedule to activate at a specific time.