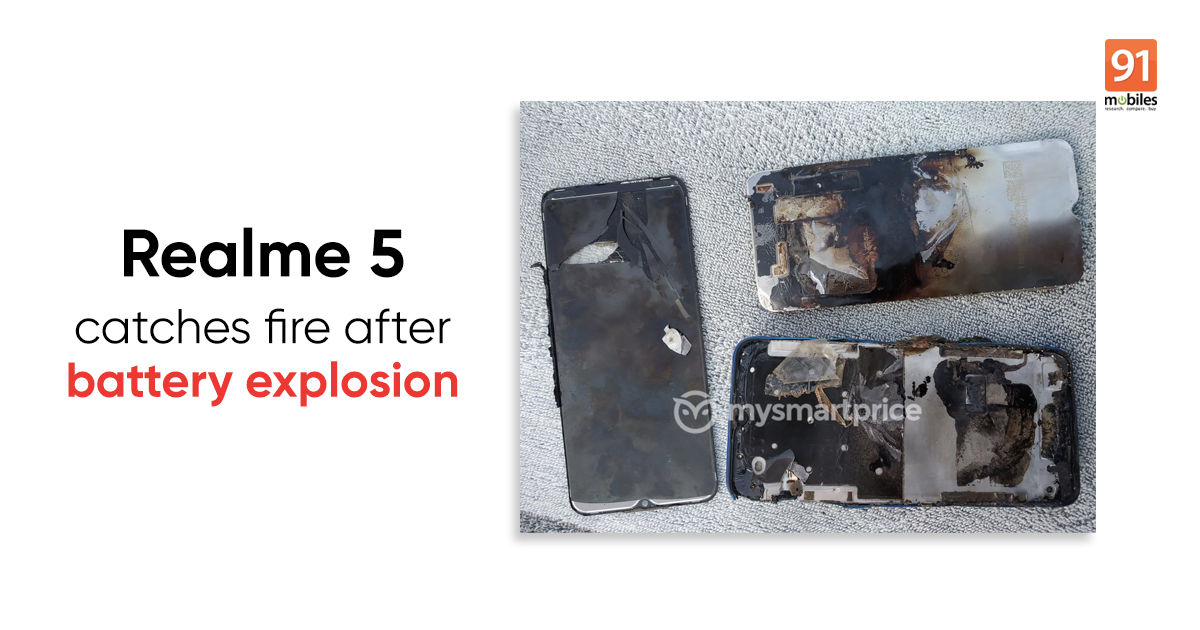 "The Realme 5 blast incident happened on March 17th, and the user duly took the matter to the company's service centre"
Update: Realme has provided a statement on the matter and it reads as follows. "The
user's phone battery caught fire, and we have analyzed the phone. The phone was badly deformed by external forces, and the battery was punctured, causing the battery to catch fire. From the user's point of view, we have offered him a discount, asking him to replace a new mobile phone with 50% of the cost of his paid mobile phone, but the user did not agree, so he complained to social media. Please note that we are now in further communication with users."
A
Realme 5
unit has exploded in the Bhiwani district of Haryana. According to a
MySmartPrice report
, the user, Amit Rathi, was riding his motorcycle when he noticed his Realme 5 unit in his pants pocket
"caught fire and burnt in no time."
Luckily, Amit escaped with minor burns in his body, but the phone was completely destroyed. It also burnt the man's trousers. Images of the burnt Realme 5 unit show the phone completely charred inside and out. The latest report comes a couple of weeks after the
Redmi Note 7 Pro blast incident in Gurgaon
.
The Realme 5 blast incident was narrated to MySmartPrice by Anil Rathi, a friend of Amit Rathi. As per him, the incident happened on March 17th, following which the user duly took the matter to a Realme service centre. The service centre initially decided to replace the unit free-of-cost, but then demanded 50 percent cost of the handset. "There is a recorded phone call wherein the alleged service centre representative is heard asking for 50 percent price of the device," added the report. Right after we reported the issue, the customer received a phone call from the company representatives and was assured a replacement after the lockdown period in India. The company is yet to provide an official statement on the same.
The reason behind the Realme 5 unit exploding is still unclear at the moment. Whether this was due to a faulty unit or an error from the user's side is currently unknown. We'll update the story as and when we learn more about the incident. Realme 5, to recall, is a budget smartphone, which was launched in India back in August, so the unit that exploded should have been under warranty still. The bill of the above-mentioned handset was shared, and it was registered in the name of Deepak Sangwan. This is the first such reported instance of a Realme phone catching on fire.
As for the Redmi Note 7 Pro that caught fire a few days ago, it happened due to the battery blast. The handset, to recall, started heating up in the user's pocket, and when he took it out of the pocket, smoke started coming out of the smartphone's body. He threw the smartphone towards his bag and within seconds the handset's battery blasted, setting the bag on fire. Xiaomi, which first tried to put the blame on the user, issued a free Redmi Note 7 Pro and Mi Business Casual Backpack to the victim. The smartphone is priced at Rs 9,999 while the bag costs Rs 999.