"The Realme 5 will have a 16MP primary rear sensor, while the Pro model will come with a 48MP camera at the rear"
Realme 5 and Realme 5 Pro will be among the company's next smartphones, which is hinted by the company's CEO Madhav Sheth who changed his name on Twitter to "Madhav '5' Quad." Soon after, there have been speculations that the series could be launched tomorrow at the brand's event in India, where it has confirmed to showcase its 64MP mobile camera technology. While it is being speculated that the Realme 5 series phones could come with 64MP main camera at the rear, our industry sources say these will not feature a 64MP primary camera module. However, they will indeed feature a quad camera setup on the back, according to our sources.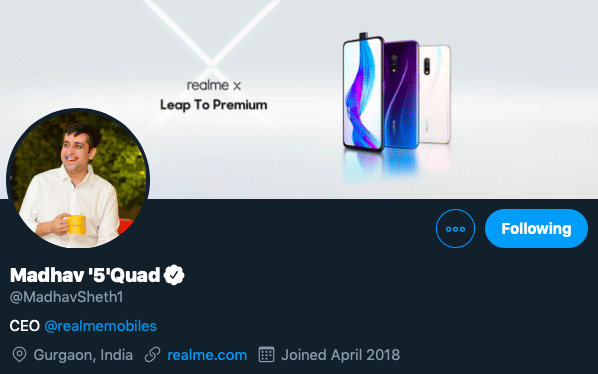 The primary Realme 5 camera will have 16MP resolution, while the Realme 5 Pro primary rear camera will have a 48MP sensor. The industry sources also mention that these handsets will not have a telephoto lens. Furthermore, we've learned that the Realme 5 Pro will an AMOLED screen panel. Both the devices will have a smaller U-shaped notch. Lastly, the handsets will be powered by Qualcomm processors.
Our sources haven't been able to confirm whether the Realme 5 and Realme 5 Pro will be unveiled at the India event tomorrow, though that is likely. The company is also hosting a similar event on August 15th in China, perhaps for a local unveiling. To recall, we had previously reported that Realme 5 series could debut in India before Diwali. There will be no Realme 4 series as the numeral '4' is considered unlucky in China. Sheth has also tweeted an image of three phones whose design is camouflaged by cases — only one of these has '64MP' etched on it. The other two don't have the resolution mentioned, so these are likely the Realme 5 and 5 Pro.
Get ready for the world's first hands-on experience of #64MP Quad Camera on a smartphone, tomorrow at the #realme camera innovation event. Stay Real, No Hype. #LeapToQuadCamera pic.twitter.com/TBEFd84OIV

— Madhav '5'Quad (@MadhavSheth1) August 7, 2019
As for tomorrow's event, Madhav Sheth has tweeted that he just got his hands on the brand's 64MP camera device. He mentioned that the company "doesn't believe in hype", so this product will be launched "very soon" as the "most practical choice at its price". He has not confirmed if this will be one of the Realme 5 series handset or not at the moment. We will find more at the event, so watch this space for more details.
The tweet from Sheth seems to be a jab at Xiaomi, which has just announced that it will be launching a 64MP camera phone soon in India with the Samsung Bright GW1 sensor. Notably, Realme will also be utilising the same sensor on its handset.