Highlights
Realme cumulatively shipped 50 million devices by the end of Q3 2020

Realme grew a whopping 132 per cent QoQ and 45 per cent YoY

The global smartphone market grew 32 per cent in Q3 2020
Since its inception, Realme shipped a total of 50 million devices by the end of Q3 2020, thereby becoming the fastest brand to achieve this feat. When brands like Apple, Huawei, Samsung, Xiaomi, and others have witnessed a YoY decline in Q3, Realme grew a whopping 132 per cent QoQ and 45 per cent YoY, according to research firm Counterpoint. The company has achieved this in times of a pandemic. The global smartphone market grew 32 per cent in Q3 2020, which is a relief after a setback due to COVID-19. However, the shipments declined by 4 per cent YoY.

Also read: Realme X7 series India launch in 2021; will offer 5G at affordable prices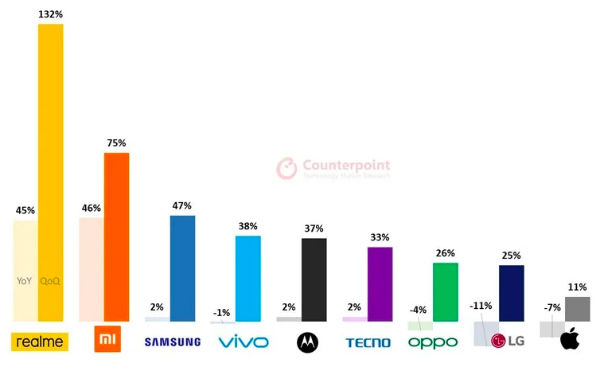 Realme grew over 300 per cent QoQ in the Indian smartphone market, thereby grabbing 15 per cent of share and is also inching closer to brands like Vivo. In the SEA region, Realme grew by 196 per cent YoY and 47 per cent QoQ. This shows a strong presence in regions like the Philippines, Malaysia, Indonesia, Thailand, and Vietnam. In Russia and other markets like Australia and Singapore, Realme has entered the top-5 brands and is rapidly expanding in Europe. In China, Realme registered 90 per cent QoQ growth in Q3 and settled in 6th spot and fifth in China's 5G segment. Realme V5 5G, Realme X7 5G, Realme X7 Pro 5G and Realme V3 budget 5G offerings paved the way for the growth.
Realme has a complete 5G portfolio covering products from entry-level to premium flagships. The company is expected to continue the growth with more affordable 5G offerings worldwide, including India where it will be launching the Realme X7 series, marking the entry of MediaTek Dimensity chipsets in the country. Additionally, it is also expanding towards AIoT with its 1+4+N strategy covering products from smart TVs, TWS earbuds, smartwatch, Smart Cam 360 and more. In Q3 2020, Realme TWS products in India grew by 45 per cent QoQ and captured 12 per cent market share and secured 3rd position among the country's top brands list.