Highlights
The Realme 6 utilises the powerful MediaTek Helio G90T SoC
You also get a 90Hz display with a touch response of 120Hz
Gameplay on the Realme 6 is quite smooth
The
Realme 6
is a sub-Rs 15,000 smartphone that punches well above its weight, offering a host of attractive features that one would typically find in phones priced much higher. These include a smooth 90Hz display, a 64MP quad camera setup and 30W fast charging support, among other things. But what really sets the Realme 6 apart from the competition is the MediaTek Helio G90T SoC under the hood.
The G90T is a powerful gaming-centric chipset that is capable of delivering exceptionally smooth gameplay experience and graphics rendering. The chipset includes a 2.05GHz octa-core processor, along with the Mali-G76 MC4 GPU. It is paired with up to 8GB of RAM on the Realme 6, and also comes with what is called MediaTek HyperEngine Game Technology.
Here's what the tests say
Benchmark scores already show that the MediaTek Helio G90T is one of the most powerful mid-range processors you can find right now. It manages to outscore rival chipsets like the Snapdragon 720G on AnTuTu benchmark with a score exceeding 2,90,000. The Realme 6 even outscores its pricier sibling, the Realme 6 Pro, on GFXBench, which is a benchmark that tests the graphics capabilities of the chipset. While the Snapdragon 720G-powered Realme 6 Pro scored 2,302 fps on GFXBench, the Realme 6 put up a score of 2,780.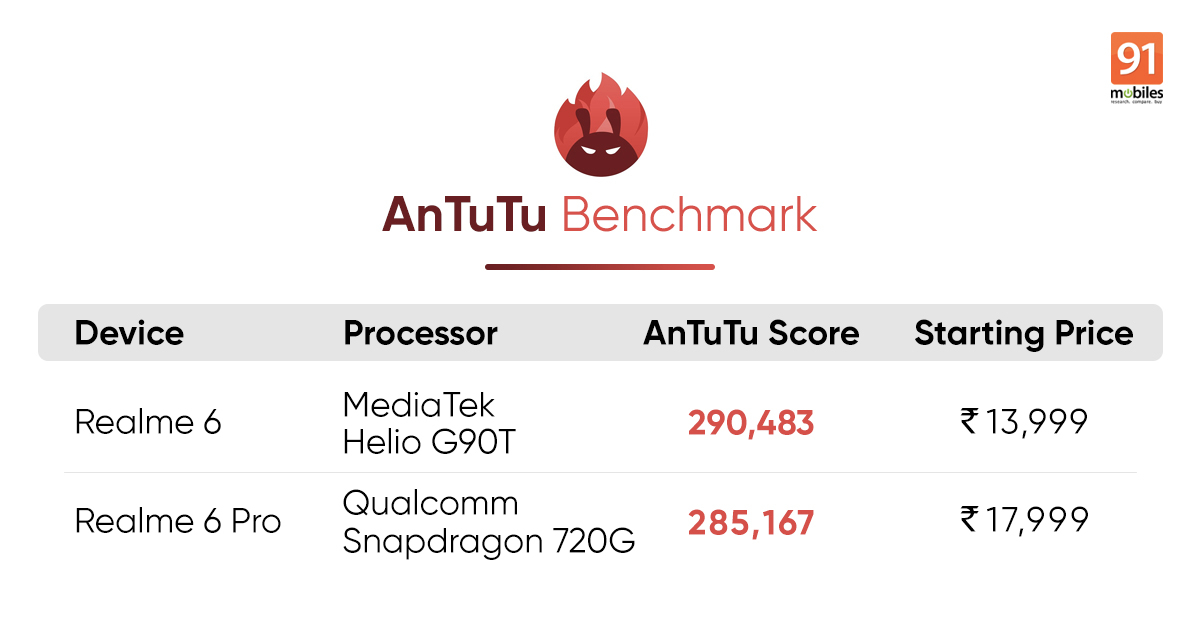 These benchmark numbers suggests the Realme 6 with the G90T SoC should handle pretty much anything you throw at it. The phone does heat up slightly after a long session of gameplay, which is expected if you're running games on maxed out graphics. In our battery log and temperature test, we found that the battery drains roughly 10-12 percent after a 30 minute session of PUBG with the temperature hovering around 40 degrees Celsius.
Real-world gaming experience
But beyond numbers and figures, it's how the MediaTek Helio G90T SoC delivers in real-world experience that really matters. And after we spent some time with the Realme 6, it's pretty evident that the phone manages to stand at par with pricier phones like the Realme 6 Pro and Redmi Note 9 Pro.
Now, with a chipset as powerful as the G90T, the Realme 6 is bound to handle basic day-to-day tasks smoothly and with ease. But to get a better idea about the processor's capabilities, we played some graphics-intensive games like PUBG and Call of Duty. These are some of the most popular mobile games right now due to their high-end graphics, detailing and smooth FPS (first-person shooter) multiplayer gameplay experience.
To truly enjoy these graphically challenging games, you need a phone that can deliver an immersive experience. And we found that the Realme 6 did manage to deliver a terrific gameplay experience with the help of the MediaTek Helio G90T chipset. In fact, the Realme 6 can be considered as one of the best gaming phones currently under Rs 15,000.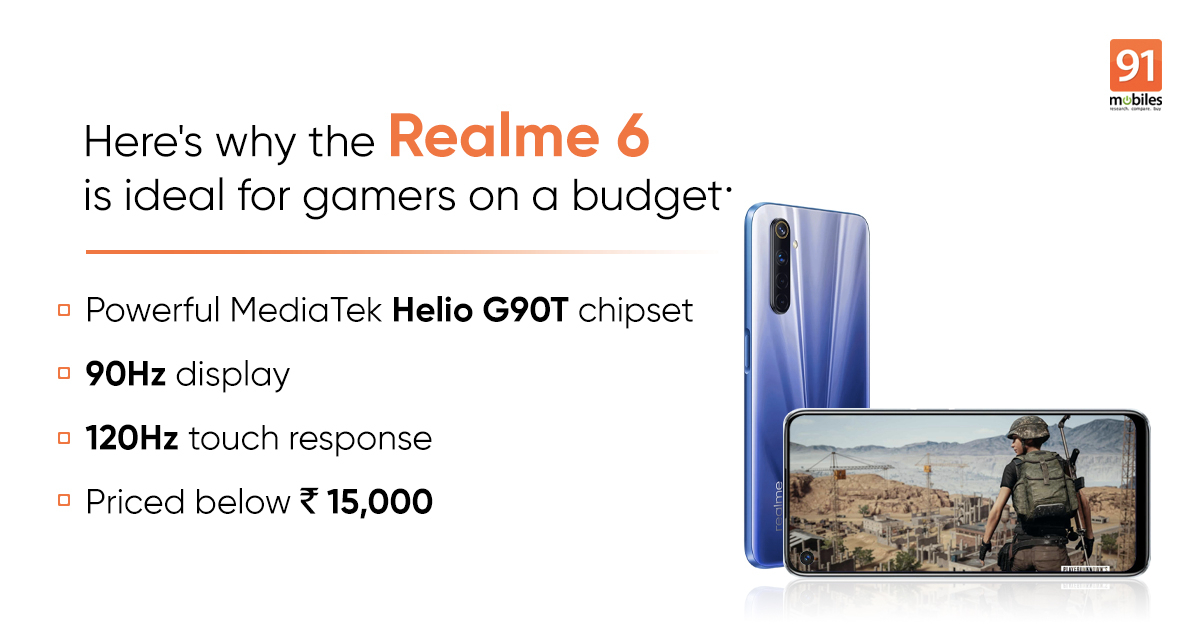 By default, these games will run on high graphics settings, which is great to see on a sub-Rs 15,000 smartphone. In PUBG, for example, the default graphics is HDR while frame rate is set at Ultra, which is pretty impressive to see from a phone in this segment. In fact, the Realme 6 Pro and Redmi Note 9 Pro Max that are powered by the Snapdragon 720G chipset do not support HDR graphics in PUBG, and can only run Ultra frame rate with Balanced and Smooth graphics. This means the Realme 6 with MediaTek Helio G90T SoC offers better out-of-the-box gaming support compared to the Realme 6 Pro and Redmi Note 9 Pro smartphones.
It should be mentioned, however, that a maxed out graphics and frame rate setting will cause any phone to heat up and show some lag. But the MediaTek Helio G90T powering the Realme 6 manages to hold up pretty well even under extreme settings. While the phone does get warm after a 30 minute gameplay, it never got uncomfortably hot. Notably, we also noticed little to no lag during gameplay in extreme graphics.


Another reason the Realme 6 feels great to game on is due to the smooth 90Hz display
Games like PUBG and Call of Duty Mobile look visually attractive. You notice the detailing in the environment such as bricked houses and trees as well as seasonal effects such as snow and ruggedness of hills. One of the reasons the phone is able to deliver such graphics is due to the Mali-G76 GPU. The GPU's capabilities is boosted by the MediaTek HyperEngine Game Technology, which is part of the MediaTek Helio G90T SoC.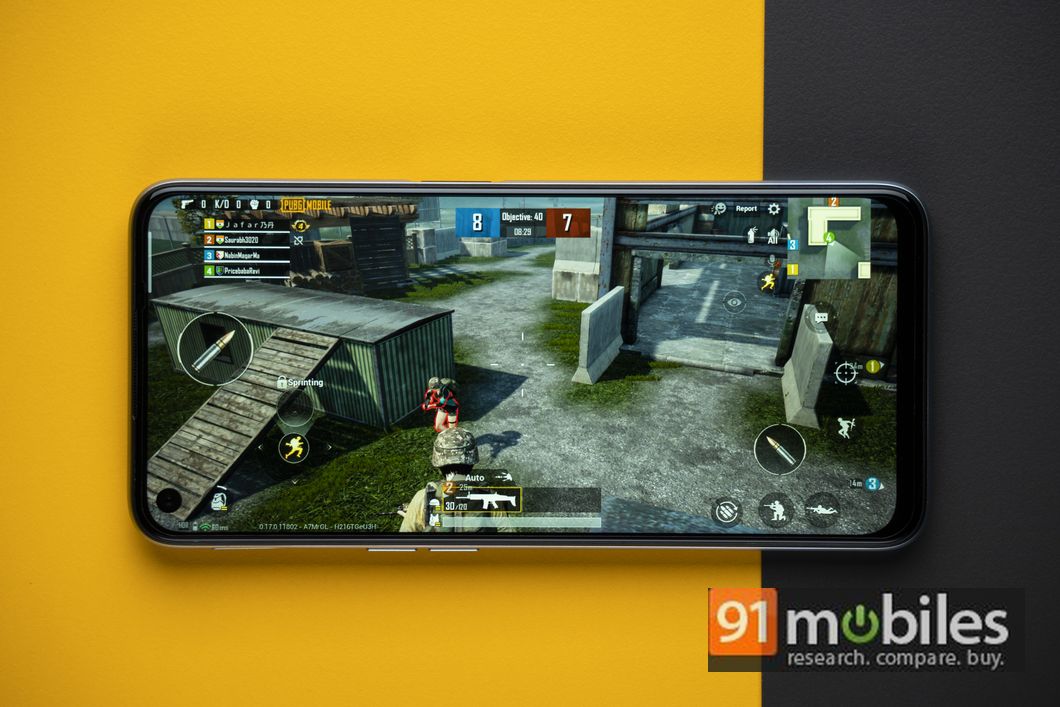 MediaTek HyperEngine Game Technology aims to deliver a smoother gameplay experience by reducing latency where possible. It intelligently connects to two Wi-Fi bands or routers simultaneously to lower latency and also defers calls while in-game. The feature also enables 60 percent shorter GPU rendering-to-display latency, and bumps up frame rates to offer a smoother gameplay experience.
Another reason the Realme 6 feels great to game on is due to the smooth 90Hz display. The company was able to offer a higher refresh rate on this sub-Rs 15,000 phone due to the MediaTek Helio G90T SoC. The 120Hz touch response on the Realme 6 means there is virtually no lag or latency to be found while gaming, making the experience faster and smoother.
To sum it up
The Realme 6 delivers consistently smooth usage and an even better gaming experience, largely thanks to the MediaTek Helio G90T processor, which is easily one of the best mid-range gaming chipsets available right now. It helps the Realme 6 run games in extreme graphics settings, which some phones priced around Rs 20,000 struggle to deliver. Overall, you'll be hard-pressed to find a better gaming smartphone than the Realme 6 in the sub-Rs 15,000 segment.