"Realme will launch three smartphones with four rear cameras before Diwali"
At its camera innovation event in India today, Realme has announced that it will be launching the first 64MP camera phone in India, before Diwali. Along with these, it said quad-camera setups will be coming to the Realme, Pro, and X series models. While the brand hasn't confirmed the name of these devices, the first two will likely be the Realme 5 and Realme 5 Pro, as we reported yesterday. As for the 64MP camera phone, it could be called Realme X Pro. This announcement comes just a day after Redmi said it plans to launch its 64MP camera phone in Q4 2019.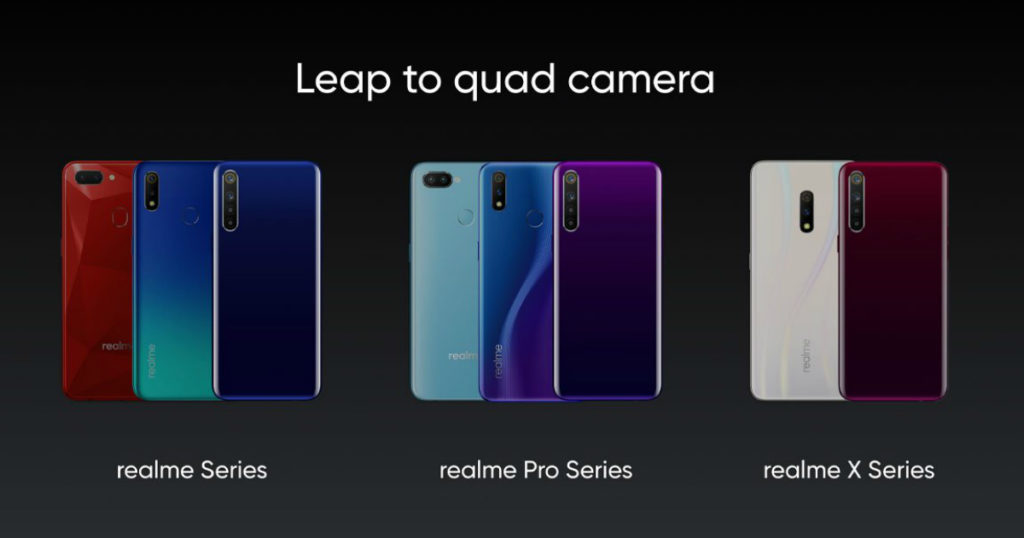 Realme's upcoming phones with 64MP sensor will utilise Samsung's Bright GW1 sensor. This tech uses Samsung's proprietary Isocell Plus and Tetracell technologies, which produce brighter low-light images by combining four pixels into one. As mentioned above, Realme X Pro, is expected to utilise this camera solution. As seen in the image above, the phone will have a vertically placed quad-camera system, just like the Realme and Realme Pro series. Notably, there's no fingerprint sensor at the rear, so we can expect it to be placed under the display on the upcoming Realme X phone.
As for the Realme 5 and Realme 5 Pro, they will come with 16MP and 48MP primary camera sensor at the rear, suggest our sources. Both the smartphones will come with a slimmer U-shaped notch above the screen. They will be powered by Qualcomm's Snapdragon processors. As seen in the image above, these phones will arrive with rear-mounted fingerprint sensors. Sadly, no other specifications of these devices are available at the moment. Also, there's no word regarding their pricing and availability details.
Talking about 64MP camera phones, apart from Realme, Xiaomi's Redmi has also announced that it will be launching a device in India in Q4 with this camera tech. Looks like both Realme and Xiaomi will be the main competitors in this segment in the country, at least initially.