Highlights
Realme Beard Trimmer Neo has been spotted on a Singaporean certification website
It may be launched alongside a Realme smartphone soon
Since Realme is competing with the Xiaomi Mi Trimmer 1C, the Realme Beard Trimmer Neo could be priced below Rs 1,000
Xiaomi's reach into the consumer electronics market extends far beyond smartphones and into segments such as wearables, laptops, and TVs. The company has a laundry list of seemingly mundane electronics like beard trimmers and screwdrivers. Now, as it turns out, a Realme trimmer is in the works too, called the Realme Beard Trimmer Neo. The product has just shown up on the website of Singaporean certification agency Intertek. These certifications usually indicate that the product is in its final stages of production. If things go smoothly, we can expect the Realme Beard Trimmer Neo to be unveiled alongside the company's new flagship smartphones. Given that Realme is directly competing with Xiaomi in this market, we can expect the Realme Trimmer price in India to be around Rs 1,000.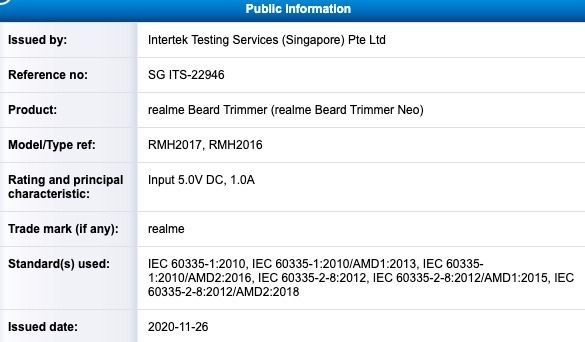 Given that a beard trimmer is a fairly basic appliance that is designed to do one task, and one task only, there isn't a lot of scope for innovation. Even the high-end offerings on the market offer little more than self-sharpening blades and water resistance. At best, we can expect the Realme Beard Trimmer Neo to offer some form of IoT functionality that allows Realme smartphone users to adjust blade settings, speed, etc, using a smartphone. However, those features seem more like a pipe dream than reality.
Realistically speaking, the Realme Beard Trimmer Neo is a little more than Realme following in Xiaomi's footsteps in the consumer lifestyle segment. Realme has longed aspired to become the new Xiaomi by flooding the Indian market with reasonably-priced electronics, just like Xiaomi did back in the day. This seemingly never-ending barrage of launches seems to be benefitting Realme, as it is now a top contender in the Indian consumer electronics space. Of course, the Realme Bear Trimmer Neo will compete with Xiaomi's Mi Trimmer 1C in the Indian market.
Of course, it's not like we didn't already know about the Realme Beard Trimmer's existence. The brand's India CEO Madhav Sheth in October had said that it will launch a trimmer in the country after Diwali. Well, Diwali came and passed with no sign of a trimmer. However, the certifications being collected means that the trimmer's launch is closer than ever.