Highlights
Realme Buds Q will launch in India soon
The true wireless earbuds will be more affordable than the Realme Buds Air Neo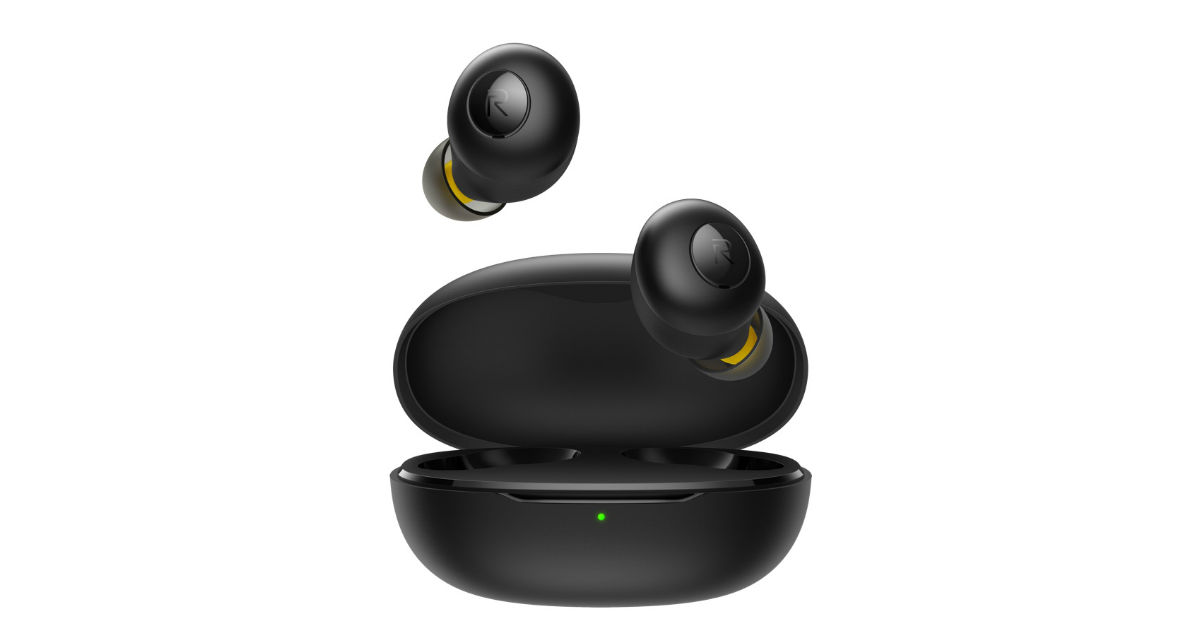 Realme Buds Air and Realme Buds Air Neo have launched in India priced at Rs 3,999 and Rs 2,999, respectively. Realme India CMO Francis Wang has now confirmed the India launch of the Realme Buds Q in a Twitter post, and the executive has also teased the price of the TWS earbuds. It looks like the Realme Buds Q price in India will be under Rs 2,000 for those looking for ultra-affordable true wireless earphones. The Realme Buds Q earbuds were launched in China earlier this week and they come with a pod-shaped design like the Samsung Galaxy Buds. The in-ear earphones also feature 10nm drivers and IPX4 water-resistance, among other things.
Realme Buds Q price in India (expected)
Realme India CMO Francis Wang has teased that the Realme Buds Q will launch in India priced under Rs 2,000. In China, the true wireless earbuds have been riced at RMB 129 (approx Rs 1,375). This means we can expect the Realme Buds Q price in India to be either Rs 1,499 or Rs 1,999. Whatever be the pricing, this will be one of the most affordable TWS earbuds in the market.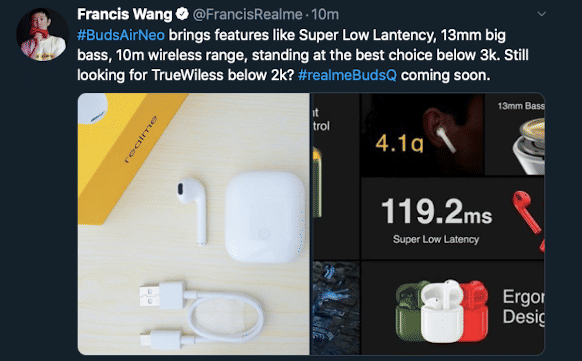 Realme Buds Q specifications
The Realme Buds Q come in black, white and yellow colour options in China. The true wireless earbuds are equipped with 10mm drivers to deliver punchy bass and support Bluetooth 5.0 for wireless connectivity. The earphones are IPX4 rated, which means they can handle water and dust splashes. On the battery front, each earbud houses a 40mAh battery while the case stores a 400mAh capacity, which combined can help the Realme Buds Q deliver 20 hours of battery life. The lightweight earbuds weigh 3.6 grams, while the charging case weighs 31.7 grams. Lastly, the Realme Buds Q has been designed in collaboration with French designer Jose Levy.
The TWS market in India is expected to grow really big this year with OEMs launching affordable wireless earphones. The Realme Buds Q will most likely take on the Redmi Earbuds S truly wireless earphones which were launched in India earlier this week, priced at Rs 1,799.