Realme has been going from strength to strength ever since it first burst into the smartphone scene, initially as a sub-brand of OPPO and then as an independent entity. The brand has seemingly been on a never-ending launch spree, introducing new smartphones one after the other. More recently, it launched accessories like TWS earphones and forayed into the IoT and smart devices space too, with smart TVs, fitness bands, home security cameras, etc. Thanks to its aggressive pricing strategy and spec-heavy smartphones, the brand seems to have grown by leaps and bounds in a short span of time, reaching a position where it is challenging rivals like Xiaomi and Samsung and giving them a strong fight.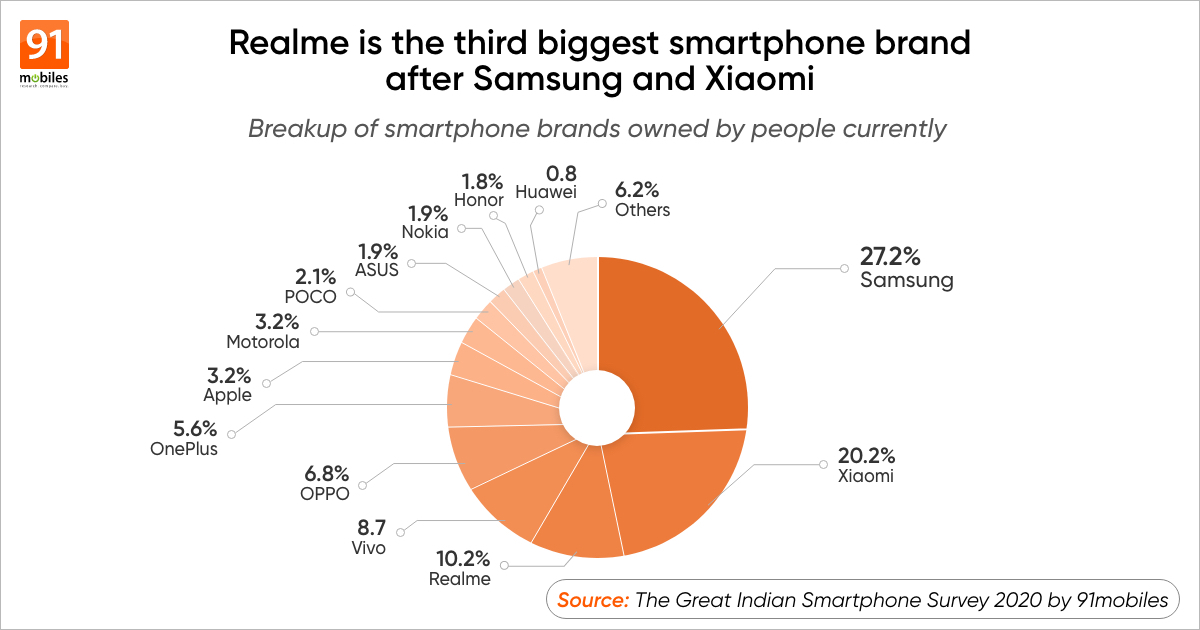 Realme's smartphone portfolio has many firsts and big milestones, like the Realme XT, the first phone in India with a 64MP camera, and the X50 Pro, one of the first in the country with 5G support. Devices like the Realme 6 and Realme 7, launched this year, have come across as compelling buys, just like many of their siblings from before. In fact, in terms of current ownership share, Realme is positioned third, right after Samsung and Xiaomi, as per survey data. So is all hunky-dory in Realme's world? Not if the numbers from the Great Indian Smartphone survey are any indication.
Shifting customer loyalty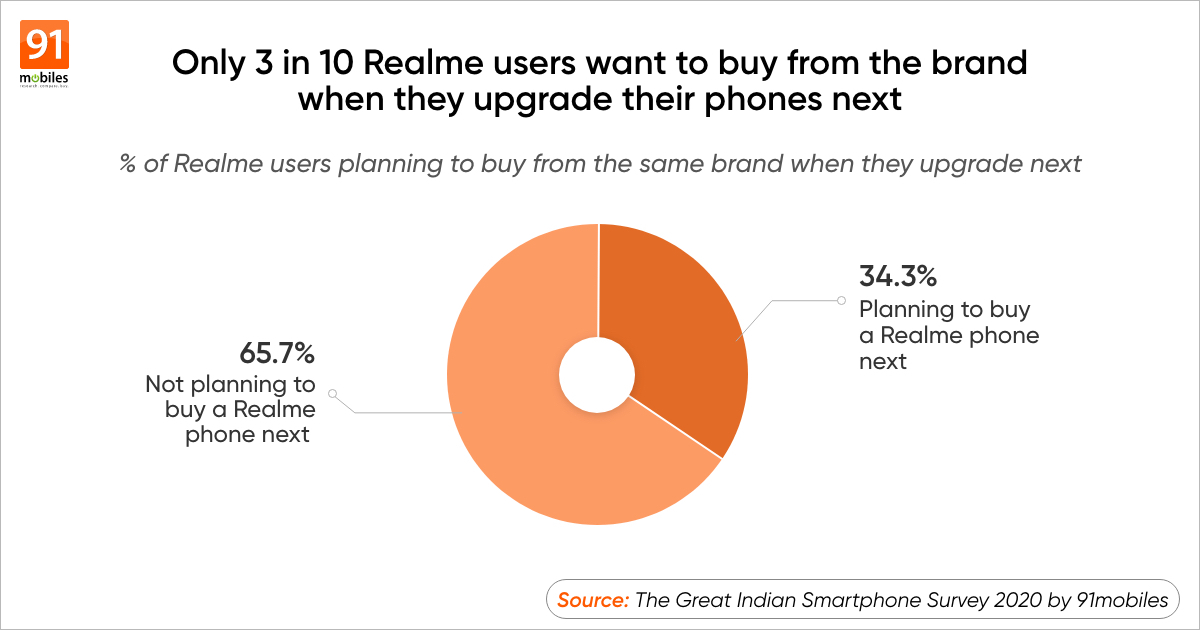 Data from the 91mobiles' Great Indian Smartphone Survey says that just three out of 10 current Realme owners plan to buy a smartphone from the same brand next, whenever they upgrade their daily drivers. This is alarming, to put it mildly, and indicates that a big chunk of the brand's user base might move on to other brands eventually.
Plummeting user satisfaction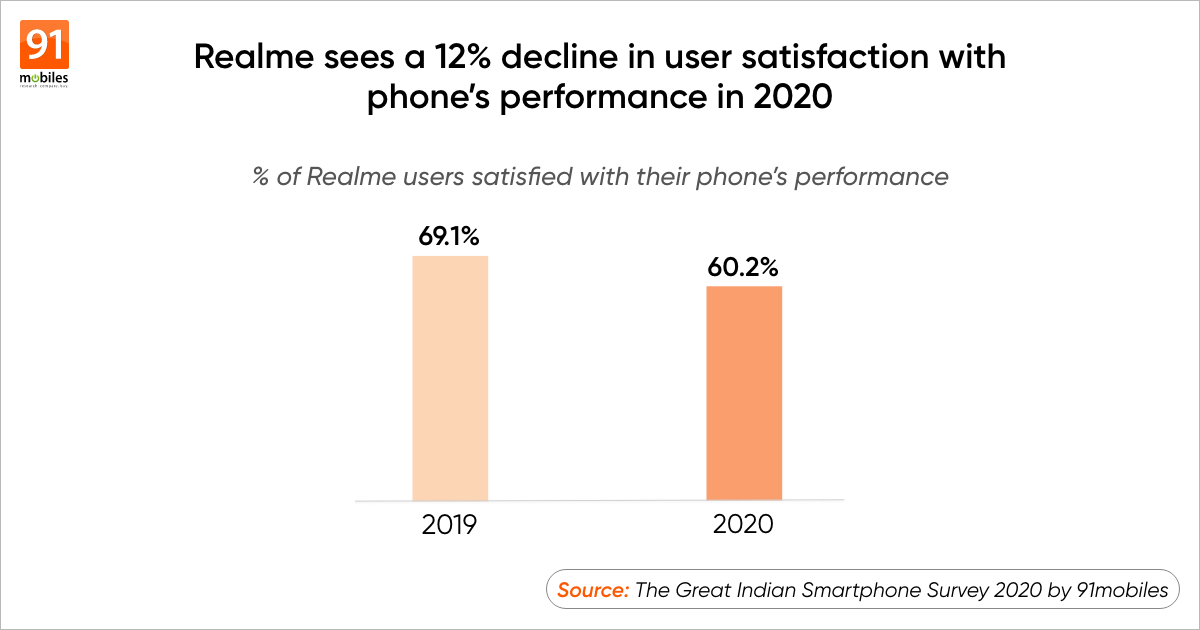 When we compare user responses from the smartphone survey we conducted last year, to the answers we received this time, the data shows a big drop in user satisfaction for Realme. For one, there's a 12 percent decline in user satisfaction when it comes to phone performance. 69.1 percent Realme users expressed satisfaction with their phone performance in 2019, as compared to 60.2 percent in 2020.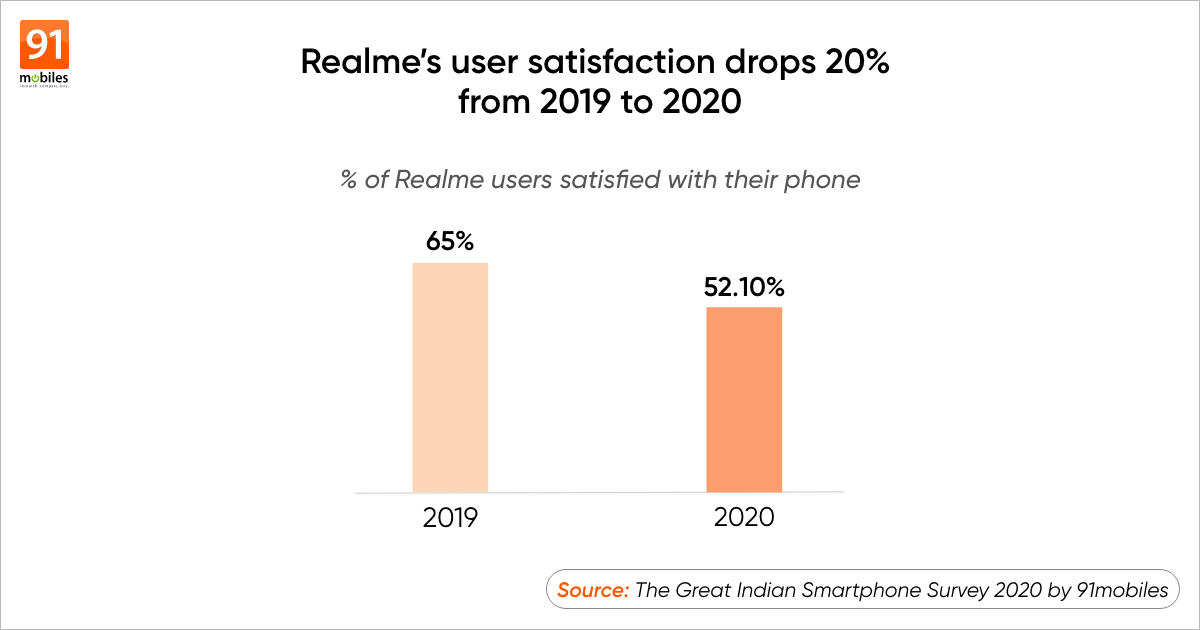 There's a much bigger drop when it comes to overall user satisfaction. The figures read 65 percent for 2019 and 52.10 percent in 2020, representing a big drop of 20 percent. In fact, the brand dropped from number two in 2019 to number five in user satisfaction within a year. No surprise then that Realme users want to move out of the fold and are likely considering other brands as their next purchase.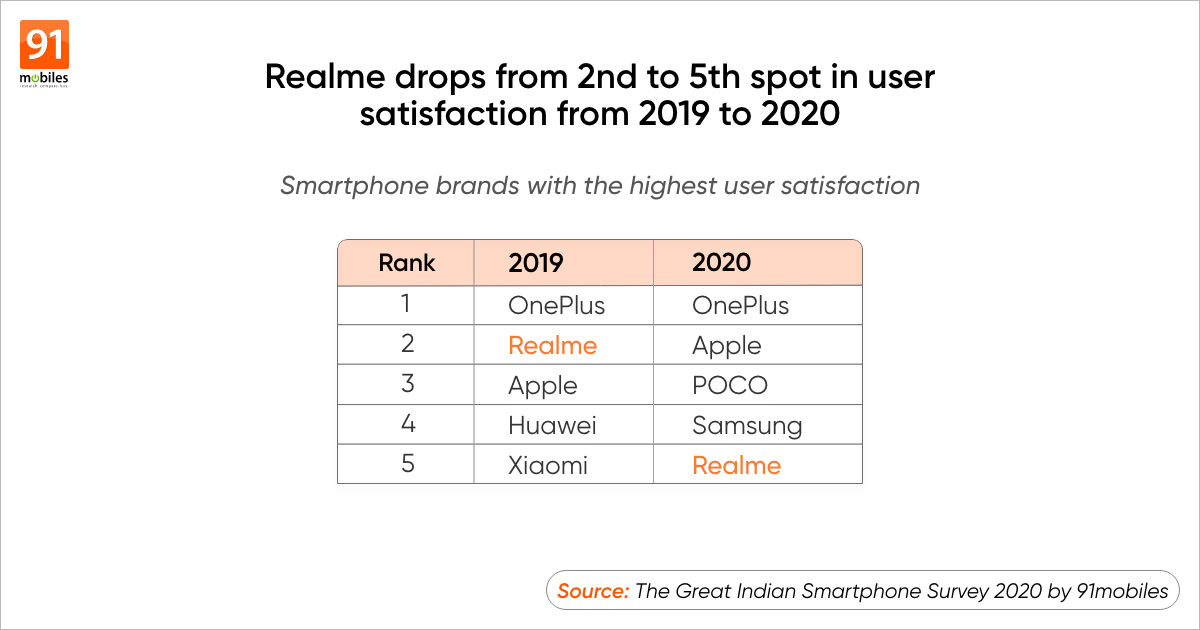 Declining service quality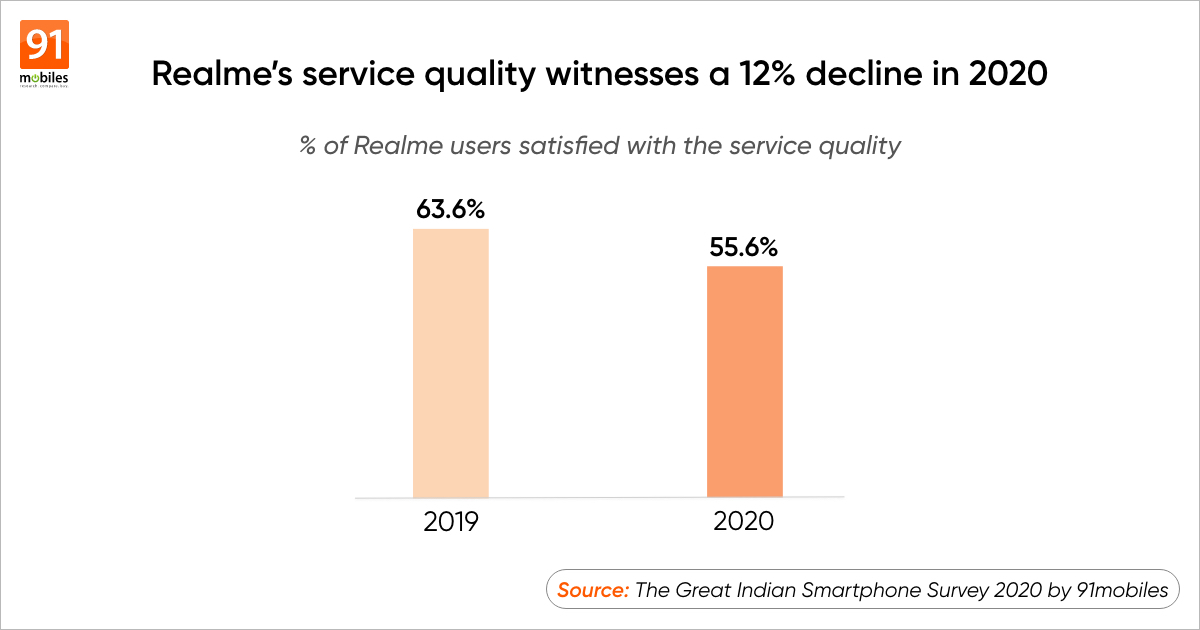 Again, comparing numbers from 2019 to 2020, we see a 12 percent drop in satisfaction related to service quality. In 2019, 63.6 percent Realme users said they're satisfied with the brand's service quality, while the same number dropped to 55.6 percent in 2020.
Drop in VFM quotient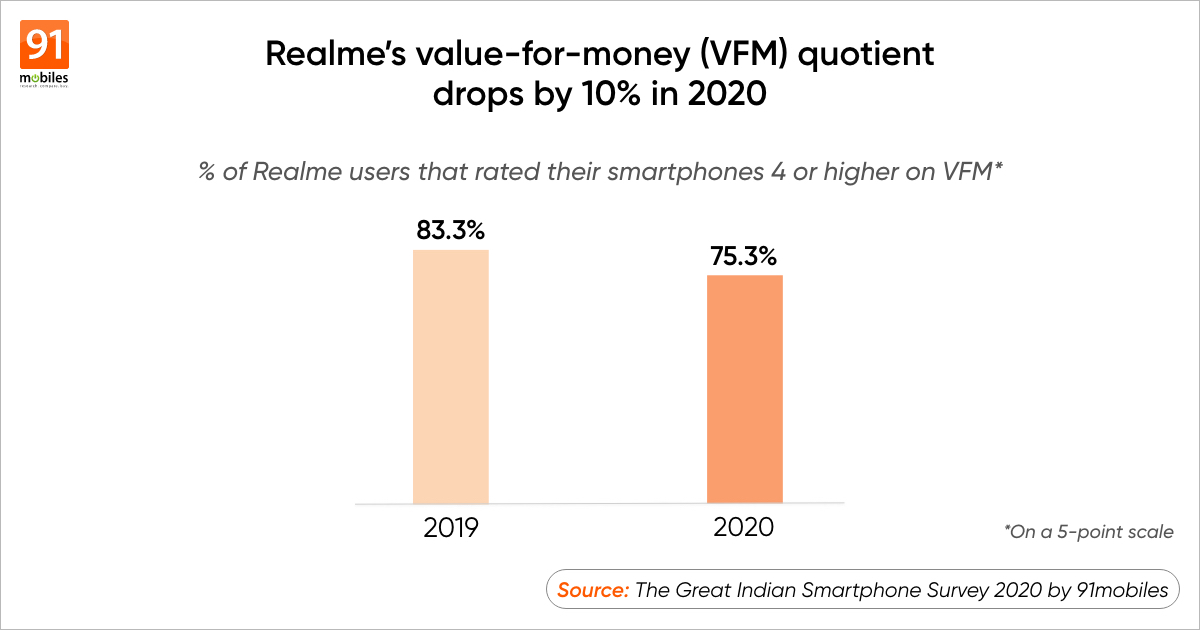 Value for money is heavily dependent on perception, and apart from users' satisfaction with their own smartphones, could also involve what users think about other devices launched by the same brand and even the competition. 83.3 percent Realme users rated their phones 4 or higher on a scale of 5 on VFM last year, while that number stands at 75.3 percent this year. This represents a 10 percent drop in the VFM quotient for the brand. What this means in actual terms is that this year, a smaller percentage of Realme users feel their phones provide good bang for the buck.
Overall, it's a sad state of affairs for brand Realme as far as numbers from the 2020 edition of the Great Indian Smartphone Survey are concerned. In recent months, it seems like the brand has been churning out smartphones that overlap heavily on specs and price points, which could be confusing for not just prospective buyers, but experts and reviewers as well. Its smartphone design policy, which came as a breath of fresh air in the initial stages, seems to have turned on its head now, with too many of its phones speaking the same design language. The value for money its smartphones represented has turned into an overlapping mess of phones with similar specs and similar price points. For instance, the Realme 7i that the brand introduced just recently, has too many similarities with company's own Narzo 20. Furthermore, the Realme 6i, which should logically be the 7i's predecessor (going by the naming convention at least), actually comes across as a better device in many aspects as compared to the latter. The Narzo 20 itself, overlaps with the Realme C15 in many aspects, while the Narzo 20 Pro goes into Realme 7 territory with its pricing. Don't fret if you can't understand it… it's actually quite confusing. In some sense, Realme's strategy of throwing everything at the wall to see what sticks is something Samsung used to follow at some point, before it finally managed to sort out its product strategy.
All of this combined could be the reason behind these falling numbers and begs the question: is the brand growing too fast for its own good? Maybe it's just time to take a step back, take stock of the situation and see how things can be improved.