Highlights
The Narzo 10 is the first smartphone to come powered by the new MediaTek Helio G80 chipset
The G80 brings compelling gaming capabilities to the affordable segment, including MediaTek's HyperEngine
For its price, the Narzo 10 comes across as great value for money, with attractive features such as quad cameras and a powerful battery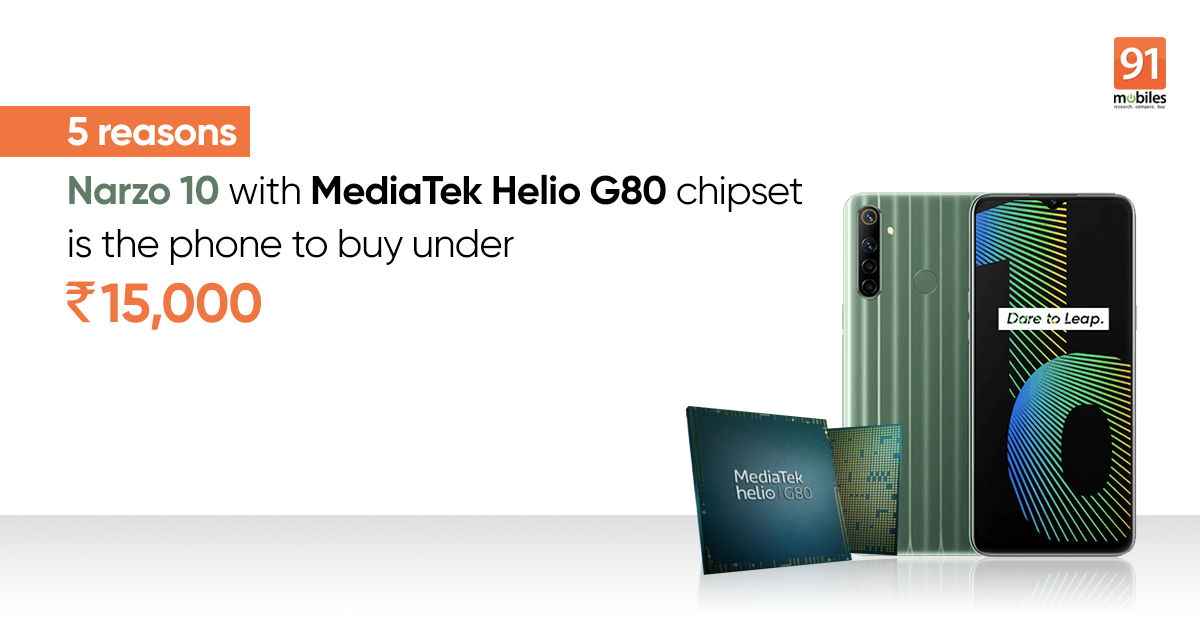 Narzo is a brand new series from Realme that aims to offer powerful smartphones to attract the Gen-Z population. This is a demographic that wants affordable phones that offer plenty of firepower under the hood to play popular games like PUBG, Call of Duty and Asphalt 9. Realme feels that the Narzo series of smartphones like the Narzo 10 and Narzo 10A are equipped to deliver power not just for gaming but when it comes to user experience in general.
For Realme, it was clear that only MediaTek could deliver the kind of gaming-centric power for the Narzo phones. Both the Narzo 10 and Narzo 10A come with MediaTek processors. While the Narzo 10A gets the tried-and-tested MediaTek Helio G70 SoC, the Narzo 10 is the first phone in India to come with the new MediaTek Helio G80 processor. The Narzo 10 offers some exciting features for the youth in India, and a lot of what makes the smartphone so good can be traced back to the G80 chipset.
An affordable phone for gamers
The Narzo 10 is primarily an affordable gaming-centric smartphone thanks to the inexpensive yet powerful MediaTek Helio G80 chipset. It includes an octa-core processor that features two Cortex-A75 CPUs operating up to 2GHz, plus six Cortex-A55 processors clocked at 1.8GHz. The chipset is also equipped with the Mali-G52 MC2 GPU, which promises impressive graphics renders and frame rates, all of which should help in delivering a great gaming experience.
The MediaTek Helio G80 chipset inside the Narzo 10 allows you to run graphics-intensive games like PUBG, Call of Duty and Asphalt 9 on high graphics settings, which is great for a phone that costs just Rs 11,999. On PUBG, you can either go with Balanced + Ultra or HD + High graphics settings, both of which deliver a visually attractive gameplay experience. There aren't a lot of SoCs that can deliver such high graphics support in this segment.
A big reason the Narzo 10 delivers a consistently good gameplay experience is because of its thermal efficiency and smoothness while gaming. This is largely because of the MediaTek HyperEngine Game Technology that comes with the MediaTek Helio G80 chipset. The technology is able to intelligently manage resources that the smartphone offers in order to deliver sustained performance and longer gameplay. The MediaTek HyperEngine also makes sure the phone does not heat up much during long gameplay sessions. This not only positively affects your gameplay experience, but also keeps battery drain to a minimum.
Dressed to impress
Realme has consistently delivered unique-looking smartphones since the brand's debut in 2018. The Narzo 10 is no different as it brings a finish designed by Japanese designer Naoto Fukasawa. The matt finish on the back offers a smooth and scratch-free design. This is combined with a unique vertical line pattern that shimmers under light. The Narzo 10 comes in two classy colours – Green Tea and White Milk. The curved rear panel makes the phone committable to hold, while the the display offers a high screen real estate with minimal distraction.
A battery that goes on and on
No gamer wants their smartphone to die on them early and they won't need to worry about that with the Narzo 10. The phone offers a large 5,000mAh battery that promises to deliver a full day battery life, if not more, on a single charge. While a 5,000mAh battery is big, what also helps improve the battery life of the phone is the power efficient MediaTek Helio G80 chipset.
The MediaTek Helio G80 is based on a 12nm process and comes with six power efficient cores, all of which help reduce battery drain on standby. This is why the company can claim that the Narzo 10 offers up to 39 days standby time, which is quite impressive for a performance-driven smartphone.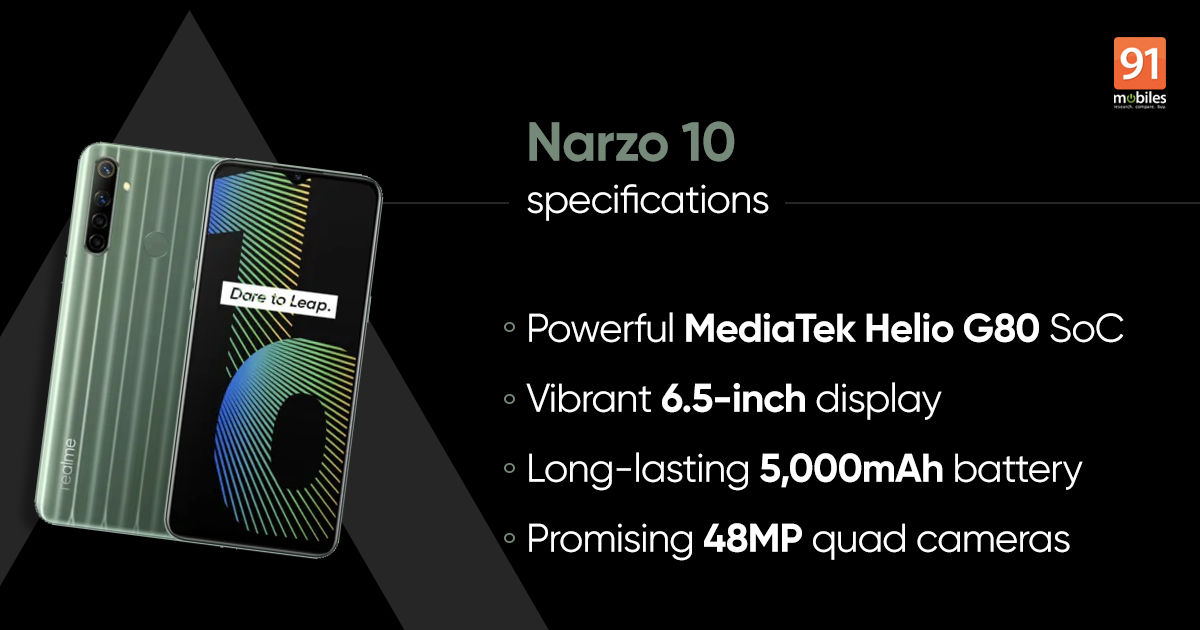 Narzo 10 is for camera lovers too
Narzo 10 is not just for gaming enthusiasts. It comes with a powerful quad camera setup as well, and that's what makes it a versatile smartphone. The camera setup includes a 48MP main sensor, an 8MP wide-angle lens, a 2MP macro lens and a 2MP mono lens. The Narzo 10's quad camera setup lets you take some really attractive photos in daylight in various perspectives. This imaging quality is aided by the MediaTek Helio G80 chipset, which delivers impressive AI performance.
The MediaTek Helio G80's AI smarts helps the Narzo 10's camera in scene recognition, allowing features like Chroma Boost to make photos look visually attractive. The chipset also helps improve the quality of bokeh shots with improved segmentations and background blur.
Narzo 10 is a reliable workhorse
While the Narzo 10 is an ideal affordable phone for gamers and photographers, it is also for those who simply want a dependable device for day-to-day usage. There is a lot of power and efficiency to be found on the Narzo 10, which means the phone will handle basic tasks like messaging, social media browsing and so on with ease. The MediaTek Helio G80 chipset when combined with an optimised Realme UI software helps in delivering a smooth, lag-free user experience no matter the task at hand. The Narzo 10 is the first phone in India to be powered by the new MediaTek Helio G80, and by the looks of it, we expect to see more affordable smartphones in the future to make use of this powerful gaming processor.