Highlights
Realme Narzo 20 Pro price in India starts at Rs 14,999
The smartphone comes with a blazing fast 65W fast charging support
Realme Narzo 20 Pro can be fully charged in less than 40 minutes
No prizes for guessing the "feature" the headline refers to! Realme launched the Narzo 20 Pro in India alongside the Narzo 20 and Narzo 20A on Monday. Each phone has its own USP that makes it stand out in its respective price segment. We haven't reviewed all the three phones yet, but we did review the Narzo 20 Pro. This is the phone that's grabbing a lot of attention and rightly so. Among other things, the Narzo 20 Pro offers a 65W SuperDart fast charging solution at Rs 14,999, and that's the feature we're talking about.
The 65W fast-charging feature first came with the Realme X50 Pro (review) back in February, priced at Rs 37,999. The technology enables blazing-fast charging speeds, allowing you to juice up the phone in no time. Just a few weeks ago, the company brought this technology all the way down to the sub-Rs 20,000 segment with the Realme 7 Pro (review), which in itself was a great feat. Now, 65W fast charging is available under Rs 15,000 with the Realme Narzo 20 Pro. So, where do we go from here?
The need for speed
The 65W fast charging tech on Realme Narzo 20 Pro can fully charge the device from 0 to 100 percent in just under 40 minutes. But you don't always have that much time — if you charge the phone for just 3 minutes, you can go from 0 to 14 percent; charging for 18 minutes juices up the phone 50 percent. There is no other phone in this segment that can charge as fast, which instantly gives Narzo 20 Pro an edge over the competition.
Speaking from experience, once you get used to such charging speeds, it is very difficult to go back to anything slower than 65W. I have used the OPPO Find X2 Pro (review) and Reno4 Pro (review), both of which use the same 65W charging technology as Realme, and was supremely spoiled by how fast the phones would charge up.
Now, it is true that the Realme Narzo 20 Pro has a ridiculously fast charging support but an average 4,500mAh battery. After all, we have phones offering 5,000mAh and 6,000mAh battery capacities under Rs 15,000. But a smaller battery unit does not necessarily mean a poor battery life. When taking into account the efficiency of the processor and the optimisation that Realme UI brings, we found that the phone easily lasts through a day on heavy usage and a day and a half on moderate usage, which is as good as one can hope for.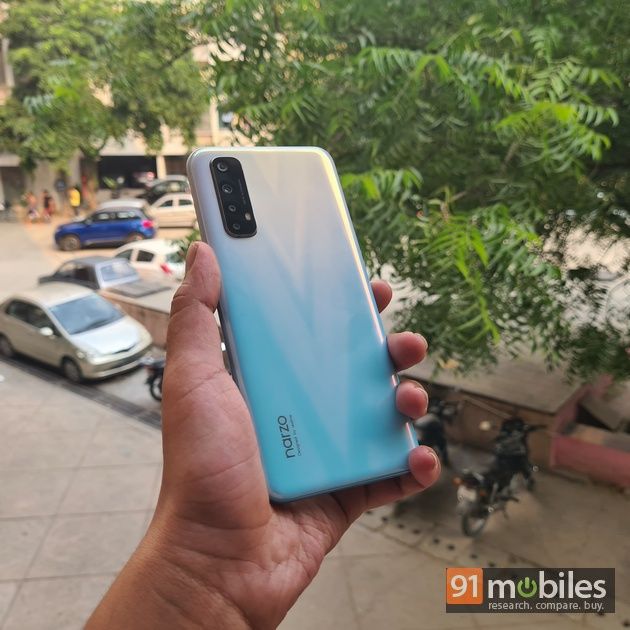 While phones that offer 5,000mAh battery and 6,000mAh battery in this segment do provide the satisfaction to users that they will last a full day, it can often take a painstakingly long time to charge them up. Big battery phones with even 18W fast charging support, for example, can take as long as three hours to fully charge. When you compare that to the Realme Narzo 20 Pro, I personally would choose faster-charging speeds over a bigger battery if it means not having to wait long in between charges. And so, the 65W fast charging technology has now set that benchmark for the rest of the competition in the sub-Rs 15,000 segment. Phones with 10W, 15W, or even 18W fast charging just don't cut it anymore.
What GST hike?
Soon after Realme announced the price of the Narzo 20 Pro, I saw many of my fellow tech enthusiasts wonder on Twitter as to how the company managed to price the Narzo 20 Pro under Rs 15,000 in today's time. We could surely see Realme do this last year or up until March. But things changed after the GST hike in April. We have had to manage our expectations when it comes to affordable phones. We haven't seen very many disruptive phones from brands like Realme or Xiaomi off late. Even the Realme C11, C12, and C15 didn't really do as much to wow us under Rs 10,000. But here we have the Realme Narzo 20 Pro being as disruptive as it gets in the sub-Rs 15,000 segment.
Compromises were made
The Realme Narzo 20 Pro is not a perfect smartphone despite offering a blazing fast charging technology. In our review, we did find some faults with the device, and that can only mean the company has made some trade-offs. The camera setup, for example, uses a 48MP primary sensor instead of a 64MP sensor. The company has not put in too much thought on the design as it looks repetitive and uninspiring. The 90Hz refresh rate is good to have but not a game changer anymore, and the display quality is nothing spectacular — in fact, we did find slight bleeding of light around the punch hole cutout. Clearly, the Narzo 20 Pro is not a perfect phone. But it's not trying to be perfect because Realme is in a position to offer something for everyone. The Narzo 20 Pro aims to wow with 65W fast charging at an affordable price, and it does just that.
For everything else, there's….Realme 7
So, if having a 65W fast charging support doesn't matter to you and if you're satisfied with the slower 30W fast charging, Realme has the Realme 7 at the exact same starting price. The phone gets the same MediaTek Helio G95 processor and 90Hz FHD+ display as the Narzo 20 Pro. It also gets a bigger 5,000mAh battery and a presumably better 64MP Sony camera. It's one of the best phones you can find under Rs 15,000. It offers a well-rounded set of features for consumers. But does it stand out in this segment the way the Narzo 20 Pro does with its 65W fast charging support? Well, we'll probably have a better idea once the Narzo 20 Pro goes on sale in India on September 25th.