"Realme has, thankfully, included a way for users to disable the ads, but that is not without sneaky, careful wording"
Realme, fastest-growing smartphone brand in India as well as the global arena, has followed in Xiaomi-owned Redmi's shoes to introduce advertisements right on the home screen of its phones. A future Realme software update will enable the settings that will, by default, show you ads for applications and marketing content via notifications. However, unlike Redmi, Realme has also added a kill switch to the ads, by which users can choose to disable the delivery of annoying advertisements to their smartphones. That said, Realme has chosen to call its ads segment 'Get Recommendations' and buried it inside the phone settings, which makes it a tad difficult for the average, non-savvy user to find this out.
How to disable ads on Realme phones
All Realme phones that run on ColorOS 6 and above will now be privy to yet another advertisement avenue for OEMs. In order to disable the feature, follow the below steps:
Open the Settings app and tap on 'Additional Settings'
Find the 'Get Recommendations' option, which is placed just above 'Backup & Reset'
Simply tap on the toggle button to turn off the recommendations/ ads
Realme has called the ads option as "Receive app and content recommendations in system apps such as 'Download Management'". It is a tad unfortunate that Realme chose to avoid the word 'advertisements', which would have likely made the option clearer for more users.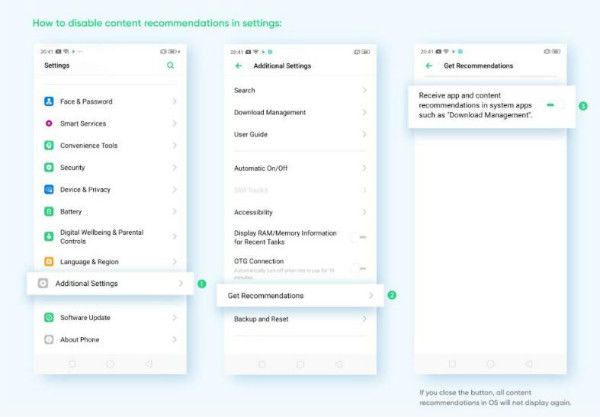 In an official post on the matter, Realme has said that the ads "will also ensure protection of privacy and compliance with relevant laws and regulations," and have been introduced to "maintain a healthy and sustainable business model."
The practical price war in the field of budget smartphones has led to very minimal profit margins in devices, as OEMs try to battle each other in taking over larger shares of the market. While Xiaomi took an early lead in markets such as China and India, BBK Electronics-backed OPPO introduced Realme as a youth-centric brand that primarily takes on Redmi phones.
While Realme's careful wording of the ad service on its phones will not go unnoticed, it is still appreciable that the company did offer a way to turn them off and put out the information via its official blog. However, that does not take away the fact that non-tech savvy users, or those who do not regularly follow technology news and updates, would likely not find out the option, and eventually contribute to a new revenue stream for Realme, through ads delivered right to the smartphone's doorstep.