Highlights
Realme Race with Snapdragon 888 SoC has been announced
The company is expected to launch the phone in early 2021
Realme Race is also expected to release in India
Realme Race launch has been confirmed and the company has announced it will be one of the first devices to be powered by the Qualcomm Snapdragon 888 chipset. Qualcomm at its annual Snapdragon Tech Summit on Tuesday announced the Snapdragon 888 flagship mobile processor that will power Android flagships in 2021. Realme announced that its upcoming flagship phone, code named 'Race', will be powered by the Snapdragon 888 chipset. While the company has not officially revealed the design of the Realme Race, a leaked image has made its way on the internet, giving us an idea of what the phone will look like.
Not much is known about Realme Race at the moment apart from the fact that it will be a flagship 5G smartphone that will look to deliver blazing fast performance and gaming experience courtesy of the new Snapdragon 888 chipset. The alleged Realme Race image reveals the phone will come with a curved rear panel and a circular camera module that will house four camera sensors. The smartphone is shown in a white colour option.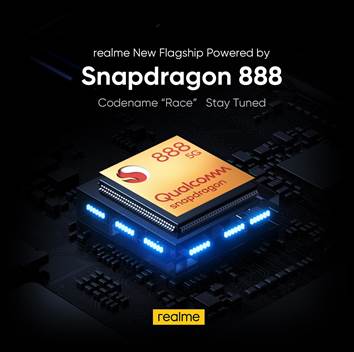 The announcement of Realme Race came soon after Xiaomi confirmed that the Mi 11 will mark the global debut of the Snapdragon 888 chipset. Other brands that are expected to launch Snapdragon 888-powered phones in early 2021 include OPPO, OnePlus, ASUS, Vivo, and more.
Realme aims to bring more 5G smartphones to India in 2021
"This is a milestone both for Realme and our users. Realme is working towards being a democratizer of next-gen 5G technology unlocking the potential of 5G to deliver exciting new experiences for consumers globally. We are proud to be among the first smartphone manufacturers to come equipped with the Snapdragon 888 chipset. With this milestone we reaffirm our commitment to bring more 5G devices to India in 2021." said Madhav Sheth, VP, Realme & CEO, Realme India and Europe.
Realme Race powered by the SNapdragon 888 does not have a launch date yet, but the company is expected to bring the device to several markets, including India, in Q1 2021. We expect to learn more about Realme Race, including its actual name, in the weeks to come.