"Realme's first-ever wireless charger features 5W of charging capacity"
Realme launched its first-ever true wireless earbuds, dubbed the Realme Buds Air, a little while ago in India. These wireless earbuds support wireless charging too, but there is no official wireless charging pad in the company's portfolio yet. To recall, the company did say at the Realme Buds Air unveiling that it plans to launch a wireless charger, but there has been no information about it in the last couple of months. Now, a new Realme-branded wireless charger has been spotted on the website of the Wireless Consortium.
As per the Wireless Power Consortium website listing, the charger will be simply called Realme Wireless Charger and will have the model number Realme RMA203. The charger's potential power level is 5W, so users should not expect to receive too much of charging speed with it. By the looks of it, the Realme Wireless Charger appears to be a pretty standard unit, which could likely be used to juice up the Realme Buds Air effectively. Charging a smartphone with the Realme Wireless Charger would essentially take a considerable amount of time.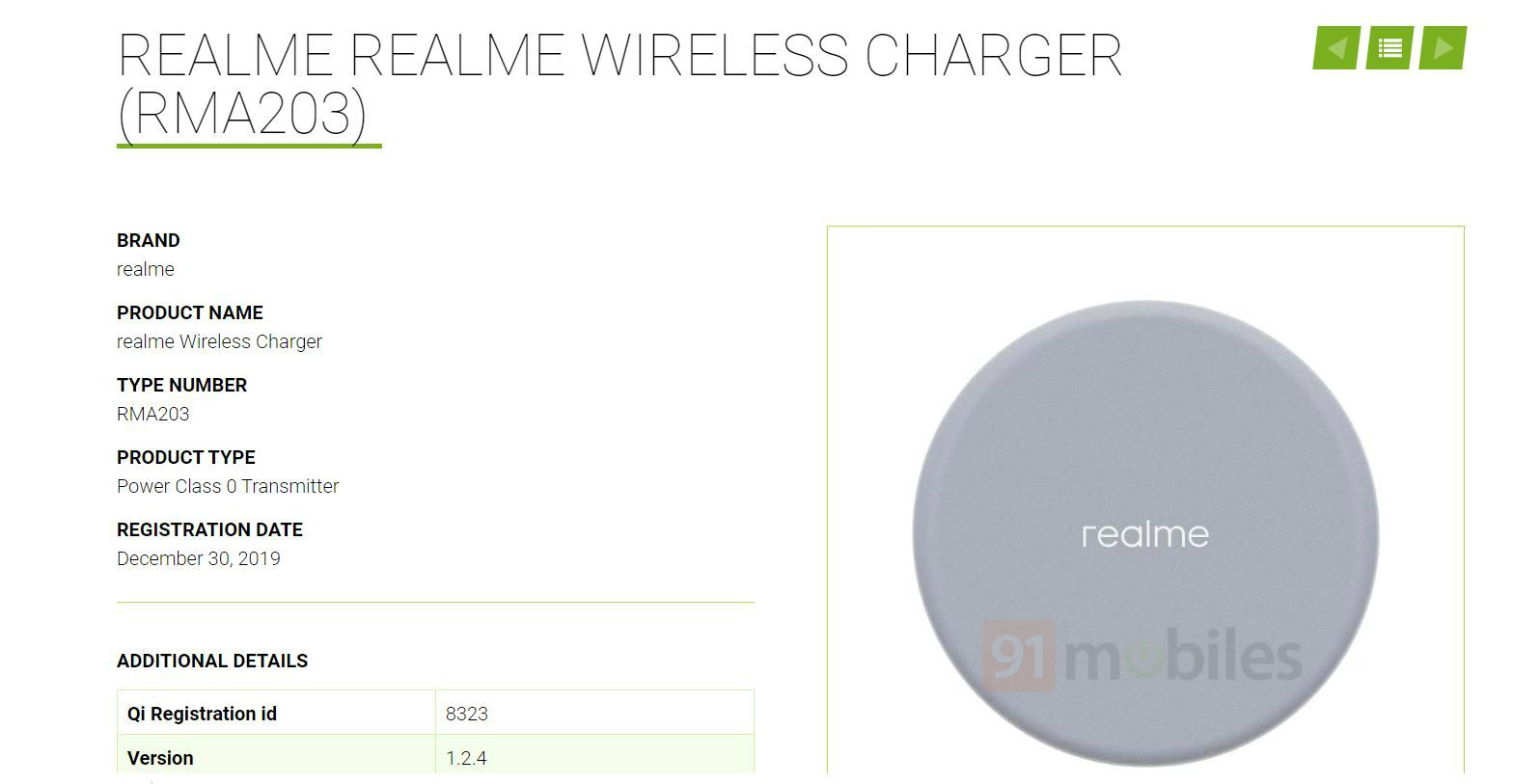 Interestingly, the wireless charger teased at the Realme Buds Air launch was shown with 10W charging support. This means there could be two Realme wireless charging pads in development. Whether that's really the case, only time will tell but we will keep an eye on the Wireless Consortium website for a 10W charger till then.
Below are some additional details of the 5W Realme Wireless Charger:

| | |
| --- | --- |
| Qi Registration id | 8323 |
| Version | 1.2.4 |
| Currently licensed | Yes |
| Power profile | Basic Power Profile |
| Transmitter design | A11 |
| Automotive Charger for inline assembly | No |
| Compliant Automotive Guidelines | No |
| Evaluation module | No |
| Potential power level | 5 watts |
| Subsystem for integration in other products | No |
Meanwhile, the Realme Buds Air Neo are also reportedly in the works. The company might launch it anytime soon, perhaps alongside the wireless charger.