"The overall online smartphones shipments in India grew 26 percent year-on-year in Q2 2019"
Counterpoint Research has released a new report on the online smartphone shipments in India for Q2 2019. The Xiaomi Redmi Note 7 Pro emerged as the best-selling smartphone during this period. As per the report, the segment witnessed 26 percent growth in the second quarter of the year compared to the same quarter last year. The increase in online smartphone shipments was a direct impact from the multiple sales and new launches that happened during the quarter. Brands such as Xiaomi, Realme, and Samsung focused a lot on this channel with many of them launching online-exclusive devices.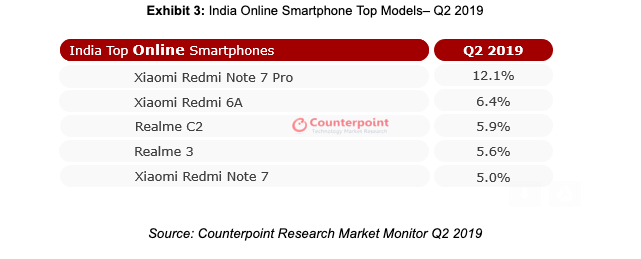 The report also states that the fastest growing price segment in India lay between Rs 15,000 and Rs 20,000. It's no surprise that Realme is giving a tough competition to the numero uno brand, for among the table-toppers, there are two offerings from Realme. The online portals such as Flipkart and Amazon also hosted several sales and discounts, which led to an increase in smartphone shipments.
In the coming months, more online-exclusive smartphones from the likes of Xiaomi, Realme, and Samsung, will be announced on these platforms. The festive season is upon us and consumers can expect more sales and major discounts. The increase in online smartphone shipments did also affect offline sales, which fell by 4 percent. When it comes to market share by ecommerce sites, Flipkart currently has a 58 percent online share, whereas Amazon leads the way with 79 percent share in the premium segment.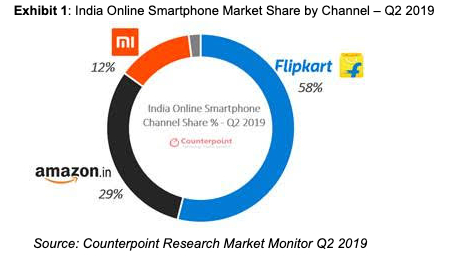 The Xiaomi Redmi Note 7 Pro, Realme C2 and the Realme 3 were the reason behind Flipkart's online growth of 45 percent year-on-year in the Q2 2019. The major brands that helped Flipkart reach dominance were Xiaomi, Realme, ASUS, and Samsung. For Amazon, the major sales came from the Xiaomi Redmi 6A, the Samsung Galaxy M series, the Redmi 7, and the latest OnePlus 7 phones. All of this accounted for 9 percent year-on-year growth for 'the everything store'. Interestingly, along with being a popular smartphone maker, Xiaomi has also risen as an e-commerce channel for purchasing its devices as it sits at the third place.