"The Redmi Note 8 Pro marks the first Xiaomi phone with four cameras as well as the first to feature the new MediaTek Helio G90T chipset"
Smartphone teardowns often reveal very interesting aspects about devices, and the recent Redmi Note 8 Pro teardown, posted officially by Redmi on Weibo, is no different. Among other factors, the Redmi Note 8 Pro teardown reveals the presence of a dedicated thermal management system inside the phone, in order to take care of extra heating generated by long hours of gaming. Inside the Redmi Note 8 Pro, Redmi has placed copper heat pipes that are put up against the rear panel, in order to dissipate heat more efficiently than just leaving the chipset to deal with it.
Heat management systems in phones are not really new, but given the Helio G90T's mid-premium segment product placement, it is an interesting point to note and one that pegs the Helio G90T as a serious contender in the dedicated gaming chipset industry. The heat management system is not the only point of interest to note, for the teardown also reveals the presence of an LPDDR4X RAM chip, the fastest available mainstream memory standard being used in phones right now. Also present is UFS 2.1 storage, although this is a little behind the times in terms of updated standards (flagship devices now come with UFS 3.0).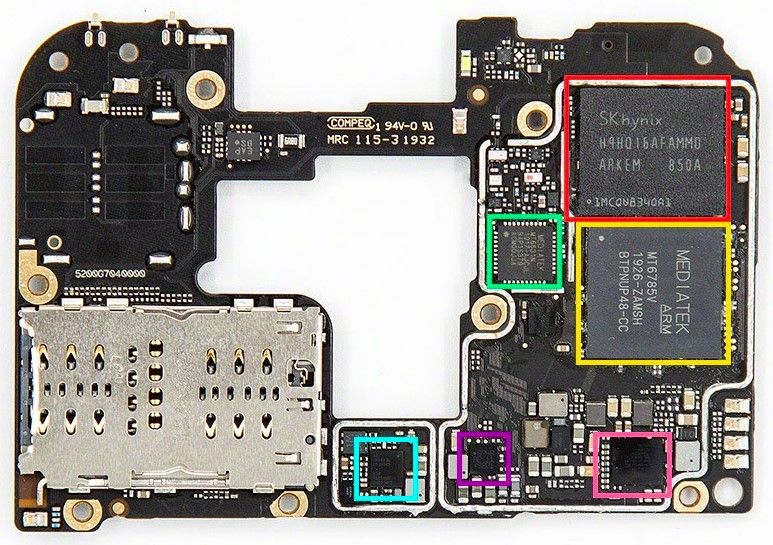 The camera module inside the Redmi Note 8 Pro appears to be a dual cluster layout, with the 64-megapixel Samsung GW1 primary camera paired together with the 2-megapixel depth sensing unit. The second cluster includes the 8-megapixel ultra-wide camera and the 2-megapixel macro camera. Apart from this, two sets of antennae can be spotted inside, which is pretty standard. The Redmi Note 8 Pro interestingly features a Qualcomm QuickCharge 4.0 chip inside, alongside the MediaTek PumpExpress 4.0, suggesting that it is ready for fast charging through any standard.
The Redmi Note 8 Pro has been launched already, and as per company announcement, will be coming to India within about two months. Given that Xiaomi has already faced a sudden and unexpected criticism for its "high" pricing of the previous premium Redmi K20 Pro, it remains to be seen how the Redmi Note 8 Pro, with a host of premium features inside, is priced at.
Xiaomi Redmi Note 8 Pro Video