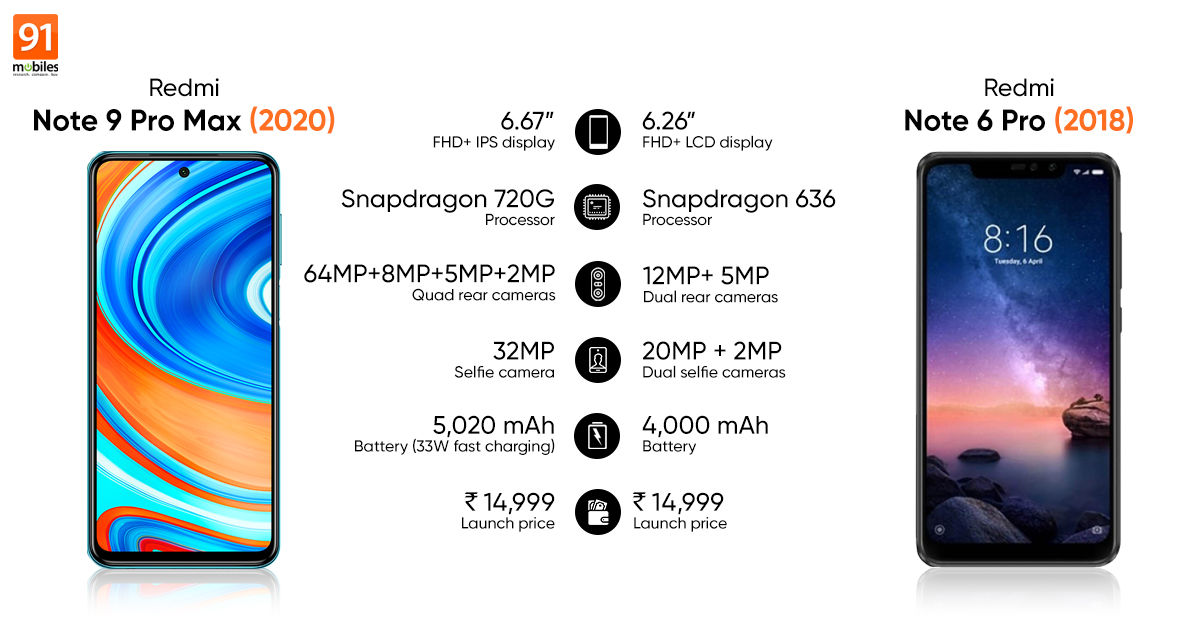 "Redmi Note 6 Pro was a great mid-range phone in 2018 but it pales when we look at the upgrades smartphones have brought in just a couple of years"
Redmi Note 6 Pro (review) was one of the most popular and highly-recommended mid-range phones back in 2018 and although the phone was great for its time, how well does it hold up in 2020? Maybe it is time to get into a time capsule and see how the mid-range phone specs have changed in the last two years. For the sake of comparison, we will be taking another Xiaomi phone, albeit from 2020, i.e. Redmi Note 9 Pro Max. However, before we jump into the comparison, we urge you to stop for a moment and just guess the camera specs, processor, battery capacity, and other aspects of Redmi Note 6 Pro. We can assure that you are in for a surprise.
Cameras – 12MP to 64MP
The Redmi Note 6 Pro was notably the first phone from the brand to feature four cameras in total (front and back). At the rear, the phone featured a 12-megapixel sensor paired with a 5MP depth-sensing unit. For selfies, the handset packed a 20MP sensor along with a 2MP camera. Don't the optics look a little underwhelming? That's because the Redmi Note 9 Pro Max is equipped with a quad-rear camera setup that bears 64MP primary sensor. This is assisted by 8MP ultra-wide sensor with 120-degree field-of-view, 5MP macro lens, and 2MP depth sensor. There is a 32MP AI sensor at the front for selfies and video calling.
There is no need to point out that the optics have improved drastically over the last two years in this price segment. As the companies are competing to offer the highest-resolution sensors, we are also witnessing remarkable improvement in the low-light performance of these handsets. Things are only looking up.
Display and design – Notch to punch-hole
The Redmi Note 6 Pro packed a 6.24-inch with full HD+ resolution, 19:9 aspect ratio, and a notch up top to house the dual selfie cameras. At the time, the notch was a fairly new trend to offer a fullscreen design and although Apple was first to jump on board, several Android phone makers followed suit. Moving on to our new mid-ranger, the Redmi Note 9 Pro Max comes with a punch-hole design toting 6.67-inch IPS display with Full HD+ (1,080 x 2,400 pixels) resolution and a 20:9 aspect ratio. Clearly, the new design allows for a better viewing experience and the increase in display size despite not increasing the overall form factor by a large degree has been a welcome change for those who consume multimedia content via their phones.
Processor and performance – 14nm to 8nm
The Redmi Note 6 Pro packed a 14nm Snapdragon 636 chipset, which was paired with either 4GB or 6GB of RAM. At the time, the chipset was a popular choice and a proven performer, but in comparison, the Redmi Note 9 Pro Max's 8nm Snapdragon 720G chipset with 2.3GHz clock speed and octa cores seems overpowered. The SoC is paired with up to 8GB RAM. In terms of performance, there is a significant leap taken over the last two years. The Snapdragon 720G blows the Snapdragon 636 out of the water with its capabilities. To give you a perspective, the Redmi Note 6 Pro scored 94,706 on AnTuTu benchmark while the Redmi Note 9 Pro Max manages to score around 280,000 on the same app.
Battery backup
The Redmi Note 6 Pro came with a respectable 4,000mAh battery, which was not a slouch by any means. However, with Redmi Note 9 Pro Max, we get a 5,020mAh cell that ensures your phone does not run out of juice by the end of the day.
Conclusion
While we keep on complaining that most phones feel boring these days in the mid-range segment, as you can see from this comparison, the industry has come forward leaps and bounds from just two years ago. This does not just hold true for Xiaomi but literally all other brands, including Realme, Samsung, and more. Hopefully, this trend will continue as customers are the ultimate winners in this situation and can get great value for the same amount every passing year.