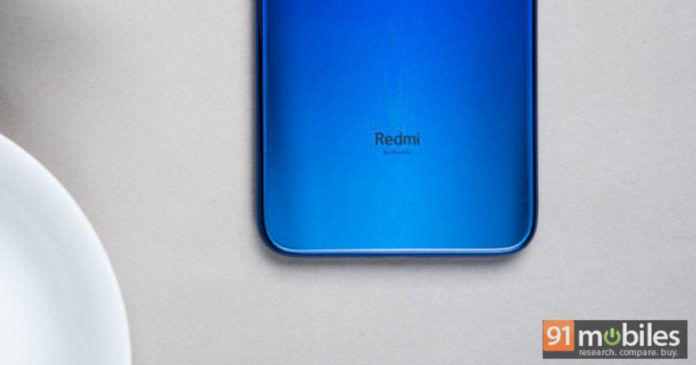 "The move will provide Redmi, the entry- and mid-range sub-brand of Xiaomi, with a flagship grade smartphone similar to the POCO lineup"
A recent Weibo post by Lu Weibing, the vice president and head of Redmi brand, has seemingly affirmed that the mid-range sub-brand of Xiaomi will soon introduce a smartphone powered by the Qualcomm Snapdragon 855 SoC. The move comes ahead of the launch of the flagship Xiaomi Mi 9, which is set to become the first Xiaomi phone to feature Qualcomm's flagship SoC. Now, with Redmi joining the party, there might be a fair bit of confusion regarding the placement of products in Xiaomi's lineup.
There isn't much to go on with Weibing's post, since it essentially takes cue from a Snapdragon 855 promotional teaser and states that Redmi, too, will launch a smartphone using the flagship processor. There have literally been no other details so far, which appears to suggest that this purported smartphone is only in the planning stages right now, and the production stage is some time away into the future. Like sub-brand POCO, Redmi too will possibly play on high specs while skimping on uber-premium features to keep the price within a tight margin.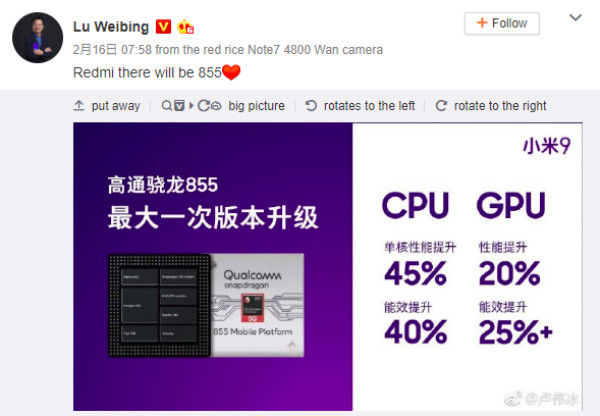 It is unlikely that the flagship-grade Redmi smartphone will feature 5G – the optional X50 modem will remain a pricey, elusive feature that's used in only a handful of devices this year. With the Redmi device, Xiaomi will now have the Mi 9, Mi 9 Explorer Edition, Mi MIX 4, the next POCO smartphone (POCO F2?), and even the next generation Black Shark gaming smartphone, all under the Snapdragon 855's umbrella. It is likely that the Redmi and POCO flagship devices are not launched in the same markets to ensure diversity of distribution, without which there might be a bit of a confusion in terms of product placement and identity.
It, however, might not be any time soon for us to get further news about the Snapdragon 855-powered Redmi phone. Estimates suggest that it will be at least late 2019 until the smartphone is seen in action, before which we will certainly hear more about the device via leaks and teasers.