"The registrations will essentially help the brand gauge interest from different localities regarding its broadband service"
Last month, Mukesh Ambani-led Reliance Jio announced the launch of the brand's Jio GigaFiber fibre-to-the-home (FTTH) broadband service. Starting today, interested customers can register for the brand's FTTH service that has been claimed to offer speeds up to 1Gbps. If you are wondering how you can register for the Jio GigaFiber, you are in the right place.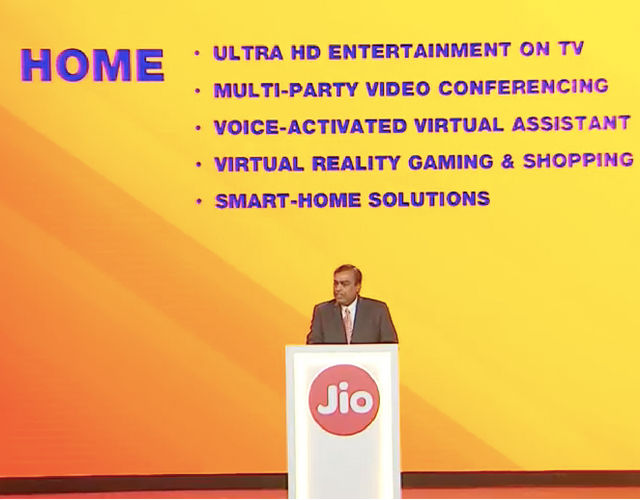 How to book Reliance Jio GigaFiber
In order to register for the Reliance Jio GigaFiber broadband service, interested customers need to simply head to Jio.com and follow these simple steps:
1) Head to the Jio GigaFiber registration page.
2) In case the default home and work address is wrong — which was the case for us — click on the Change button.
3) Now, search for your desired address in the provided field and ensure that you have chosen the correct address by cross-checking with the Google Maps preview provided on the right side of the page.
4) After choosing the desired address, click on the Submit button.
5) Now, you need to enter your full name and mobile number and agree to the brand's terms and conditions. These conditions basically include the agreement that you are inviting the brand to bring the broadband service to your neighbourhood and that your data will be governed by the privacy policy provided on the Jio's website.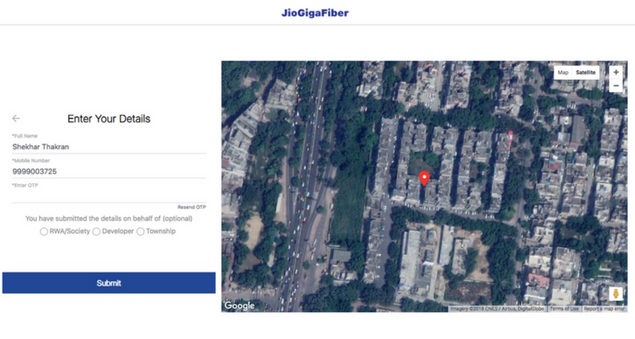 6) Following this, you need to click on Generate OTP and fill in the provided field with the one-time-password received on your smartphone.
7) You can optionally choose to disclose if you have submitted the details on behalf of RWA/Society, Developer, or a Township.
8) You have now successfully registered for the service and the company will get back to you via text message. However, you can choose to suggest more addresses for the Jio GigaFiber service if you want.
Additional details
As you might expect, the registration is free of cost. We would like to clarify that this is just the registration phase and the company will prioritise the rollout of Jio GigaFiber service in different localities on the basis of the interest that it receives from these registrations. As per the company's statement, it plans to extend fiber connectivity to "homes, merchants, small and medium enterprises and large enterprises simultaneously across 1,100 cities."
For more details regarding the Jio GigaFiber service and the rollout, stay tuned to our website.