"According to Netflix, Reliance Jio has topped the list with an average network speed of 3.63Mbps, ahead of Maharashtra-based 7 Star Digital."
Reliance Jio's GigaFiber fiber broadband service has topped the list of the best broadband internet service providers in India, according to the Netflix ISP Speed Index for the month of January 2020. According to the speed chart published by the streaming platform, Reliance Jio has managed to outperform Maharashtra-based 7 Star Digital, with peak average bandwidth of 3.63Mbps. This marks a slight improvement in Jio GigaFiber's December 2019 speed of 3.6Mbps, but more importantly, sees the operator overtake 7 Star Digital to take the top position.
In comparison to the average bandwidth of 3.67Mbps offered by 7 Star Digital in December, the operator mustered average speed of 3.62Mbps in January, thereby only marginally losing out on its top spot. The tight gap between India's top broadband internet operators is maintained across the entirety of the top 10 operators' list. At the third spot is Spectra, which offered an average bandwidth of 3.5Mbps. At fourth spot is Airtel, which offered average bandwidth of 3.48Mbps. Both Spectra and Airtel saw overall declines in the average speeds offered by them, down from 3.59Mbps and 3.55Mbps in December, respectively. However, the two operators held on to their respective positions in the list.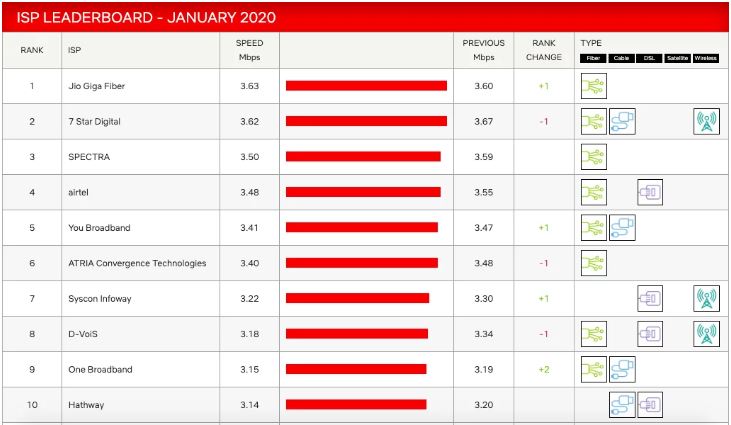 At fifth position in the list is Vodafone India-owned You Broadband, which offered average speed of 3.41Mbps. ACT Fibernet, which is one of India's more notable operators, only mustered the sixth position in the list, losing out on its fifth spot to You. However, ACT was only marginally behind, with an average speed of 3.4Mbps. Like all the other operators in the list except for Jio, both You and Airtel saw declines in speed from what they offered in December. The other four operators making up the top 10 list include Syscon Infoway, D-VoiS, One Broadband and Hathway, offering speeds of 3.22Mbps, 3.18Mbps, 3.15Mbps and 3.14Mbps respectively.
What's important to note here is that all of the operators appear to have underperformed in comparison to the peak performance advertised by them. For instance, the likes of Jio GigaFiber, Airtel and ACT Fibernet offer up to 1Gbps bandwidth. However, the high cost of high bandwidth plans, coupled with availability in select circles, and the presence of cable, DSL and wireless internet plans that offer slower bandwidth also likely played a role in bringing down the average speed of each of the operators.
Going forward, it remains to be seen if these operators can increase their performance through 2020 since despite the slight reshuffling of ranks, most of the average speeds have remained the same.