"The service is expected to start with metros such as Delhi and Mumbai"
Update (November 21st): The service has debuted as a pilot for housing complexes or enterprises, if the minimum number of interested users are more than 40. It's currently available in major cities like Delhi-NCR, Hyderabad, Chennai, and Ahmedabad, among others. One can register on the official website for the same or give a missed call to 1-800-200-200-9.
To make it easier for consumers to acquire its SIM cards, the Mukesh Ambani-owned Jio has been introducing various initiatives. It became the first telecom operator to opt for e-KYC activation process via Aadhaar card to ensure that the SIMs can be activated within 15 minutes. However, even with all these options, users have faced a lot of issues in getting the SIM cards, resulting in black marketing. Now, Reliance Jio is aiming to tackle this issue with an industry-first option of delivering SIM cards at the consumers' door steps.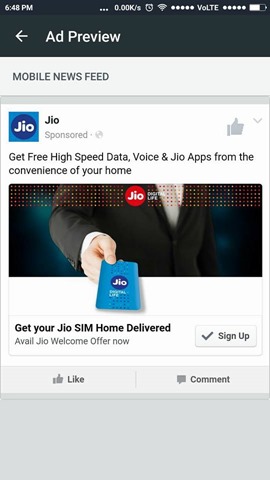 The news has been doing the rounds since a while, with the company also acknowledging that it'll be launching the service. It seems that it's gearing up to roll it out over the coming days as a post was spotted on Jio's official Facebook page, which says "Get Free High Speed Data, Voice & Jio apps from the convenience of your home". Interested users would be able to schedule the time for the delivery of the SIM card(s) and their authentication would be done via Aadhar-based e-KYC. The service is expected to start with metros such as Delhi and Mumbai, and will be available in other cities at a later stage.
Of course, the major draw towards the newcomer's service is the fact that it's offering free data and voice calls as part of the Welcome offer, which is available till December 31st. While the post does tease users about this offer, what's unclear is whether the same would be extended further, since as per TRAI's directive, the Welcome Offer is only applicable to consumers who can get the SIM cards before December 4th. We'll have more details once the home delivery service is live, so stay tuned to 91mobiles.