"The test throws some surprises, and if you are wondering why is that, then read on to find out"
Ever since its launch and aggressive marketing tactics, Jio has been grabbing a fair share of headlines in the past few days. In fact, its apps have also dethroned popular apps like WhatsApp and Facebook on Google Play Store's popularity charts. While Jio seems like a no-brainer because of its affordable tariffs (read: Reliance Jio vs Vodafone vs Airtel vs Vodafone tariffs), the real test is whether it really beats the incumbents in terms of 4G speeds. While we could have done this test earlier too, we chose to compare the speeds after Jio's network launched commercially, as that would give us a better idea if its infrastructure can handle more users.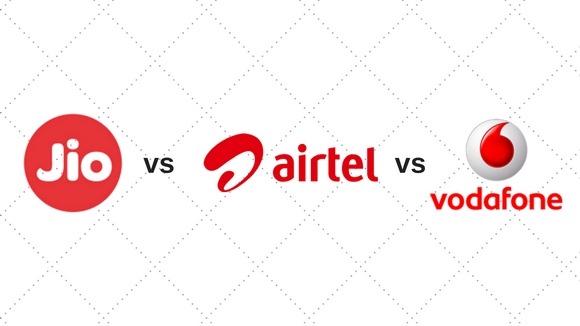 Before we begin, here's the methodology – the speed test has been done in the Delhi-NCR region, covering Delhi, Gurgaon, and Noida using a Samsung Galaxy S7 (review). We used the popular Speedtest app to note down the results. The test throws up some surprises, and if you wondering why is that, then read on to find out.
The first location we tested the network speeds was Delhi, and as expected Reliance Jio aced it with the speed of 30.61Mbps. What's interesting however, is that it was closely followed by Airtel, clocking 30.01Mbps. Vodafone trailed behind with speeds of 17.71Mbps. Surprisingly, when we talk about upload speeds, then Vodafone performed much better at 8.06Mbps. Airtel ranked second with upload speed of 4.49Mbps, and Jio came in last with speeds of 3.24Mbps
Reliance Jio vs Airtel vs Vodafone speed test in Delhi
In Gurgaon, the results were totally the opposite. Vodafone's Supernet 4G network topped the competition with speeds of 28.18Mbps, while Jio managed to just have a slight edge over Airtel with their speeds of 12.76Mbps and 12.49Mbps, respectively. In terms of upload speeds, Jio took the lead at 8.11Mbps, followed by Vodafone with its speed of 6.72Mbps. Airtel came last with an upload speed of 3.62Mbps.
Reliance Jio vs Airtel vs Vodafone speed test in Gurgaon
Vodafone's 4G network isn't available in Noida, but in this case, Jio is significantly ahead of Airtel with its speed of 12.06Mbps in comparison to 9.98Mbps. At 0.39Mbps, Airtel fares extremely poorly in terms of upload speeds, whereas Reliance's network performs decently at 4.34Mbps.
Reliance Jio vs Airtel speed test in Noida
The results were a mixed bag for sure, as Reliance Jio was expected to be the fastest network of all because of its all-IP network that's supposed to be future-ready. However, Airtel matches it quite well. Vodafone has impressive speeds in Gurgaon, but lags behind in other locations as it doesn't have the 4G license for all places. Reliance Jio definitely wins when we talk about the network coverage as it has a pan-India license, while Airtel has a different trick up its sleeve. It promises faster speeds with carrier aggregation.
In simple words, carrier aggregation means that Airtel can combine the bandwidths of B3 (FDD-LTE, 1,800MHz) and B40 (TDD-LTE, 2,300MHz), which could theoretically offer double the speeds (up to 135Mbps). The operator has already started rolling out this technology in Mumbai, with several other cities to follow.
Of course, we have to mention that cellular data speeds (like the ones we mentioned above) depend upon a variety of aspects – place and time of the day, network congestion, the device, and many other variables. However, the results we got do serve as a good indicator of what to expect. If you ask for our opinion, then we'd say that Reliance Jio might be hogging all the limelight, but the race for the best and fastest telecom network in India is still on.
These are our initial findings, but we will keep tracking the networks and their speeds and keep updating you on an ongoing basis. You can also hit the comment section below and let us know about the network speeds you are getting in your region.
With inputs from Shaurya Shubham