"The phase 2 of the telecom wars have just begun, and here's how the latest challenger stack up against established players"
After waiting with bated breaths for Reliance to launch its 4G network officially, the company finally revealed the tariffs at its AGM today. Even a cursory glance at its plans suggest that the brand is going for a no-holds-barred battle with the current telecom operators. In fact, as part of the Welcome offer, it's offering consumers free SIM cards along with free voice calls, unlimited data and access to its premium content.
While in the short term, the Jio offer does seem enticing, the real question is whether it can replace your current service provider in the long term. If you are wondering about the same, then you've landed at the right place. Read on as we pit Reliance Jio's tariffs against the current plans from the top three telecom companies in India – Airtel, Vodafone, and Idea.
Voice calls and SMSes
The calling card (pun intended) for Reliance Jio's network is the fact that all the voice calls will be free, and users will only be charged for 4G data. Not just that, the calls would be free even while roaming. Both local and national SMSes will also be free (except in the base plan).
In comparison, Airtel, Vodafone, and Idea charge 2p for every second of a voice call, without any rate-cutter packs. The SMSes too cost Re 1 for a local SMS and Rs 1.5 for a national SMS.

4G data tariffs
The monthly base plan from Reliance Jio costs Rs 149, but it offers only 300MB data along with 100 free SMSes for a period of 28 days. Hence, for the sake of this comparison, we've chosen the second plan from Jio, which costs Rs 499. Before comparing however, it must be noted that since all telecom companies don't have plans at the exact same prices, so we've chosen the closest tariff which matches Jio's offering. All the tariffs taken are for the Delhi circle, but the prices should be similar for other telecom circles too. It must be noted that Idea doesn't have a 4G network in Delhi, unlike its other counterparts included in this article.
So, without further ado, let's see how the plans stack up against each other. For Rs 499, Jio offers 4GB data to the consumer along with unlimited data access during the night for 28 days. It goes without mentioning that both voice calls and SMSes are completely free (up to 100 SMS every day), along with access to Jio's suite of apps. Talking about Airtel, its Rs 455 plan includes just 2GB data and that too, for a period of 21 days. Vodafone's Rs 497 plan is better than Airtel as it offers 3GB data for a period of 28 days. Idea undercuts its peers by offering 3GB of data for Rs 455, which is valid for 28 days.
Next up, the Rs 999 plan for Reliance Jio features 10GB of data along with all the goodies like unlimited data at night and free voice calls and SMSes (up to 100/day). Interestingly enough, if you discount Jio's additional benefits, then Airtel, Vodafone, and Idea are able to match to the challenger with 10GB of data. All the plans are valid for 28 days, and Vodafone goes a step ahead as it allows unlimited data, with the speed capped at 40kbps after consuming the 10GB data.
However, Jio again comes on the top when we check out the Rs 1,499 plan, as it offers 20GB data, while both Airtel and Vodafone allow 15GB data. However, both Airtel and Vodafone offer unlimited data. Airtel offers 80kbps speed between 15 to 17GB and 40kbps beyond that, while Vodafone offers 40kbps speed after exceeding the limit.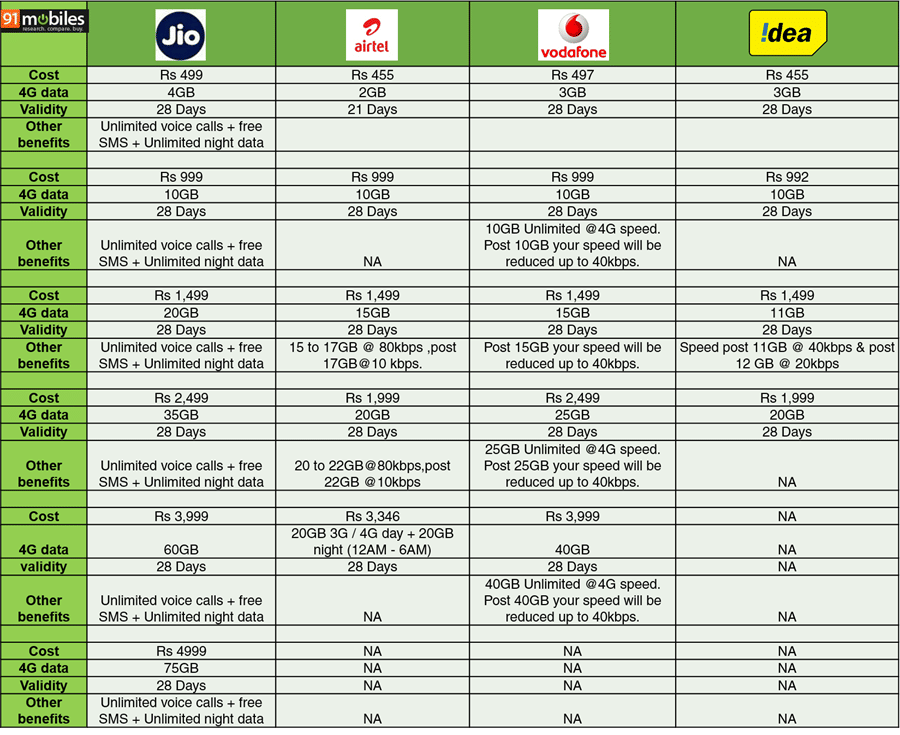 In the subsequent plans, Jio continues to trump the incumbents, and it's interesting that there's no competition for its highest plan, priced at Rs 4,999, wherein it bundles 75GB of data. Airtel's costliest plan is priced at Rs 3,346 and it comes with 20GB of data during the day and 20GB during the night. Vodafone's highest plan will set you back by Rs 3,999 and offers 40GB of unlimited data, with 40kbps speed after FUP.
Occasional 4G plans
Keeping it simple, Reliance Jio has only 10 plans for its subscribers. Apart from the seven plans mentioned above, it also has three plans for consumers who require occasional use.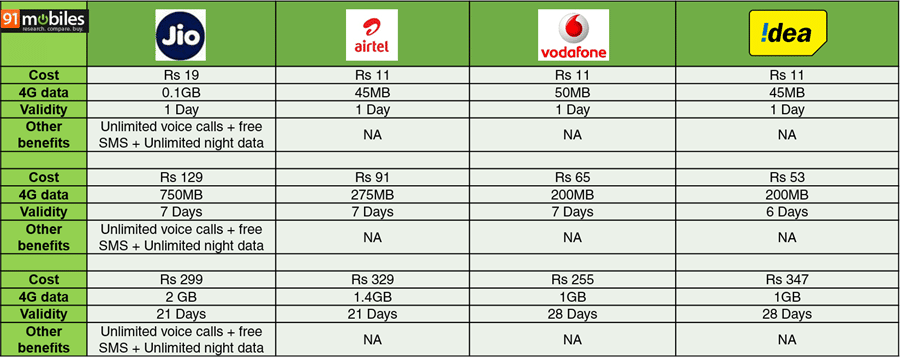 Reliance Jio's daily plan will cost Rs 19 and will offer you 100MB of 4G data along with the usual benefits. In contrast, both Airtel and Vodafone charge Rs 11 for almost half the data, at 45MB and 50MB respectively.
Going up, the 7-day plan from Jio is priced at Rs 199 and offers 750MB of data. Airtel charges Rs 91 for 200MB data for the same period, while Vodafone's 7-day pack will cost you Rs 65 for 200MB. Idea offers 200MB data for six days with its Rs 53 plan.

If you go even higher, then Reliance Jio offers 2GB data for a period of 21 days for Rs 299. On the other hand, you'll need to shell out Rs 329 for 1.4GB data from Airtel for the same period. Vodafone doesn't have a 21-day plan, but its 28-day plan will set you back by Rs 255 and offers 1GB data. Idea is comparatively more expensive as it charges Rs 347 for 1GB data for 28 days.
Verdict
At first glance, Reliance Jio's tariffs feel attractive, but a closer look reveal that it's certainly more than that meets the eye. If you ignore the free voice calls and unlimited 4G data at night, then the incumbents aren't significantly behind in terms of pricing. Jio doesn't offer any unlimited data plans either. That said, Jio certainly has the cheapest plans among all the telecom companies (Rs 50 per GB), and things like no roaming charges, free voice calls and SMSes and no blackout days are like the cherries on top. Another feather in the cap for Jio is its pan-India license for 4G, which means wider LTE coverage, since no other operator is present in all telecom circles.
However, the battle has just begun, and with the Reliance already throwing a one-two punch in the form of the Welcome offer, we have to see how it plays out over the next few months. If the incumbents reduce their tariffs, we're sure Jio won't be following a defensive strategy and would reduce the prices further next year, when the consumers would actually need to start paying for its plans.
Related read: 7 ways Reliance Jio could disrupt the Indian telecom industry
With input from Saatvik Goel