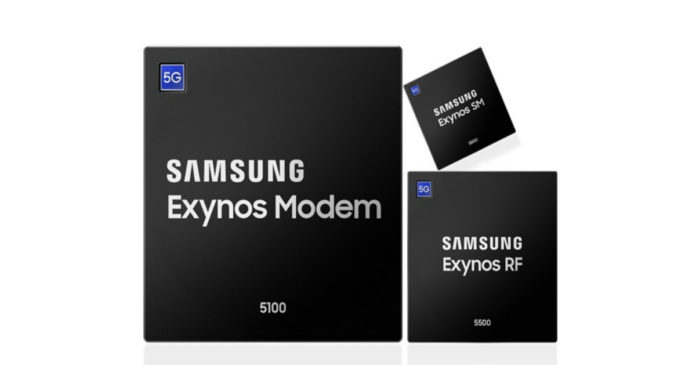 "Samsung's mass production for 5G multi-mode and RF chipsets for the upcoming flagship smartphones has begun"
Samsung has announced that it has started mass production of 5G multi-mode chipsets. This includes the previously-introduced Exynos Modem 5100, a new single-chip radio frequency transceiver, the Exynos RF 5500, and supply modulator solution, the Exynos SM 5800. Samsung says all these support 5G New Radio (5G-NR) sub-6-gigahertz (GHz) spectrum and legacy radio access technologies.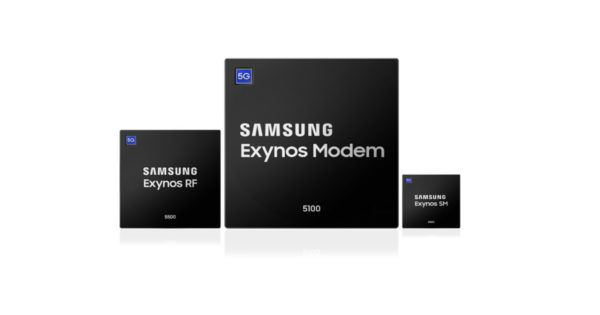 The Samsung Exynos 5100 is the brand's first 5G model solution that virtually supports all networks from 5G's sub-6GHz and mmWave spectrums to 2G GSM/CDMA, 3G WCDMA, TD-SCDMA, HSPA and 4G LTE networks in a single chip. It is paired with RF and supply modulator solutions, Exynos RF 5500 and Exynos SM 5800 respectively for reliable and power-efficient performance. The Exynos RF 5500 supports legacy networks and 5G-NR sub-6GHz networks in a single chip. On the other hand, the RF transceivers allow smartphones to transmit and receive data over the cellular network.
The Exynos RF 5500 has 14 receiver paths for download and supports 4×4 MIMO and higher-order 256 QAM scheme to maximize the data transfer rate over the 5G network. The Exynos SM 5800 is a low-power supply modulator solution for 2G to 5G-NR sub-6GHz that supports up to 100MHz envelope-tracking (ET) bandwidths. The modem can demonstrate up to a 30 percent power reduction by dynamically adjusting the supply voltage according to the modem's RF input signal.
Inyup Kang, president of System LSI Business at Samsung Electronics said in a press release, "Samsung has been an innovator in mobile communication technologies with a strong portfolio of market-proven solutions, and we are well-prepared to extend our leadership into 5G. Our multi-mode solutions, the Exynos Modem 5100, Exynos RF 5500 and Exynos SM 5800 will together enable powerful yet energy-efficient 5G performance along with the network versatility that allows users to stay connected wherever they are."