"Samsung's curved LCD display could be a cheaper alternative to curved OLED screens"
From past several years, Samsung has been using curved displays in its devices like the fitness trackers, smartphones, televisions, monitors, and more. The brand's curved panels are based on OLED (Organic Light-Emitting Diode) screens. Now it appears that the South Korean tech giant has found a way to manufacture curved screens based on the LCD (Liquid Crystal Display) technology. The company has just received a patent for a "Curved Liquid Crystal Display" by the United States Patent and Trademark Office (USPTO).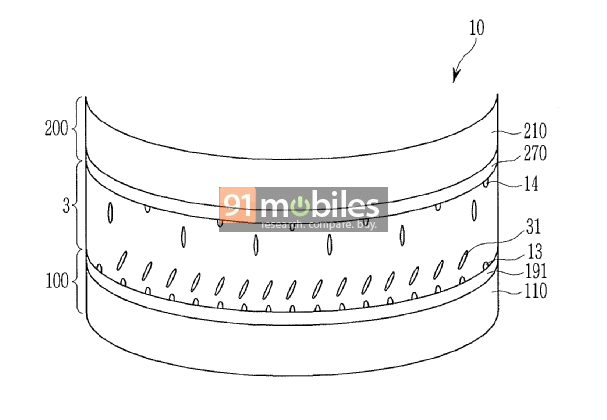 Samsung filed the patent for its curved liquid crystal display technology in November last year and was granted the same on December 20th, 2018. The patent description suggests that this tech features a curved LCD panel, which is placed between two substrates. The trademark doesn't reveal the material used for the two substrates. However, we can expect it to be plastic, which Japan Display already utilises on its curved LCD screen panels. The filing also mentions that the protrusion in the curved display will be formed by one of the compounds in the Chemical Formula 1 (explained in detail in the patent), which is combined with the polymer obtained by the same compound.

Notably, the current LCD displays usually have a glass backing, which doesn't allow them to be curved. But the use of plastic on both side of the LCD layer allows for not only a flexible screen, but could also prevent them from cracking when dropped.
Samsung Curved Liquid Crystal Display patent
Sadly, the patent doesn't mention which devices could come with the curved LCD panels. However, we can expect Samsung to use its curved liquid crystal display technology on a number of devices in the future. Moreover, since curved LCD screens can be a cheaper alternative to the curved displays based on OLED panels, so it wouldn't be farfetched to expect affordable curved smartphones, TVs, and other devices next year from several brands based on Samsung's curved LCD tech. It's worth mentioning that several manufacturers, including Samsung, are rumoured to launch their foldable smartphones next year, so we could find this solution being implemented on such devices as well.