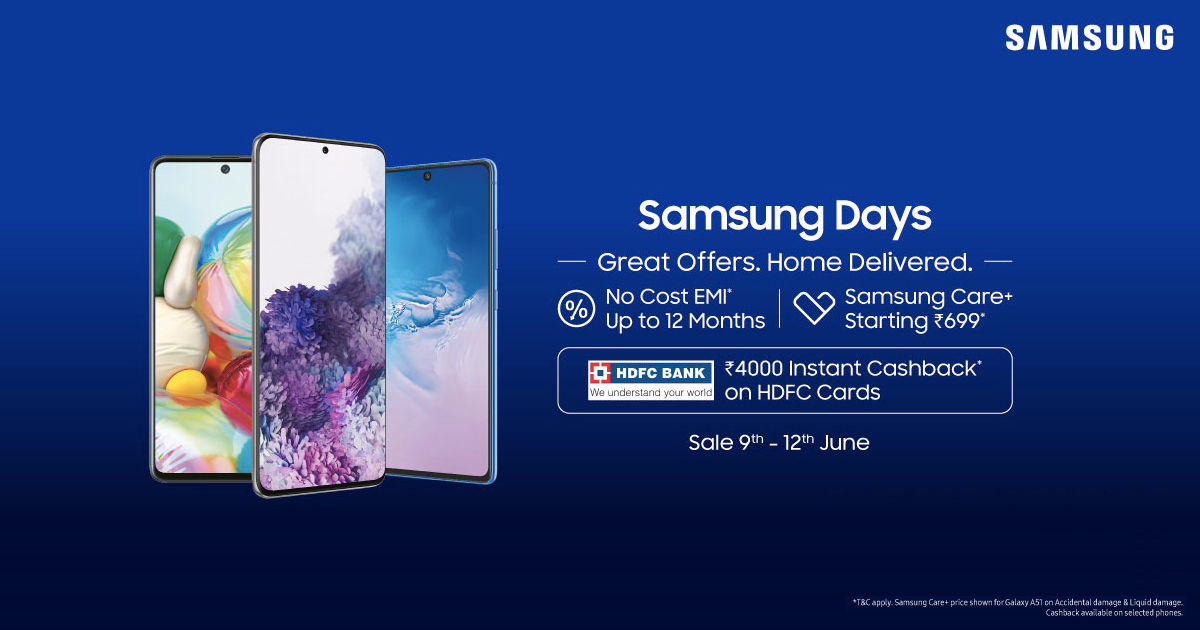 Samsung has just announced its Samsung Days sale, which is aimed at making its products more affordable with special offers. This is just the thing that buyers need right now, and Samsung seems to be trying to lighten the strain on the wallets of those who want to purchase new smartphones, tablets, and wearables. Everything from extended no-cost EMI tenures to cashback offers will be available during the Samsung Days sale, which starts June 9th and runs till June 12th on Flipkart. Moreover, Samsung Care+ accidental and liquid damage protection cover will also be offered at significantly discounted prices with many of the smartphones during the sale to keep your device protected. Let's take a look at everything the Samsung Days sale on Flipkart offers.
Smartphones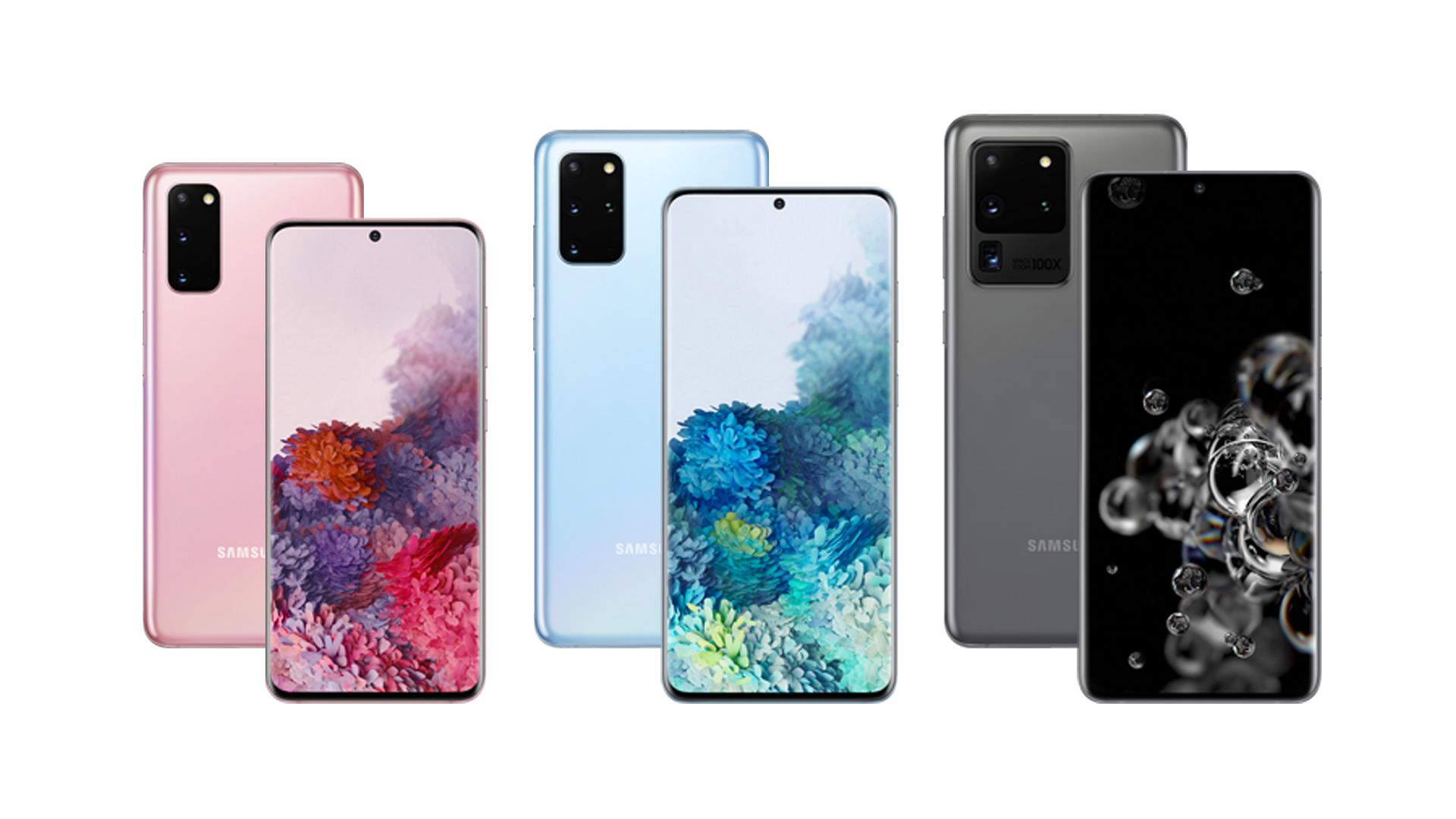 Samsung Galaxy S20, S20+, and S20 Ultra are no-brainers for those looking for absolute power and a top-notch camera experience. With features like Space Zoom and 8K video capture, these handsets are pushing the boundaries of what a phone is capable of. And all three come with Dynamic AMOLED 2X displays bearing QHD+ resolution and the astounding 120Hz refresh rate.
All three phones from the Galaxy S20 range will come with a Rs 4,000 cashback offer for those who use HDFC Bank credit or debit cards to buy them. The Galaxy S20 costs Rs 70,499, but with the cashback, the effective price will come down to just Rs 66,499. The Galaxy S20+ has its price set at Rs 77,999 but with the cashback, it settles at an effective price of Rs 73,999. Coming to the Galaxy S20 Ultra, it costs Rs 97,999 but the HDFC Bank cashback offer brings its effective price down to Rs 93,999.
If these devices are out of your budget but you still want a premium experience, then you've also got the Galaxy S10 Lite to consider. It boasts of the new Super Steady OIS system that offers gimbal-like stability for industry-leading anti-shake videos. These phones too will be the beneficiaries of the HDFC Bank cashback offer. The smartphone's price is Rs 42,999 for its 8GB + 128GB storage variant. If you apply the Rs 4,000 Samsung Days cashback to this model, it can be yours for just Rs 38,999.
On top of these great cashback offers, the Samsung Days sale is giving buyers no-cost EMI option to make their new smartphone easier on the pocket! You can get no-cost EMIs for as long as 12 months with these smartphones. What's more, you can even get some of the most popular mid-range smartphones on no-cost EMIs in the Samsung Days sale. So, whether you have your sights set on all-new Galaxy A31, the 48MP quad-camera champion Galaxy A51, or the 64MP quad-camera beast Galaxy A71, you can get them all with no-cost EMIs of up to 9 months. On the other hand, if you want the premium Galaxy Note 10 or Note 10+ to enjoy the full power of the S-Pen, you can make the purchase without breaking the bank with no-cost EMIs of up to 9 months.
Most of the powerful and stylish Samsung smartphones mentioned above also come with great discounts on the Samsung Care+ service for accidental and liquid damage during the Samsung Days sale on Flipkart. This lifesaver of a package covers your phone for liquid damages as well as cracked screens. Accidental damage is something that no regular warranty covers, which means you need to pay out of your pockets to fix the phone if it falls into water or has its screen cracked. That's where Samsung Care+ comes in. Moreover, this service gives you additional 1-year protection for mechanical and technical failures. With benefits such as these, getting Samsung Care+ handy becomes an obvious choice and lets you be at peace for 2 years of buying your next smartphone.
Product
Actual price
Cashback
Effective price
No-cost EMIs
Samsung Care+
Samsung Galaxy S20
Rs 70,499
Rs 4,000
Rs 66,499
Up to 12 months (starting at Rs 5,875)
Rs 2,499 (down from Rs 3,999)
Samsung Galaxy S20+
Rs 77,999
Rs 4,000
Rs 73,999
Up to 12 months (starting at Rs 6,500)
Samsung Galaxy S20 Ultra
Rs 97,999
Rs 4,000
Rs 93,999
Up to 12 months (starting at Rs 8,167)
Samsung Galaxy S10 Lite (8GB + 128GB)
Rs 42,999
Rs 4,000
Rs 38,999
Up to 12 months (starting at Rs 3,583)
Rs 2,299 (down from Rs 3,299)
Samsung Galaxy A71 (8GB + 128GB)
Rs 32,999
N/A
N/A
Up to 9 months (starting at Rs 3,667)
Rs 1,149 (down from Rs 1,999)
Samsung Galaxy A51 (6GB + 128GB)
Rs 25,250
N/A
N/A
Up to 9 months (starting at Rs 2,806)
Rs 699 (down from Rs 1,099)
Samsung Galaxy A31 (6GB + 128GB)
Rs 21,999
N/A
N/A
Up to 9 months (starting at Rs 2,444)
Samsung Galaxy Note 10
Rs 73,600
N/A
N/A
Up to 9 months (starting at Rs 8,178)
N/A
Samsung Galaxy Note 10+ (256GB)
Rs 84,200
N/A
N/A
Up to 9 months (starting at Rs 9,356)
N/A
Samsung Galaxy Note 10+ (512GB)
Rs 94,700
N/A
N/A
Up to 9 months (starting at Rs 10,522)
N/A
Tablets and wearables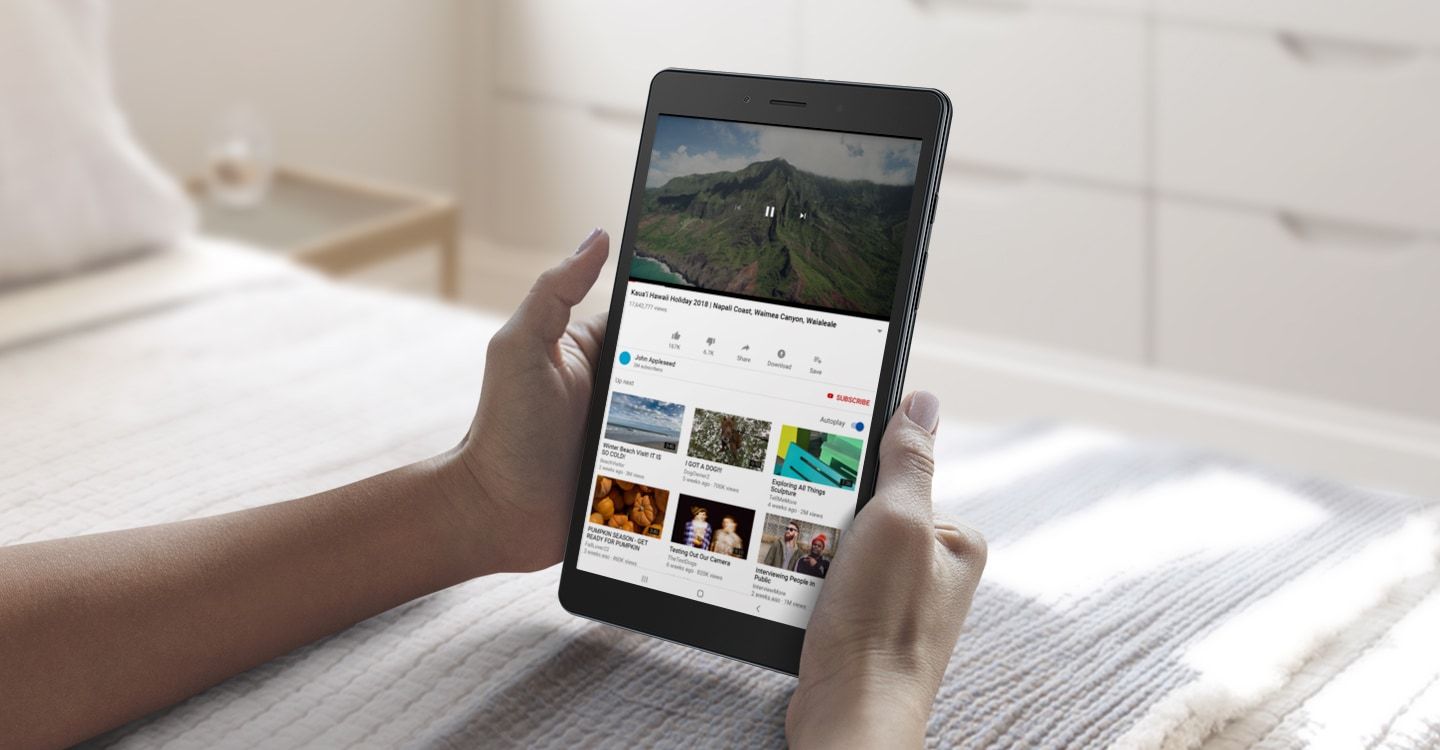 The goodness of the Samsung Days sale on Flipkart isn't limited to just smartphones considering the South Korean titan has a wide variety of tablets and wearables for buyers to choose from. And given that we are still living uncertain times due to the COVID-19 pandemic, the demand for tablets is shooting up as students get used to online learning. Samsung Galaxy Tab A 8.0 — with its bright, HD+ display, 5,000mAh battery, dual speakers, and inbuilt Samsung Kids Home mode — is the ideal device for your kids' learning needs. It not only gives your child a large display and loud speakers for an immersive learning experience but also ensures long battery life to guarantee that their funfilled online classes continue uninterrupted. This tablet is priced at just Rs 9,999 for its Wi-Fi model and Rs 11,999 for the Wi-Fi + LTE variant. If you want a bigger display, you can get the Galaxy Tab A 10.1 LTE (Rs 19,999), while the Galaxy Tab S5E LTE (Rs 39,999) is perfect for a seamless multitasking and keyboard support.
And if you are in the market for a wearable, then the Samsung Galaxy Fit e offers continuous heart rate monitoring, tough yet lightweight build, water-resistant design, and day-long battery life at just Rs 2,490. If your heart is set on a smartwatch instead, then you can go for models such as Samsung Galaxy Watch 46mm (Rs 23,990), Galaxy Watch Active 2 Aluminium (Rs 25,990) and Steel (Rs 31,990), and the premium Galaxy Watch Active 2 42mm (Rs 28,490) and 46mm (Rs 30,990). Available with a variety of strap options to suit your style, these smartwatches excel at offering health and fitness data while also serving all the other functions of a smartwatch such as notifications, location tracking, music playback, and so much more.
The Samsung Days sale is truly the best time to buy Samsung smartphones, smartwatches, fitness bands, and tablets in India. Everything from the premium segment to the mid-range and even affordable products are being included in this Samsung Days sale. It goes live on Flipkart on June 9th and will continue till June 12th. So, if you had your heart set on a new gadget, then log on to Flipkart on June 9th to get the best cashback and no-cost EMI offers on your next smartphone, wearable, or tablet!