"The Samsung foldable phone has a 4.58-inch display on the outside and a 7.3-inch foldable screen on the inside"
Samsung has showed off its foldable phone prototype at its Developer Conference 2018 in California. The design of the device was masked by a thick case, with company focusing only on the large foldable display on one side and a smaller display on the other. However, fans looking forward to get their hands on the foldable smartphone will have to wait it out since it will hit mass production "in the coming months." Apart from this, Samsung says it is working on rollable and stretchable displays.
At the centre of the Samsung foldable phone is what the company calls the Infinity Flex Display. This new display panel allows users to fold and unfold the device with ease thanks to a new "composite polymer that's both flexible and tough" and a foldable adhesive that allows the phone to be folded and unfolded hundreds of thousands of times. Samsung says it is taking the Infinity Flex as a blank canvas for devices and calling the external panel a Cover Display.
As for the specifications, the Cover Display on the Samsung foldable phone will have a 4.58-inch display with 840 x 1,960 pixel resolution, 420ppi pixel density, and 21:9 aspect ratio. On the other hand, the larger and unfolded 7.3-inch display has 1,536 x 2,152 pixel resolution, 420ppi pixel density, and 4.2:3 aspect ratio. Other details about the device are yet to be announced, though we can expect to hear more about the finished product at Mobile World Congress 2019 in February.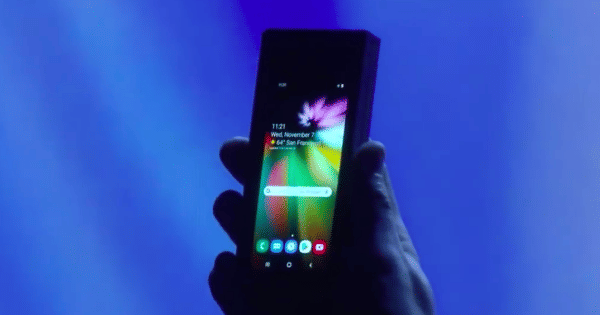 Samsung pointed out that users can access the same apps on both the smaller screen on the outside and the bigger screen that appears when unfolded. Moreover, the app continuity function will allow users to open an app on the external 4.58-inch display and then carry on using it on the bigger 7.3-inch panel as soon as they unfold the screen for a "intuitive, continuous experience." The Multi-Active Window function of the new Samsung One UX allows for "multitasking as it was meant to be," with the ability to run up to three apps simultaneously. Samsung is already distributing an emulator APK for developers to test their apps on the new foldable form factor.
Google's Head of Android UX Glenn Murphy announced on stage at the Samsung conference that Android will now natively support foldable phone, so be prepared for foldable phones with myriad designs from different vendors over the coming two years. Android will now have APIs to support app continuity, multi-active windows, and different display resolutions.