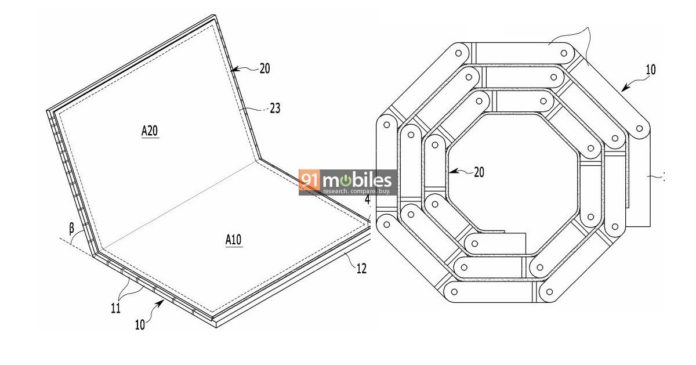 "Samsung's new patent could allow a device to be used in several modes like laptop, tablet, and a foldable phone, thanks to multiple hinges"
Earlier this year, Samsung became the pioneer in the next-gen foldable smartphone space by unveiling the Galaxy Fold. While the phone-cum-tablet is yet to go on sale due to multiple reports of display-related issues, the Korean titan is rumoured to be already working on two more foldable offerings. But that's not all the brand seems to have in store for us. The company has been filing patents for new implementations for foldable form factor from time to time. Most recently, a new Samsung phone with a wrap-around display surfaced on WIPO's website. And now, 91mobiles has uncovered yet another foldable design patent in the USPTO database.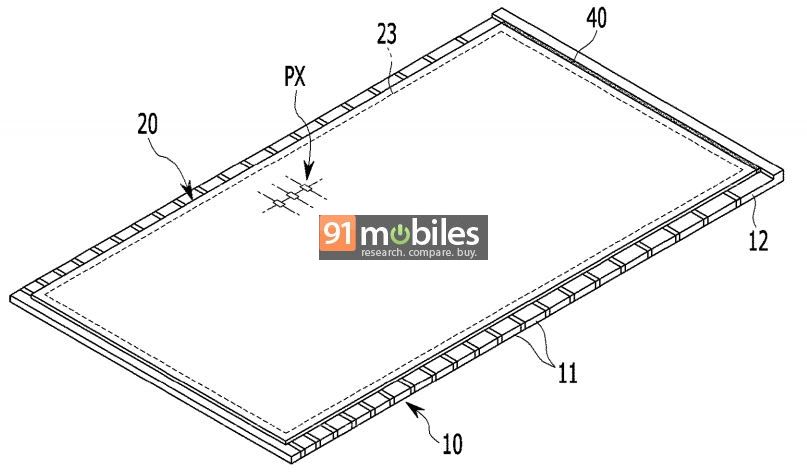 Just yesterday, a patent dubbed "Rollable Display Device", belonging to Samsung's Display subsidiary, was published by the United States Patent and Trademark Office. The patent was originally filed by the brand by August 2017. The most interesting thing about this foldable / rollable device is the presence of more than 20 hinges. The images show a single flexible display that's combined with several hinges that are placed in much shorter distances when compared to the form factors revealed by earlier patents.
Unlike Samsung's earlier patents for rollable devices, the device showcased in the new patent appears to be quite flexible. We expect that this design will allow a device to offer a massive screen estate as well as a great level of portability when it's fully folded. While the patent hasn't revealed many details, looking at the number of hinges here, we can expect this design to be used in multiple modes like a tablet, laptop, and foldable phones offering either a single main screen on the front or two displays – one on the front and one at the rear.
"A rollable display device includes: a panel supporting portion including a plurality of supporters arranged in substantially parallel relationship and a plurality of hinge linking portions rotatably connecting adjacent supporters to one another, and having rolled and unrolled configurations; a flexible display panel having a display area disposed on the panel supporting portion and a non-display area outside the display area; and a driving module including a flexible circuit board having a bent portion and connected to the non-display area, and a printed circuit board (PCB) connected to the flexible circuit board. The plurality of supporters includes a housing disposed at an outermost side of the rollable display device", reads the description of the patent.
Samsung Rollable Device Patent
The abstract of the patent also mentions that there are several supports inside the device connected by rotatable hinges. Also, the necessary hardware like a PCB and others required to power the device seem to be connected to a flexible circuit board. The whole package is put together using a sealant.
As of now, there's no word when Samsung is planning to launch a product utilising such a futuristic design that this patent shows off. However, looking at the display and design issues Samsung is facing with its debut foldable offering, we might have to wait for long.