"The MediaTek Dimensity 1000 5G chipset is a mid-range chipset with integrated 5G modem"
Samsung is reportedly in talks with MediaTek regarding its Dimensity chipsets. The South Korean giant may be looking to use the MediaTek chipsets in its upcoming Galaxy A series (2020). The company has reportedly asked for samples to test on its devices. MediaTek recently announced its Dimensity 1000 5G chipsets, which will bring 5G to mid-range smartphones. Other manufacturers such as OPPO, Vivo, and Xiaomi, have also partnered with MediaTek and will use its 5G chipset on upcoming budget/ mid-range smartphones.
MediaTek processors have been gaining in popularity in recent years. Several Chinese manufacturers have been using MediaTek chipsets in their best-selling smartphones. For example, the Redmi Note 8 Pro uses the Helio G90T, which is a great gaming processor and offers fast performance as well. Therefore, it wouldn't be a bad idea for Samsung to start using MediaTek chipsets on its Galaxy A series smartphones.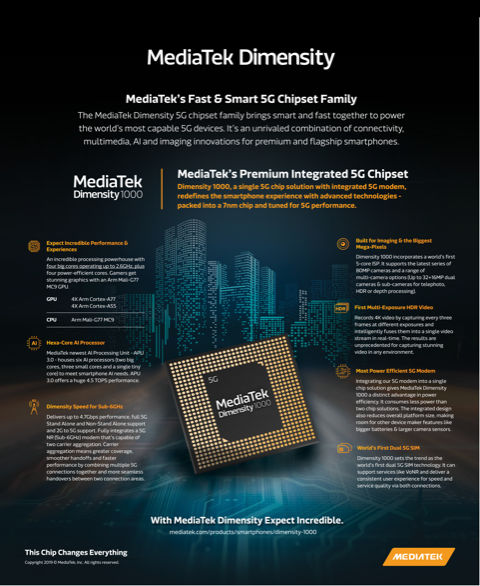 The current Galaxy A series and other Samsung devices currently use the in-house Exynos chipsets. The mid-range Exynos chipsets are not great performers and are usually slower when compared to some MediaTek or Qualcomm chipsets. Also, Samsung no longer has any factories in China, which means that sourcing from MediaTek in China could be more cost-effective for its mid-range phones. The report states that the two companies are still in talks and haven't come to an agreement yet. However, an official announcement could be made in the near future.
The Dimensity 1000 5G chipset is the first 5G processor by MediaTek and uses a single chip design. This is beneficial in many ways, as a single chip will use less resources and hence, save energy/battery life. It is based on a 7nm process and supports dual 5G carrier aggregation. The chipset can offer up to 4.7Gbps of downloads and 2.5Gbps of upload speeds on a sub-6GHz network. It also supports both non-standalone and standalone sub-6GHz networks and will connect to any network between 2G and 5G. Samsung will be launching its first A series (2020) smartphone, the Galaxy A51, on December 12th. However, this phone will use an Exynos 9611 chipset.