Samsung Galaxy A51 emerged earlier this year as one of the most popular phones, with everything buyers want from a mid-range smartphone: a big 6.5-inch Super AMOLED screen, a long-lasting battery, and awesome 48MP quad camera with flagship camera features. The affordable price tag was the icing on the cake. Now, the Vivo V20 has launched in the Indian market promising to do more or less the same. These two devices have been priced similarly, but the Samsung handset has the upper hand here due to its lower starting price of Rs 24,499, compared to the Rs 24,990 starting price of the Vivo V20 for the 8GB RAM configuration which comes with 128GB of built-in storage. Furthermore, buyers opting for the 6GB RAM variant of the Galaxy A51 can save valuable bucks without compromising on the storage capacity as the handset does come in a 6GB/128GB option too. Today, we've decided to compare the Galaxy A51 with the Vivo V20 to see which device comes up at the top.
Design and display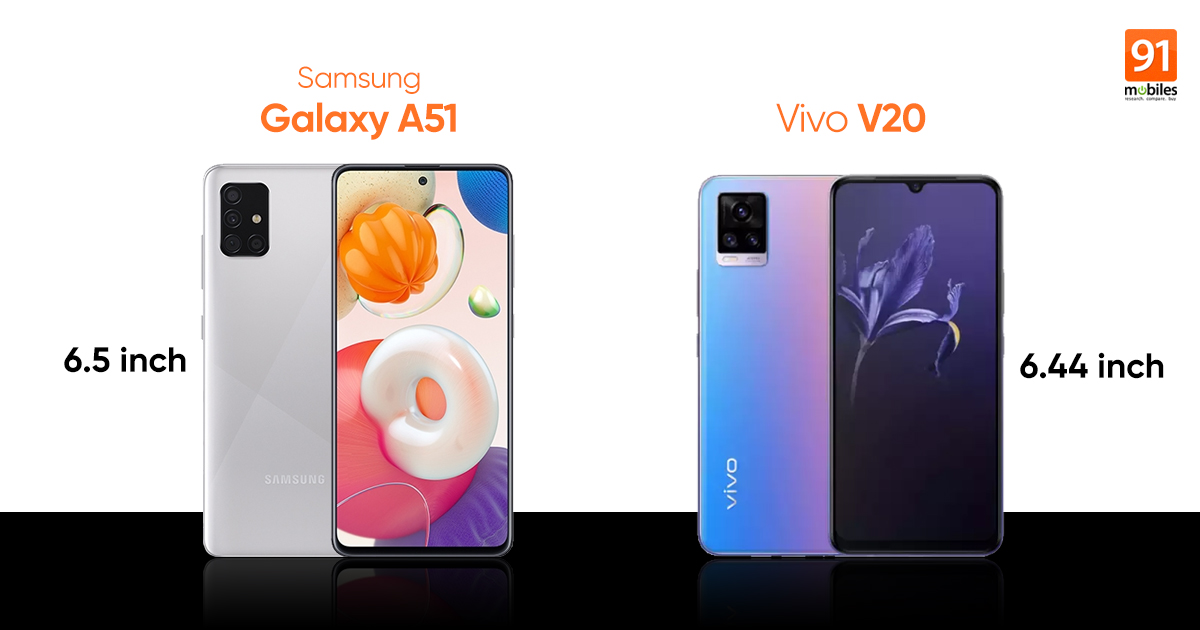 Both Galaxy A51 and Vivo V20 feature gradient colours on the back panel, but while the Samsung handset goes for subtle pastel shades, the Vivo device goes for relatively harsher, dark hues. Moreover, the Galaxy A51 sports a rhythmical finish that gives it a premium feel. The V20, on the other hand, gets the rather plain matte finish on its back surface. Over to the front, the Galaxy phone has the more modern 6.5-inch Super AMOLED Infinity-O display that has an unobtrusive hole-punch cutout at the top. As for the Vivo device, it has gone for a smaller 6.44-inch AMOLED panel with a waterdrop notch that tends to feel more intrusive when viewing videos. Furthermore, be it in terms of aesthetics or innovation, the Infinity-O screen on the Galaxy A51 edges past the V20's outdated U-shaped cutout too. The displays on both these handsets bear full HD+ resolutions.
Camera
This is the most important part of this comparison since it's most to likely help you determine what handset you'll be going for. Right off the bat, the Samsung Galaxy A51 impresses with its quad-camera setup, which gives it an edge over the Vivo V20's triple camera assembly. The latter phone does have a higher resolution 64MP primary sensor, but the 48MP primary camera of Galaxy A51 is also quite remarkable. With the Samsung device, you'll be able to capture 12MP ultra-wide shots, 5MP macro shots, as well as 5MP portrait. As for the V20, it'll only allow you to capture 8MP ultra-wide shots, while its portrait shots are facilitated by a mere 2MP sensor. In fact, the lack of a dedicated macro lens will make a huge difference to anyone who aims to capture Pro-grade photos of tiny objects without losing focus or details. The Vivo V20 features a 44MP selfie camera, while Galaxy A51 has a very capable 32MP selfie shooter.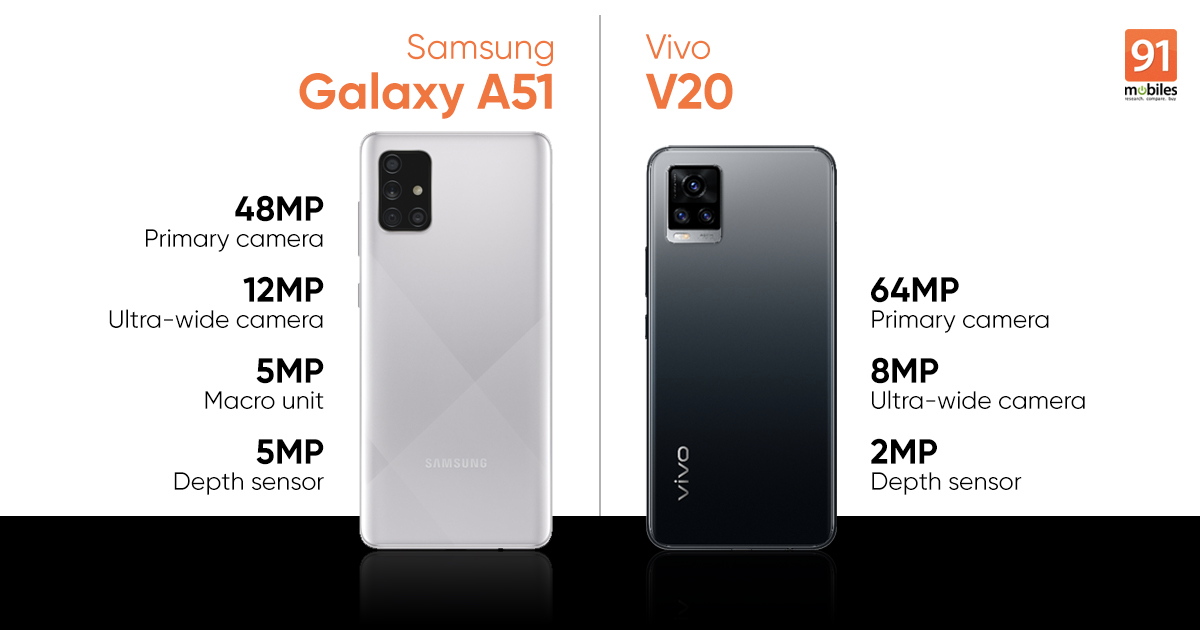 The major differentiating factor in the camera department lies in the kind of flagship camera features that the Samsung Galaxy A51 is able to provide, which the Vivo V20 can't match. For instance, Single Take significantly cuts the time you spend wondering what lens to capture the scene with – it allows you to capture as many as 7 photos and 3 videos of any scene with just one tap! The front camera onboard this device also has an amazing feature called Smart Selfie Angle, which detects the number of people in the frame and automatically switches to wide-angle mode to accommodates all of them. This is perfect for when you want to fit all your friends or family members into a single selfie.
With the Samsung device, you also get a feature called Switch Camera While Recording, which lets you switch between the front and rear cameras in the same video, without interrupting the recording. This will save a ton of your time in editing later on. Another eye-catching Samsung feature is Custom Filters, which enables you to create personalised filters according to your taste and use them on any image you capture. All these awesome features ensure that the Samsung Galaxy A51, with its quad camera setup, offers the kind of versatility that no other competing handset, including Vivo V20, can offer.
Security and privacy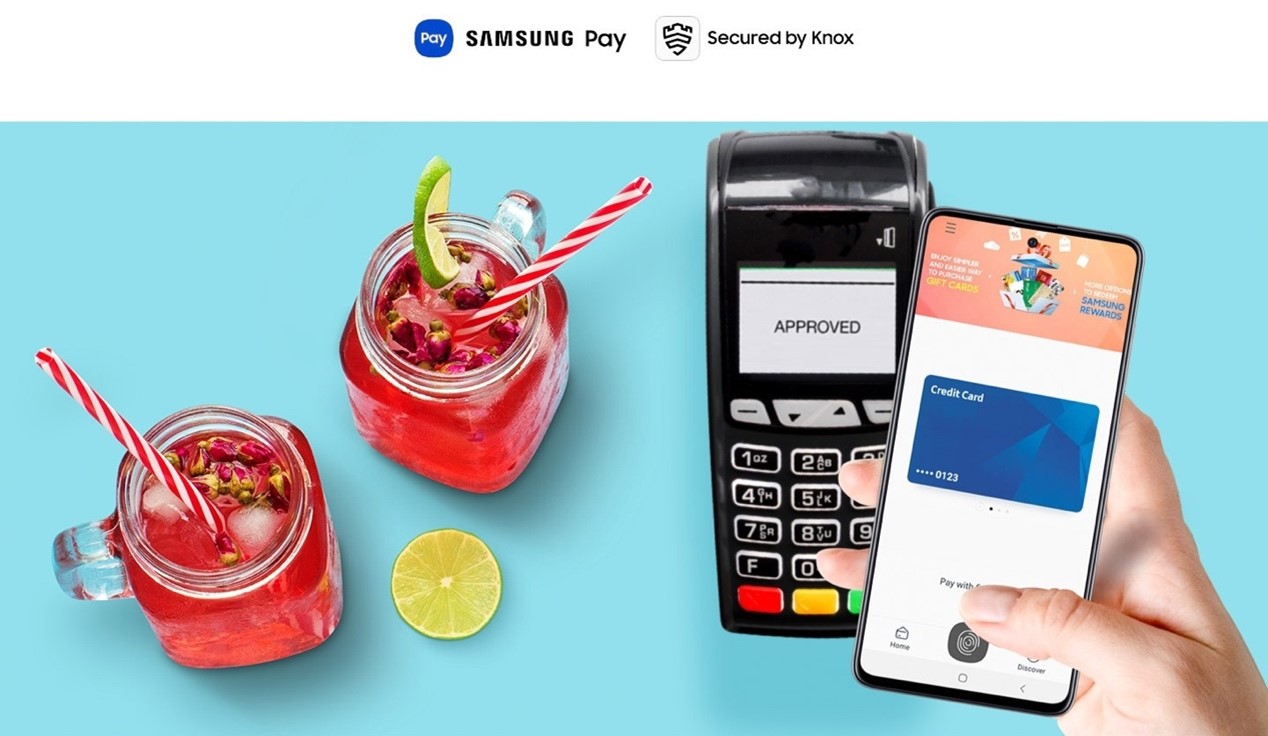 For biometric authentication, both smartphones make use of under-display fingerprint scanners. However, where the Samsung handset really shines in terms of its security and privacy features is with the tried and tested Samsung Knox security suite. This defense-grade security suite isolates, encrypts, and secures your data, so nothing – from your credit card details and important files to health data and passwords – can fall into the wrong hands.
It also applies to Samsung Pay, which is yet another big advantage of buying Galaxy A51. This service allows you to securely store your credit and debit card details on your phone, so you won't have to carry them around everywhere you go. And it differs from any other mobile payment service as it works with any NFC-enabled Point of Sale terminal, which have become commonplace in retail stores across the country. This means you can simply make contactless payments through the Galaxy A51 at practically any store that accepts debit and credit cards, thereby mitigating the need to hand over your card or have any physical contact with the vendor. Suffice it to say, carrying all your cards around in your wallet will be history once you own the Samsung Pay-capable Galaxy A51!
Another feature that gives Samsung Galaxy A51 users a guarantee of privacy is Quick Switch. Gen-Z is particularly cagey in handing over their phone to someone else and for a good reason – after all, no one wants a set of prying eyes on their personal photos, messages, etc. If you fall under the same umbrella, then you will greatly appreciate the Quick Switch. In a nutshell, this feature allows users to switch between private and public versions of the same app with the tap of a button and stores all of the personal data in the phone's Knox-powered Secure Folder. That means you can have two separate instances of WhatsApp, Instagram, on the same phone and switch to the public version when you have to hand over your phone to someone. Then there's Content Suggestions, which identifies personal images basis pre-set identifiers in the public Gallery app and automatically recommends them to be moved to the Secure Folder. As a result, buyers opting for the Galaxy A51 can comfortably use their smartphone and be guaranteed of all their data remaining private, even when someone else is using the device!
Performance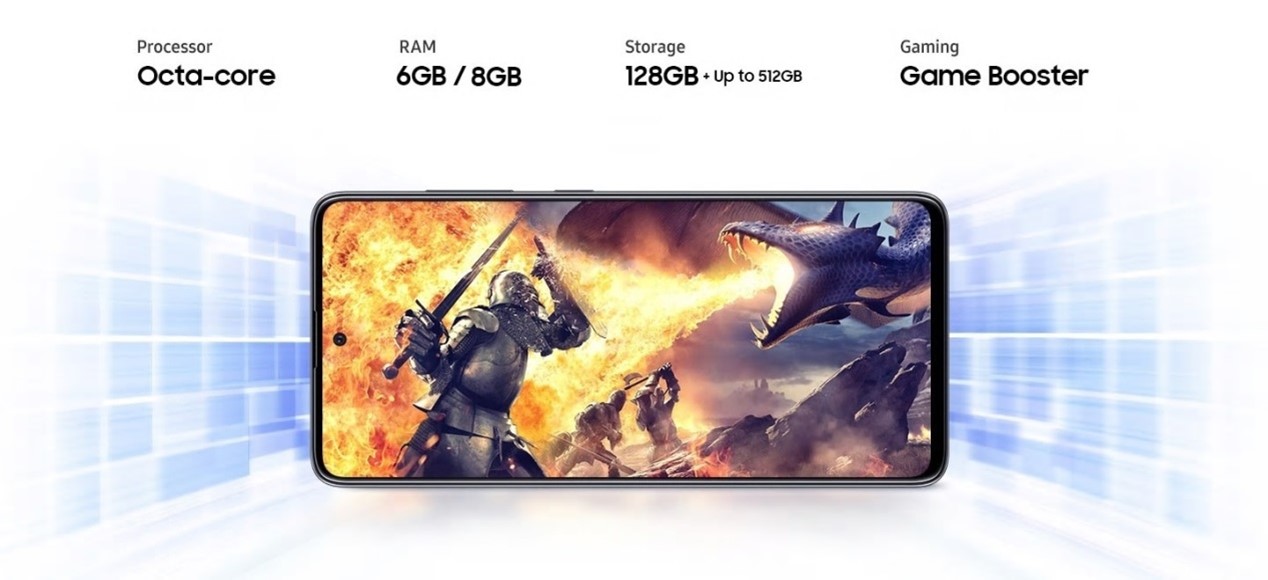 Samsung Galaxy A51 opts for a 2.3GHz octa-core Exynos 9611 processor, whereas the Vivo V20 goes for a 2.3GHz octa-core Snapdragon 720G chipset. The Samsung and Vivo devices also come with 8GB RAM and 128GB storage. Each of the two devices houses a microSD card slot too. That said, Samsung has gone the extra mile in optimising the software on Galaxy A51 to work effortlessly with its powerful hardware. Gaming, for instance, pushes any phone to its limits, which is why the Galaxy A51 comes with the company's AI-enabled Game Booster technology. Game Booster monitors the phone's temperatures and memory consumption and makes changes to the settings accordingly. So, whether you're swerving through angular turns on your favourite racing game or scoping out enemies far, far away in a popular shooter, the Galaxy A51 will consistently perform like a champ.
Bottom line
All things considered, the Samsung Galaxy A51 is definitely the better choice between the two smartphones. It impresses with its inspired design, its gorgeous display, and, most importantly, its abundant camera features that will really take your photography game up several notches. At a starting price of Rs 22,999 for the 6GB RAM variant, and Rs 24,499 for the 8GB model, Galaxy A51 is definitely the best smartphone to buy in India right, squarely beating newer rivals like the Vivo V20. So, get yourself the Samsung Galaxy A51 – the world's No. 1 Android smartphone that is highly affordable too – today!