If you're looking for a new mid-range smartphone, now would be a great time for you to learn more about the Samsung Galaxy A71. This smartphone can be counted among the best options available right now in the mid-range segment. With a host of distinct, awesome features that set it apart from its competition, what really makes the Galaxy A71 shine are some small yet striking aspects that make a huge difference. So, while its attractive design, great battery life, versatile camera and powerful performance might have already impressed you, there are still lots of interesting traits that contribute towards making this device the best in its price range. Let's take a look at them.
Swift and secure payments with Samsung Pay

At a time when smartphone-based payments on POS terminals were only being made via NFC, Samsung Pay came as a revolutionary service, especially for markets where NFC-enabled terminals weren't present in droves. This technology, which is very much part of the Galaxy A71's offerings, also allows you to pay using MST. This means, you can use your smartphone to make payments at any terminal that has a POS machine for swiping your credit or debit card securely. Interestingly, Samsung Pay happens to be the only such service offering this functionality.
Since the information is tokenized and then sent to POS, using Samsung Pay ensures that your card information remains safe. On the Galaxy A71, you can access all your stored cards on Samsung Pay by swiping up on the home button. You will then need to provide fingerprint authentication to make them work, before tapping them on the payment terminal. As if that much security wasn't enough, the presence of Samsung Knox on the device ensures that there's non-stop monitoring for potential threats. You can also deactivate Samsung Pay remotely in case you ever lose your phone. Also, you can block all cards in one go in case your physical cards are lost or stolen. The cards can be blocked simply by using 'find my mobile' service.
Alive Intelligence features tailored exclusively for you
Under the Make for India program, Samsung has gone ahead and added a suite of various Alive Intelligence features like Useful cards, Multilingual typing, Finder & Smart crop. These new features are perfect for Gen Z consumers, who live a fast and organized life.
The Useful Cards feature identifies important content from your inbox to organize them neatly into cards. This not only helps you declutter your inbox but also provides easy access of important messages you may have missed otherwise. For instance, a SMS containing details of your online order will help you with an instant call button for order tracking purpose, thus saving you the time you'd spend looking for those details manually.
Multilingual typing is another interesting Alive Intelligence feature. The multilingual keyboard predicts and suggests words in regional languages so that you can type the way you talk. Alive Intelligence also includes an all-powerful search bar called Finder, which lets you search for items across popular entertainment, food delivery, travel, and e-commerce apps. Lastly, there's another cool feature called Smart Crop; it intelligently identifies and marks the important areas within a screenshot, and lets you crop them with a single tap.
Solid performance and great battery life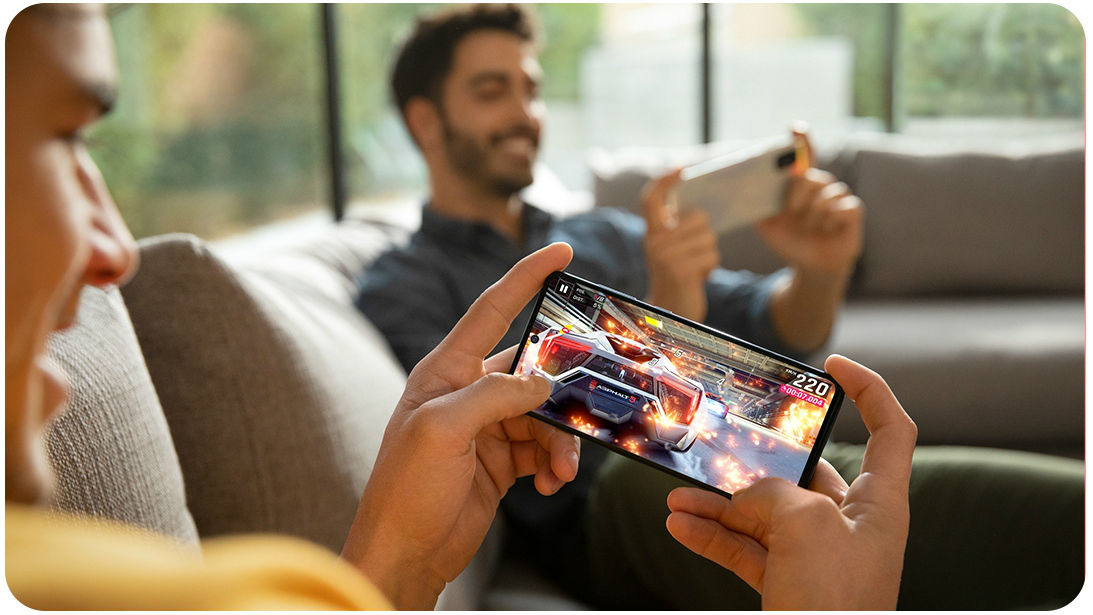 Samsung Galaxy A71 packs the powerful 2.2GHz octa-core Snapdragon 730 chipset to ensure that you get the fastest performance without any lag. The Adreno 618 GPU coupled with Game Booster not only handles graphics with ease, but also delivers smooth frame rates in HD games like PUBG. And with 8GB RAM at its disposal, the Galaxy A71 never slows down. The 128GB built-in storage is complemented by microSD card support up to 512GB, so you will never run out of storage for your apps, games, photos, videos, documents, and more.
On the battery front, the Samsung Galaxy A71 comes with a large 4,500mAh cell that can easily deliver day-long battery life. This mammoth battery offers 16 hours of 4G web browsing and up to 24 hours of video playback, making it the best option for your social media consumption and video streaming. And when the battery does run out, you can juice it up quickly thanks to Samsung's 25W Super-Fast Charging tech. All of this combined gives you the best smartphone performance without ever worrying about the phone running out of juice at critical moments.
Beautiful design and stunning display
Samsung has used the popular curved edge design and a slim 7.7mm body to ensure the Galaxy A71 fits comfortably in your hand. Moreover, the smartphone is pretty light as well, weighing less than 180 grams, which means you can use it for hours a stretch to watch movies, play games, and more. The rhythmical pattern on the back and the Prism Crush Black, Blue, and Silver pastel colours set the smartphone apart in a crowd of mid-range smartphones. And the Infinity-O display with the centre-aligned punch-hole design ensures that you get the most unobtrusive viewing experience in your daily usage. Underneath this panel is a fingerprint scanner, while the bottom surface is reserved for the headphone jack and the USB Type-C port.
On the display front, the Samsung Galaxy A71 sports a large 6.7-inch Super AMOLED Plus panel with Full-HD+ resolution. The premium display panel and the high resolution allow the smartphone to offer clear and sharp visuals, with deep blacks that help gain great contrast levels. All of this comes together to make the display vivid and vibrant, while also saving battery life.
Incredible camera experience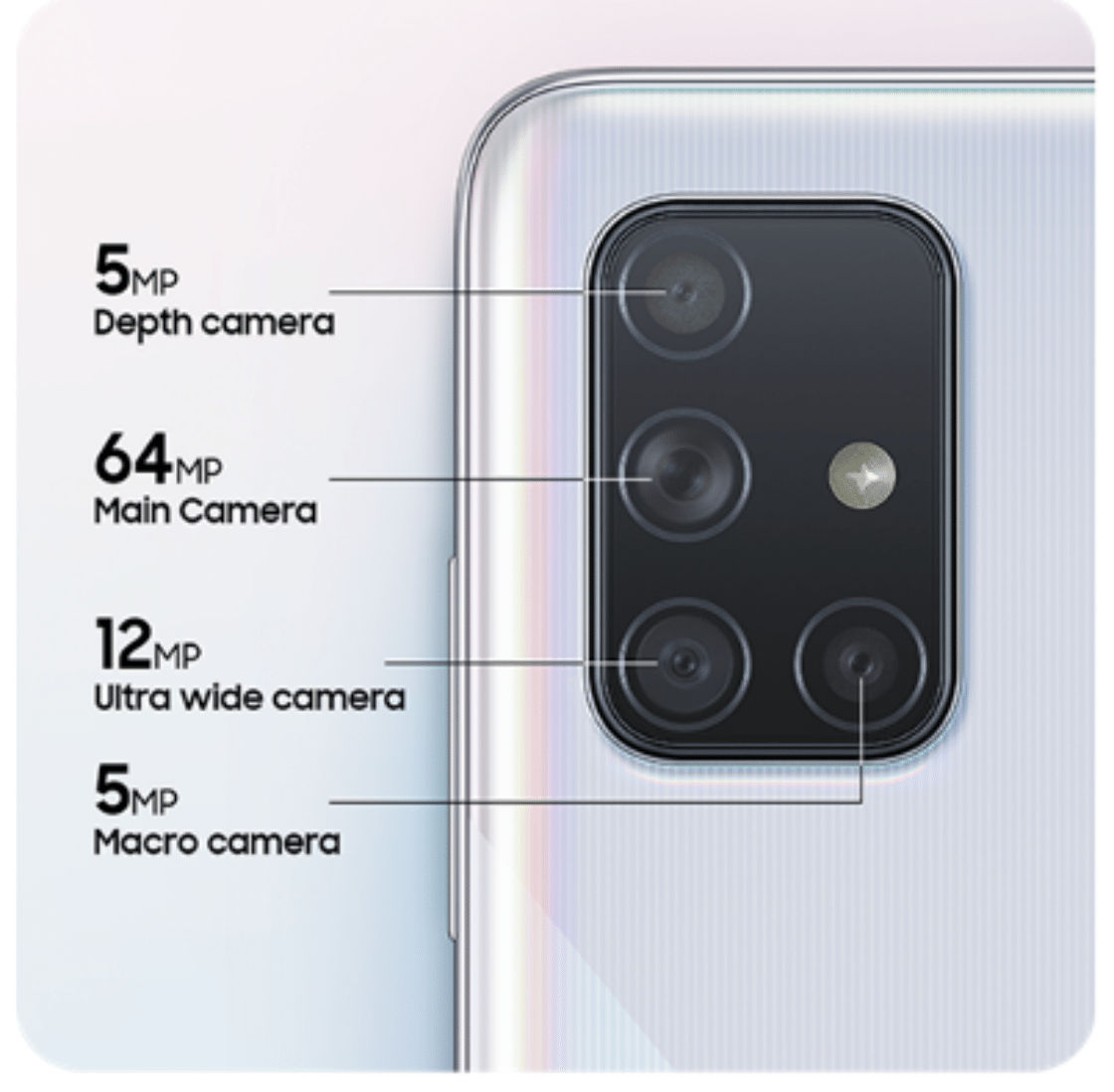 The Galaxy A71 has a quad-camera setup that's headlined by a high-resolution 64MP lens with f/1.8 aperture for regular photos. This primary sensor is backed by a 12MP ultra-wide-angle lens that can go as wide as 123-degrees to gain completely new perspectives on your subjects. This sensor also powers the phone's Ultra Wide Night mode, which allows you to take beautiful shots under lowlight conditions.
The third sensor on the Galaxy A71 is a 5MP macro unit, which brings out the tiny details that most other smartphones miss out on. Another sensor in this quad-camera setup is the 5MP depth-sensing unit that is critical to giving you the perfect portrait shots to take your social media presence a step up.
The Live Focus feature of Samsung Galaxy A71 lets you pick correctly how much background blur you have to apply to your photos and videos. Another unique feature of this smartphone is Slow-Mo Selfie, which uses the 32MP selfie camera of the smartphone to capture a slow-mo video to capture special moments and up your social media game. Super Steady Mode is another camera highlight that makes a lot of difference to your video experience – this feature compensates for the shakes and jerks in videos to give you a shake-free video that is perfect for your video collection!
Last but not the least, the AR Doodle feature on Galaxy A71 uses augmented reality to let you draw and write in 3D. Just turn it on, draw something awesome and it will stay exactly where you want it, even if you move. Samsung Galaxy A71 truly lets you explore your creative side.
Price and availability
The Samsung Galaxy A71 is already available in the country through various online and offline retail outlets. For just Rs 32,999, it gives you a gorgeous display, mammoth battery, quad rear camera, ample storage, and a host of tailor-made features thanks to Alive Intelligence. Considering all the features that we've mentioned above, it's quite safe to say that Samsung Galaxy A71 is the best mid-range smartphone that you can buy in India right now.