Samsung Galaxy A71 and the OnePlus Nord are two of the most popular mid-range smartphones available in India these days. Considering the increasing interest in the Rs 30,000 price segment among Indian smartphone buyers, we decided to put them against each other to find out which of the two is more worthy of your money. Both the smartphones offer Super AMOLED displays, high-performance mid-range processors, quad-camera setups, high-resolution selfie cameras, etc but this comparison will reveal that there's more to the specs and features than meets the eye. We picked the 128GB storage + 8GB RAM variant of Nord for this comparison since that's the configuration the Galaxy A71 offers, meaning you can contrast their performance and features with the scales evenly balanced. So, let's get right into the comparison to see how the Samsung Galaxy A71 and OnePlus Nord fare against each other.
Design and display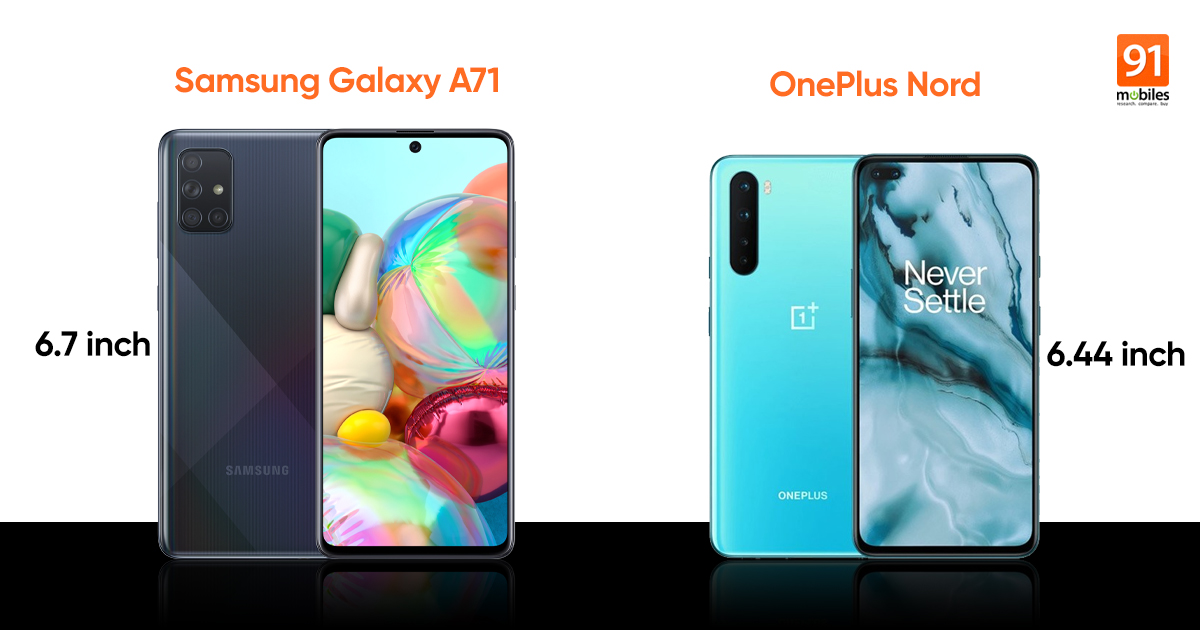 The design plays a big part in making both of these smartphones look premium. The Samsung Galaxy A71 sports a slim body that is made to fit comfortably in your hands, giving you a big screen in a compact form factor. Furthermore, the back panel of the smartphone has a pleasant rhythmical pattern that comes in several attractive colour options including Prism Crush Black, Blue, and Haze Crush Silver. On the other hand, the OnePlus Nord has a regular back panel design with the OnePlus logo, for those who like a minimalist design language.
The Samsung Galaxy A71 features a large 6.7-inch Super AMOLED Plus Infinity-O display with full HD+ resolution. The OnePlus Nord sports a smaller 6.44-inch Fluid AMOLED display with the same full HD+ resolution and a refresh rate of 90Hz. This refresh rate is helpful while playing games on the smartphone, though there aren't enough games that support it. Moreover, the battery life takes a big hit when using a display with 90Hz refresh rate. Thus, the Samsung Galaxy A71 with its unique design and larger display should make for a better option in this category. Moreover, the Samsung smartphone brings something much more important to the table – despite the bigger display, the Galaxy A71 is just 7.7mm thick, compared to the 8.2mm body of the Nord. Not just that, the Samsung device (179 grams) is lighter than the OnePlus model (184 grams) too, meaning you can hold it longer without feeling strain.
Cameras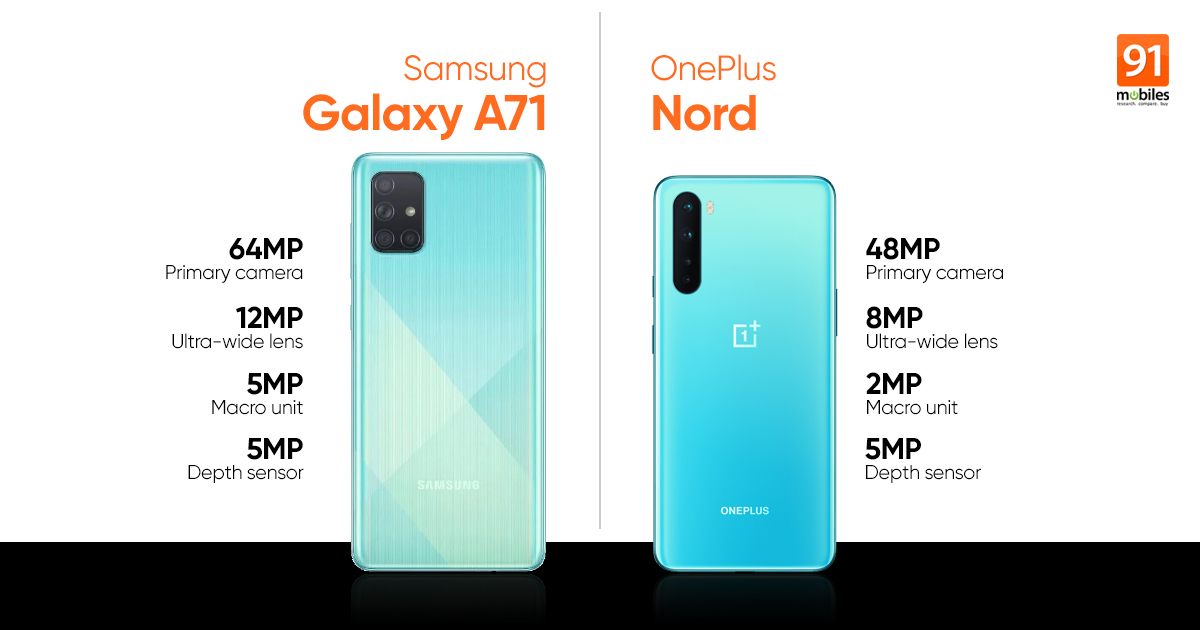 In the camera department, both the smartphones feature capable quad cameras at the rear. The Samsung Galaxy A71, by default, becomes a much better choice with more megapixels on offer; it has a 64MP main camera compared to the 48MP primary camera on the OnePlus Nord. Other than that, on the Samsung device, you get a 12MP ultra-wide camera, a 5MP macro lens, and a 5MP depth sensor. On the other hand, the OnePlus Nord completes its rear setup with a lower resolution 8MP ultra-wide-angle lens, a 5MP depth sensor, and a 2MP macro lens. This clearly shows that the rear cameras on the Samsung Galaxy A71 can give you more detail and clarity when compared to the OnePlus. Furthermore, the Galaxy A71 is packed with flagship camera features like Single Take, Night Hyperlapse, Custom Filter, and AI Gallery Zoom to give you a complete camera experience. On the front, both the Samsung Galaxy A71 and OnePlus Nord feature 32MP selfie cameras.
Hardware and battery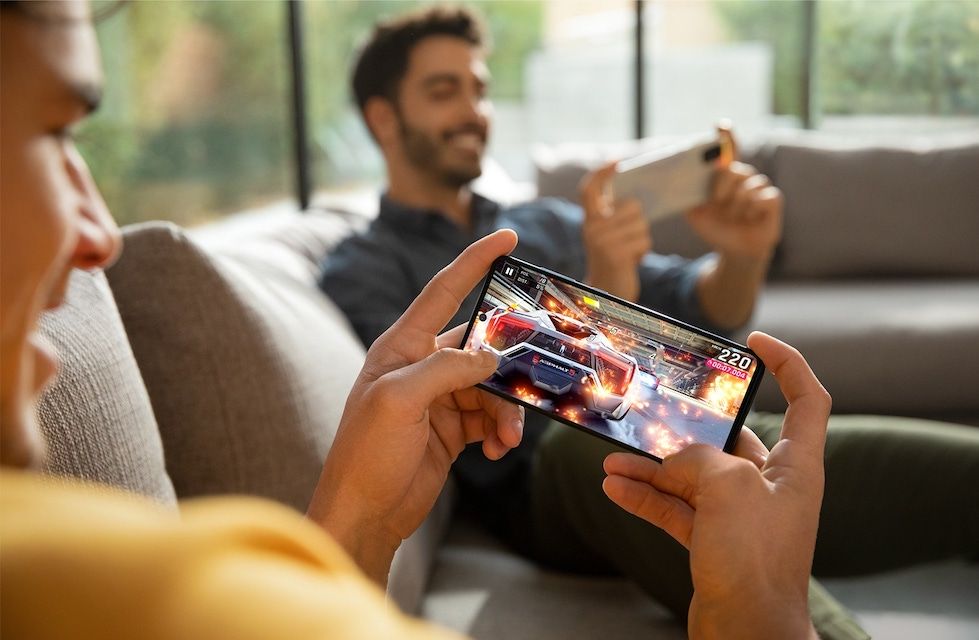 Samsung Galaxy A71 is equipped with the Qualcomm Snapdragon 730 processor, while OnePlus Nord features the Snapdragon 765G SoC with 5G support. Both of these are octa-core processors, backed by 8GB of RAM, and offer smooth performance, allowing you to play games and multitask without any sort of stutter. The two smartphones also feature 128GB storage too, but the Nord does not offer storage expansion support, while the Samsung smartphone gives you the flexibility to have expandable storage up to 512GB using a microSD card. This makes the Galaxy A71 more adaptable to changing storage requirements in the future.
Moving to the battery department, the Samsung Galaxy A71 features a larger 4,500mAh battery when compared to the 4,115mAh unit on the OnePlus Nord. This means you will get much more juice from the Samsung device on an average single charge.
The bottom line
With the Galaxy A71, you get a massive Super AMOLED Plus display, which Samsung is famous for, and a unique design that you won't find on any other smartphone in this segment. Other than that, you get a capable processor, enough RAM and storage, and high-resolution cameras that beat any other smartphone in this price segment. One UI on the Galaxy A71 adds to this package, with several useful features on offer. You get Samsung Pay that allows you to stay safe and keep your credit/debit card and e-wallets secure with the quickest way to pay. Content Suggestions uses on-device AI to help you protect your photos. Knox provides 360-degree protection for your photos, videos, messages, and financial data from malware and hacking attempts. And, Quick Switch is a great way to protect your private conversations from prying eyes. This feature is unique to the Galaxy A71 and allows you to maintain a private space on your smartphone with ease. Looking at all these hardware and software aspects, it's pretty clear that Samsung Galaxy A71 makes a stronger case for itself, and therefore, a worthwhile purchase compared to OnePlus Nord.
Samsung Galaxy A71 is priced at Rs 29,499, with a flat 10 percent discount on purchases made using SBI credit cards. This brings down the effective price of the smartphone to just Rs 26,549, which makes the Galaxy A71 a significantly better deal than the OnePlus Nord 128GB + 8GB variant, which costs Rs 27,999. On top of this, Galaxy A71 buyers will get a 50 percent discount on Samsung Care+ accidental liquid and damage protection plan and a 50 percent discount on UV Sterilizer to stay protected in these times. The brand has made sure all your needs are fulfilled with its festive offers under #RewardYourself promotion, which you can check out here.
All in all, the Samsung Galaxy A71 is not just a spec-heavy smartphone, but also one that brings you a good user experience at an attractive price point. When compared with the OnePlus Nord, the Samsung Galaxy A71 seems to make a stronger case for itself, and therefore, a worthwhile purchase.