"The Galaxy A90 lives after all, but may only be released in South Korea"
After the release of the Samsung Galaxy A80 (First impressions), the rumours about the Galaxy A90 pretty much died. All the rumours pointed at Samsung releasing the Galaxy A90 with the rotating camera and the bezel less display. However, it was the Galaxy A80 that got all those features. Now, there's a new report stating that Samsung is still working on the Galaxy A90 and that the handset will come with 5G and a 32-megapixel primary rear camera. We are not sure if the phone will feature a pop-up camera, but it is highly likely.
According to Galaxy Club, Samsung is currently testing the Galaxy A90 in South Korea. The phone carries the model number SM-A908N and supports 5G connectivity. For now, the phone is only being testing with the 5G carriers available in South Korea. We do not know if Samsung will release the phone outside its home country, but it is possible.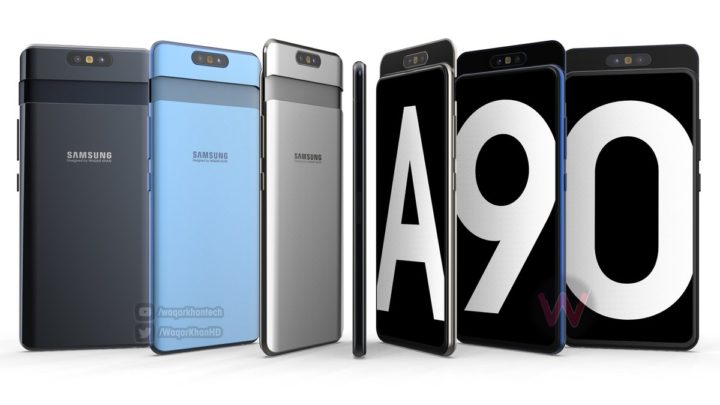 Apart from the 5G connectivity, the Galaxy A90 will feature a primary 32-megapixel camera. There will be two other sensors, out of which, one is a 8-megapixel in resolution. We are not sure if this is an ultra-wide sensor or a telephoto unit, but it's most likely the former. The phone will have a triple rear camera setup. However, the front camera specifications aren't known as of now. It will probably be similar to the Galaxy A80, where the rear camera setup rotates to be used as the selfie camera.
Another rumour suggests that the Galaxy A90 would be the first Samsung smartphone to feature 45W fast charging. It was recently reported that the Galaxy Note10 Pro would come with 25W fast-charging, but not according to the latest leak, which says Samsung Galaxy Note10 Pro could also feature 45W fast charging technology. This isn't the first time that Samsung has introduced a new tech with the A series line-up. The Galaxy A70 was the first phone to feature 25W fast-charging, instead of the flagship Galaxy S10 5G. The Galaxy Note10 will get an upgrade on this tech, alongside the Galaxy A90.