"The new model SM-A9050 appears to be a new variant of the Galaxy A80"
A new Samsung handset with model number SM-A9050 has been spotted on Geekbench today, revealing one more model in the long line of A series models this year. Now, this Galaxy A90 model is not to be confused with the Galaxy A80, which is official and was previously called A90 as this Geekbench model comes with a different processor. If the benchmark listing is not fake, this could be the ninth model in the Galaxy A series.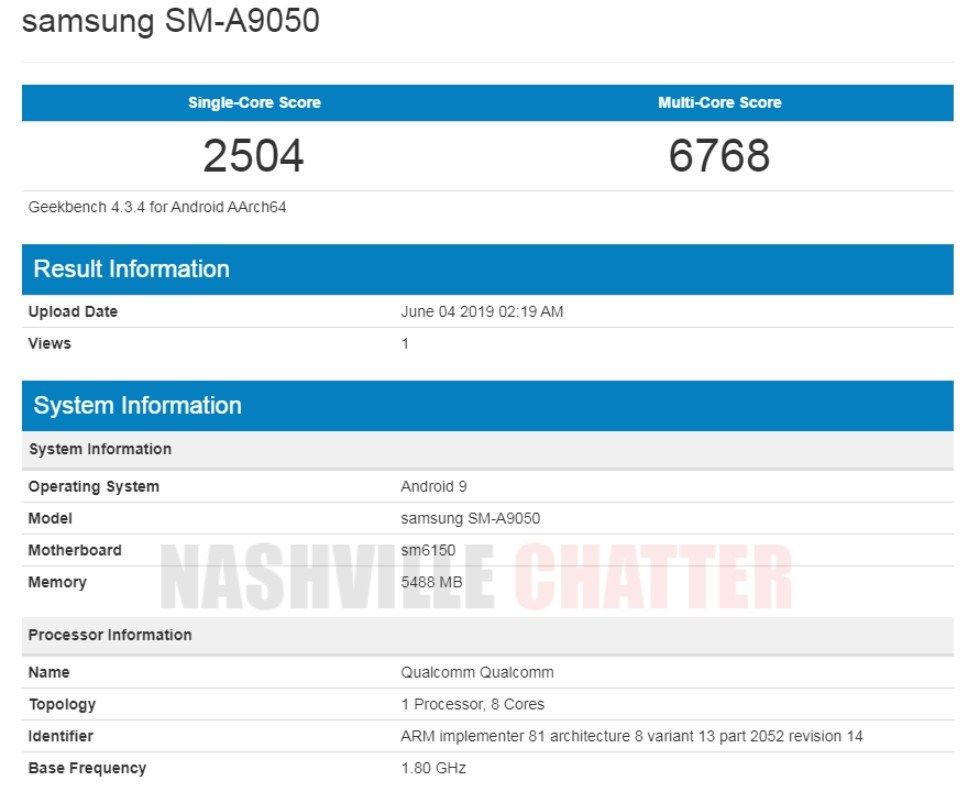 One of the peculiar things about the model SM-A9050 is that it has been detected with a Snapdragon 675 SoC (sm6150) which would be considered a downgrade from the Snapdragon 730 SoC in the Galaxy A80. This is interesting as Samsung's higher-end models in the A series are equipped with successively better processors and not a downgrade. It's got 6GB of RAM and can be seen running Android Pie. We tried to locate the model on Geekbench but there was no such model listed on the source benchmark.
Previous rumours have hinted at a Snapdragon 7150 SoC on the alleged Galaxy A90 with a big screen size of 6.7-inches, the same as the current Galaxy A80. Also, the rumoured rear camera details are the same as the Galaxy A80 which means a 48MP primary sensor along with an 8MP lens and a TOF sensor. We're being cautious not to take this listing without any scepticism as we've not heard rumours about any other A series device after the Galaxy A80 so far. As it is, Samsung is yet to commercially sell the Galaxy A80 itself after debuting the swivel camera handset globally. There have been no official indications about such a device as well. So take all this information with the proverbial pinch of salt.