The #FullOnSpeedy Samsung Galaxy F62 is about to seize the Indian smartphone market soon and the handset is already grabbing headlines owing to its incredible specs. What's most exciting about this funky new smartphone is the fact that it has the segment-leading flagship 7nm Exynos 9825 chipset ticking at its heart. For the uninitiated, the Exynos 9825 is a flagship-grade chipset that is being offered in a sub-Rs 25,000 phone for the very first time ever, offering the speediest performance and unlimited power at a super affordable price tag! To add to that, the upcoming smartphone also comes equipped with a massive battery, stunning camera, and segment-first 7nm technology. Samsung looks set to take the industry by storm by bringing its flagship processor to the mid-segment market for the first time ever!
It goes without saying that the uber-cool Samsung Galaxy F62 makes for a spectacular buy, especially for the specs-conscious Gen-Z and millennials of today, who want the best hardware at the best possible price. Here's what we know about the device so far.
Flagship 7nm Exynos 9825 processor under Rs. 25000
First things first – Samsung has confirmed that the Galaxy F62 will be powered by the flagship 7nm Exynos 9825 chipset. This is an incredibly powerful SoC that we've seen on Samsung's flagship phones in the past. It has been built on the 7nm EUV process and, in fact, was the first mobile chipset in the industry to have been built on the aforementioned fabrication.
Unsurprisingly, the SoC is miles ahead of the current competition in terms of performance – the benchmark comparisons prove that Samsung's flagship 7nm Exynos 9825 is truly in a league of its own. With a segment-leading AnTuTu 8 score of 452000+, the Samsung chipset delivers 28% faster processing, up to 31% better performance, and on the gaming front, a massive 85% improvement over its closest competitor.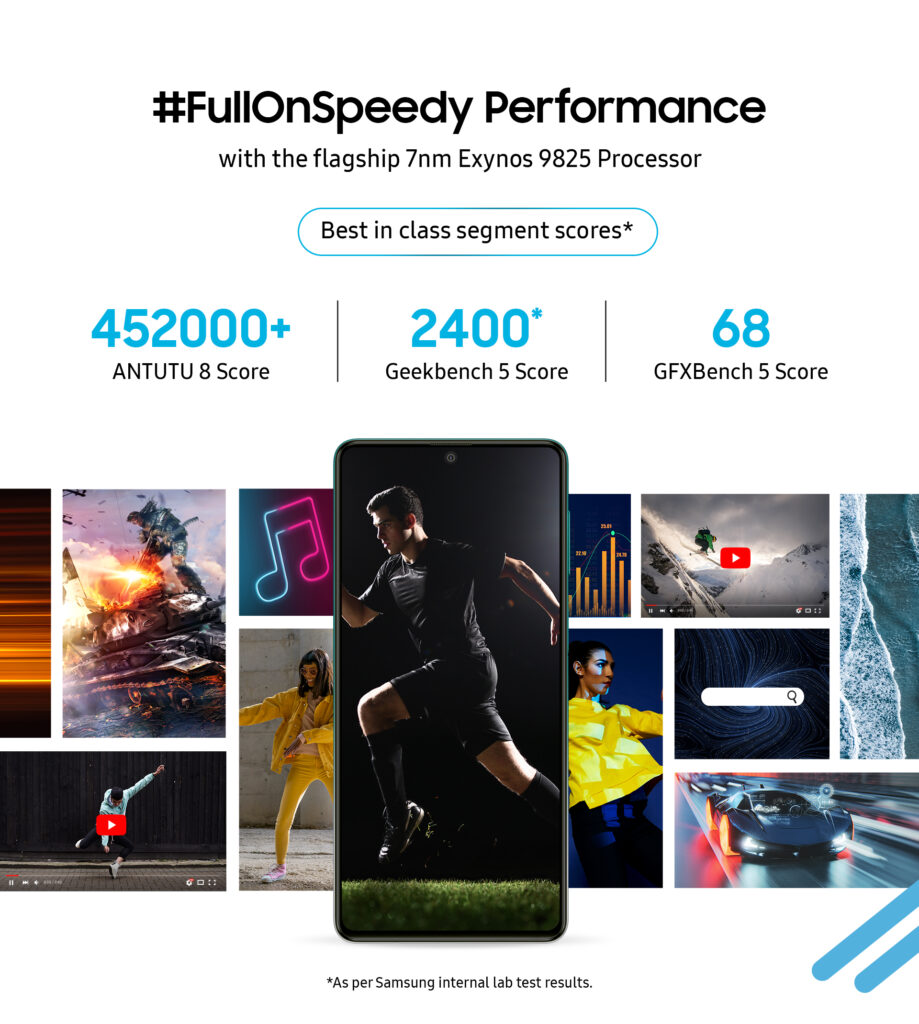 The pattern holds on other benchmarking apps too. In GFXBench's Manhattan test, the flagship 7nm Exynos 9825 offers 31% better performance and on Geekbench 5, it boasts of up to 32% higher single-core score and up to 36% higher multi-core when pitted against its immediate contender. Additionally, the first-ever 7nm EUV technology processor is designed to reduce power consumption, even during excessive gaming. In short, the Samsung Galaxy F62 promises to deliver a super-speedy, high-quality, and lag-free gaming experience.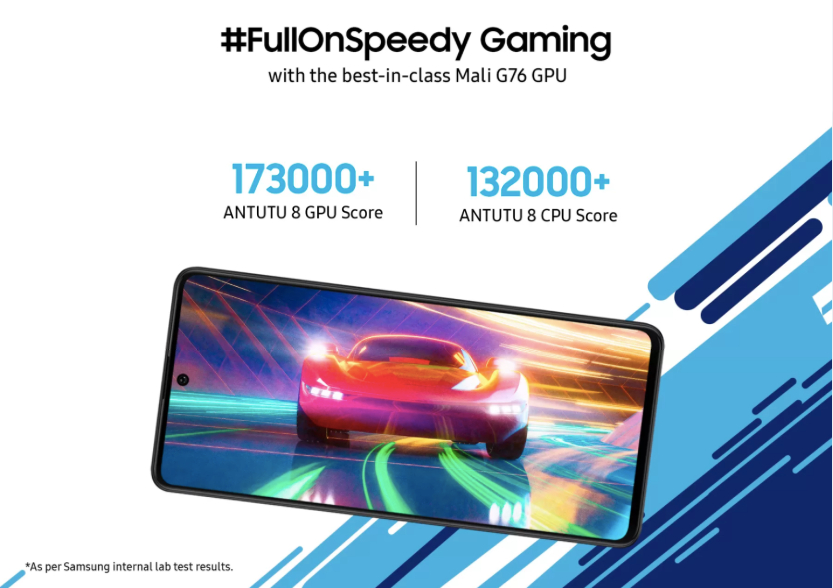 User experience reimagined
Whether you're playing high-end games, browsing for many hours, binge-watching TV shows or movies, or indulging in multitasking all day long, the #FullOnSpeedy Samsung Galaxy F62 will easily handle each of these tasks in the speediest manner possible, all thanks to the powerful flagship 7nm Exynos 9825 chipset under-the-hood. Not just that, for our Gen-Z and Millennial gamers, the F62 ensures a super-fast streaming and lag-free immersive experience. In comparison to the next-closest processor, the Samsung Galaxy F62 offers up to 36 percent higher multi-core performance and up to 3 percent faster app loading & switching.
Apart from all this, you can also expect the Samsung Galaxy F62 to ship with a segment-leading display, which not only delivers rich colors but also promises a truly immersive media consumption experience. Additionally, the phone's rear is set to be embellished with the latest camera setup, offering a versatile photography experience to its users.
The Samsung Galaxy F62 really does look like a revolutionary smartphone with its flagship 7nm Exynos processor, ready to take on its competition with its #FullOnSpeedy performance. It is all set to launch on Flipkart and Samsung.com on February 15th at 12 noon. So, you can rush to either site right now and use the 'Notify Me' option to get all the latest updates about the handset!