"The Galaxy Fit/ Fit e fitness bands have been spotted for the first time thanks to the official Samsung app"
We know that Samsung will likely reveal at least a pair of headphones to go along with its new Galaxy S10 lineup at the San Francisco launch event on February 20th. Recent reports have also hinted at a Galaxy Watch Active wearable that could also be unveiled at the same event. However, a new wearable has come to light courtesy of Samsung's Galaxy Wearable app. The app's front page reveals not one but three unreleased products, one of which is the formerly unknown Galaxy Fit/ Fit E smart band.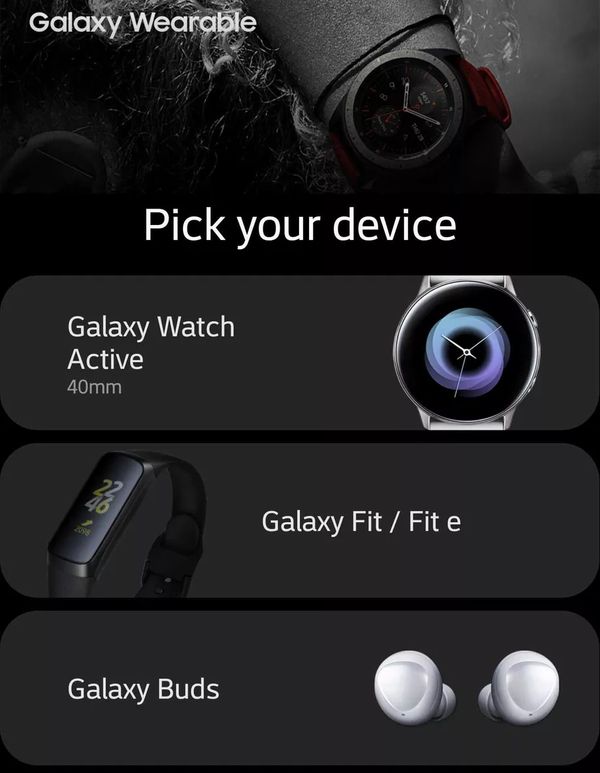 Now, this is the first appearance of the Galaxy Fit/ Fit E and unlike its predecessor, it doesn't look like it has a curved design and build. There is even less info on its specifications as all we know is that it has received Bluetooth certification as Galaxy Fit E in January.
On the other hand, the Galaxy Watch Active has been in the spotlight several times and we do know a great deal about it. This image here confirms that there will be no rotating bezel and a fully bezel-less design. Also, there could be a smaller variant with less than 40mm size as is implied by the image that mentions a 40mm model. The upcoming smartwatch will feature a 1.3-inch AMOLED display powered by a newer Exynos 9110 chipset. It is reported to be running the latest version of Tizen OS, as is the case with Samsung's wearables.
The Galaxy Buds will probably be available in Black and White options as we saw leaked renders of the Black version previously. In terms of design, they look very much like the Gear IconX from 2018. They are said to be compatible with the Galaxy S10 reverse wireless charging feature. Despite the appearance of this leak, Samsung has not hinted at the launch of any of these accessories at the event. However, we remain optimistic about the same.