"The Samsung Galaxy Fold is now a reality, and while it is every bit as innovative as you would have expected it to be, it is also equally expensive."
The Samsung Galaxy Fold is no longer the darling of rumour mills — it is real, and how. Samsung took many people by surprise by opening its fervently awaited Galaxy Unpacked extravaganza with the Galaxy Fold, a device that has been so long in the making that you would have almost been forgiven for not expecting to see it any time soon. It's here now, and while you've probably read all about its specifications already, the Galaxy Fold is worth much more than a list of impressive specifications.
The fact that Samsung does not explicitly mention the Qualcomm Snapdragon 855 processor as its chosen computing platform for the Galaxy Fold is tantamount proof of how the device differs from all the run-of-the-mill smartphones around. With that, here's taking a look at six features of the Samsung Galaxy Fold that make it a very unique proposition to savour.
Samsung Galaxy Fold Infinity Flex display
Over time, Samsung has faced a bit of a mixed fortune with its smartphones. They've been premium devices that offer brilliant performance, but somehow lack the panache of luxury like Apple, or the understated brilliance of functionality like Google. One factor, however, that has been Samsung's saviour, is its display. With the Galaxy Fold, Samsung Display took yet another step towards leading on industry innovation.
The Samsung Galaxy Fold includes what is called the Infinity Flex. The first prototype of foldable displays was shown by Samsung in 2011. In 2015, we saw Samsung's signature 'Edge' display with the Galaxy S6 edge — a precursor to this fully folding display panel, which tried to make bendable displays functional while still acknowledging their style-over-substance presence. Fast forward to now, and Samsung latest smartphones have all been about maximising display real estate. After all, they are the ones that created the original no-bezel design.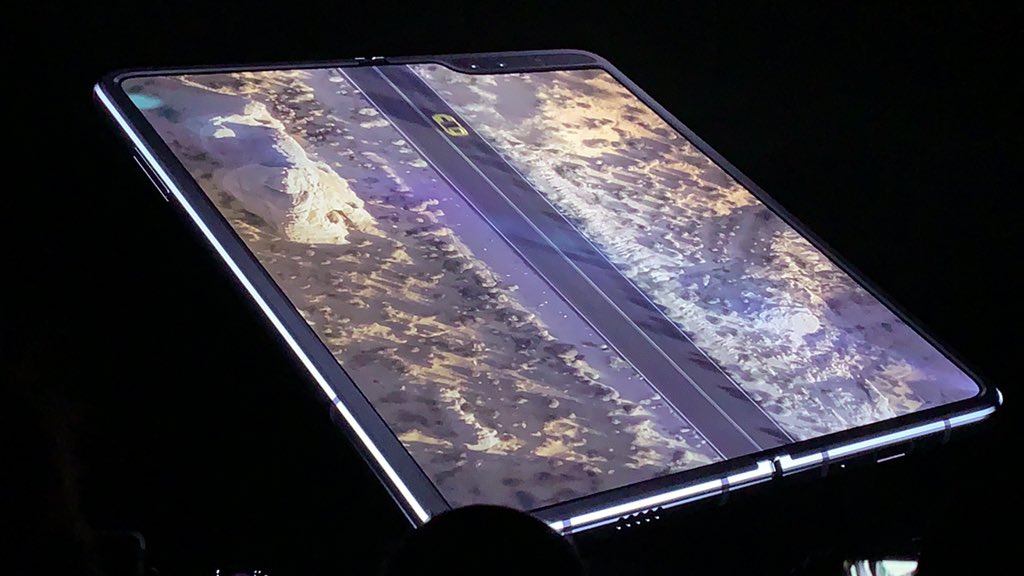 The Infinity Flex display makes for the world's first dynamic AMOLED display — based on traditional AMOLED technology and being durable enough to withstand thousands of bends and folds. Samsung built a proprietary polymer for the Infinity Flex display, which allowed it to make the display thinner by a claimed 50 percent, while maintaining the durability of a typical smartphone display panel. The result? Despite the folding form factor, Samsung could shave off essential millimeters while maintaining durability and compactness.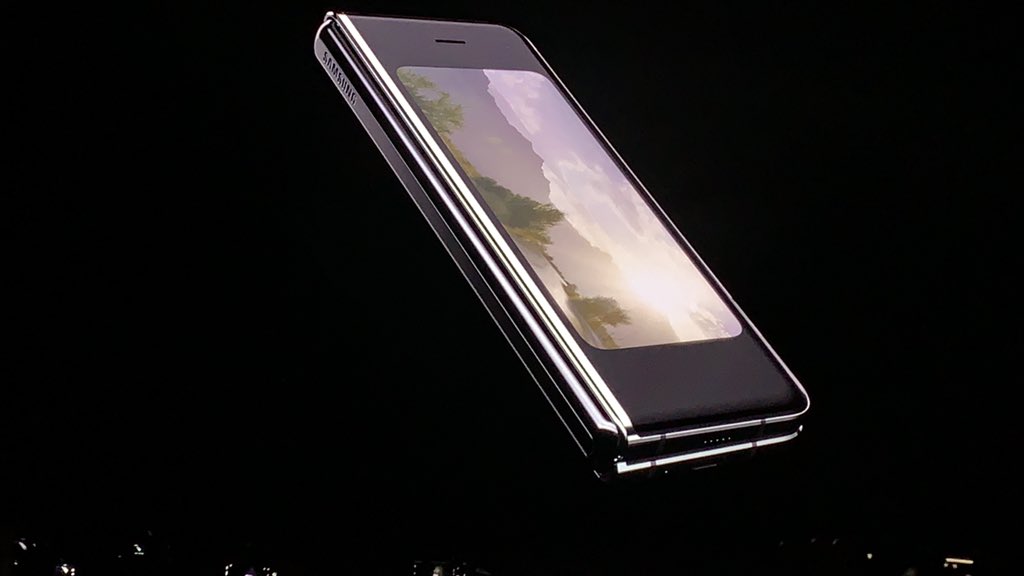 Galaxy Fold also gets a unique screen resolution of 2,150 x 1,536 pixels when folded out into its 7.3-inch tablet form, with 4.2:3 aspect ratio. When folded in, the dynamic AMOLED shuts off and hands control over to a typical, Super AMOLED display panel on the other side. This folded, or 'cover display' (as Samsung calls it) gets resolution of 720 x 1,680 pixels, and even ticks the 21:9 ultra-wide aspect ratio that Sony has been teasing for its upcoming Xperia devices.
Summing up, the Infinity Flex is the single biggest aspect of innovation about the Galaxy Fold, even though it gets a rather big notch on the area that is folded in. It is imperative for the notch to remain in this form factor right now, and in fact, the overall tablet form of the Galaxy Fold looks somewhat like a Pokedex. That's one for the geeks to savour.
A unique, durable hinge mechanism
The second most impressive feature of the Galaxy Fold smartphone is its unique hinge. Not only has Samsung managed to solve the conundrum of designing an efficient fulcrum that does not bulk up the device, it has managed to do so by enhancing the durability of the folding mechanism and made it look good as well. The hinge is a slim channel that seamlessly integrates with the rear of the device to lie completely flat on a surface when in tablet mode.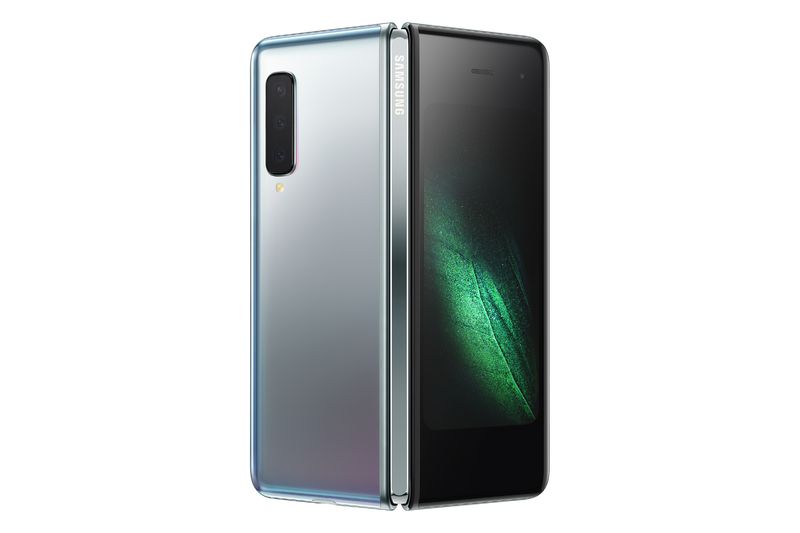 It gets multiple interlocking gears to enable smooth, stepped folding of the Galaxy Fold. From the rear, it closely resembles an S-Pen that has been stowed in between a tablet, and the aesthetics are fairly pleasing. Samsung announced that the hinge is durable enough to withstand at least 100,000 folds with ease, which should be enough number of folds for the device's life cycle.
The hinge mechanism also gets an engraved Samsung logo to enhance its premium appeal, and can be availed in custom colour choices, adding an interesting factor into an already interesting device.
App Continuity
Samsung has also aced the user experience factor, at least on paper. The Samsung Galaxy Fold includes app continuity, a feature that will allow apps to seamlessly adapt between multiple display form factors. With app continuity, the user interface automatically switches into a large screen view of whatever you're doing — editing a document, taking a photograph or simply scrolling through a timeline.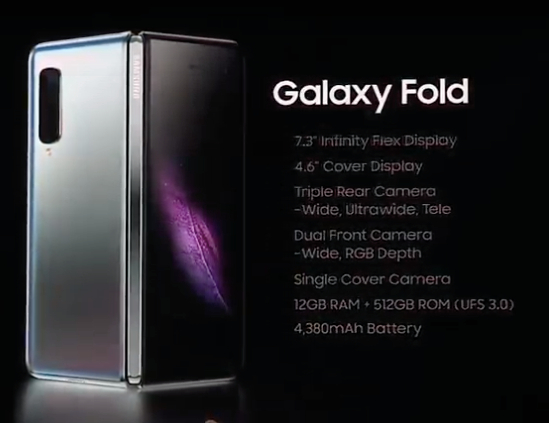 It is this that will help make the device feel seamless and add its claim of being the first generation all-in-one computing device. Apps will also seamlessly open and close between views and use the 12GB memory onboard to store usage points, to make sure no data is lost in transition from the cover display to the full display. App continuity's development kit has already been rolled out to developers, so you may expect a whole bunch of apps soon supporting the expanding display form factor.
Multi-active apps
The second most lucrative software feature for the Samsung Galaxy Fold is its ability to run multiple apps at the same time, hence giving the device serious multitasking credentials. The Samsung Galaxy Fold gets two main display areas, which can either be taken up by a single, widescreen movie or game, or be divided into three zones for multitasking between actions.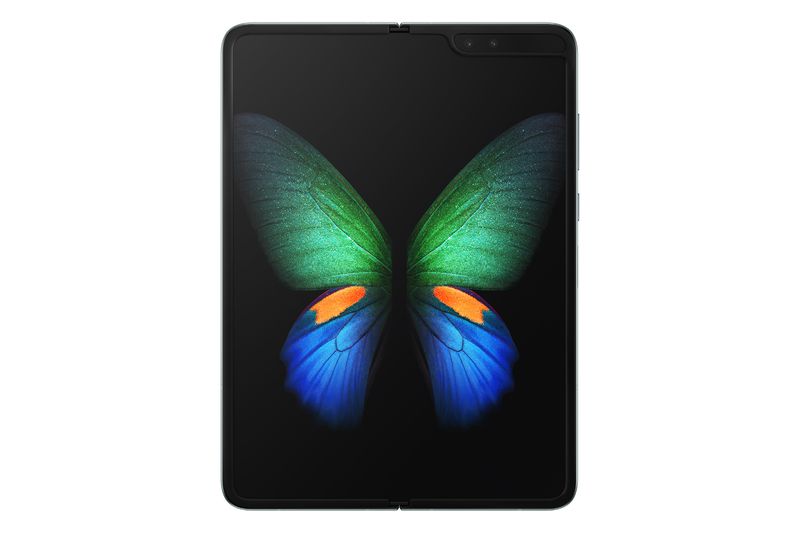 As of now, only Google, YouTube Premium, Microsoft Office and WhatsApp support this mode. Think of this as the iPad's multitasking feature, wherein you can pin two tasks side-by-side, and continue streaming a video while typing a document and responding to messages at the same time. Essentially, the presence of multi-active apps is made possible by the Snapdragon 855 processor, the generous 12GB of RAM and the cutting edge 512GB UFS 3.0 storage medium. It brings the multi-functionality of a conventional tablet into the pocketable, portable form factor of a smartphone.
Party trick done right and made functional by Samsung? We certainly hope so, and will bring you our own opinion of it soon.
Three individual camera setups
To make sure maximum ease of usage, the Samsung Galaxy Fold gets three individual imaging units that, despite functioning separately, ensures that you can click a photograph from any form of the device. It gets a total of six cameras — arranged in a triple-camera, dual-camera and single camera configurations.
The rear of the Samsung Galaxy Fold gets the triple-camera setup, featuring a primary 12MP sensor with variable aperture of f/1.5-2.4, optical image stabilisation and dual pixel autofocus. Its accompanying models include a 12MP telephoto sensor with f/2.4 telephoto lens, optical stabilisation, phase detection autofocus, and 2x effective optical zoom. The third unit is a 16MP unit with an ultra-wide angle f/2.2 lens.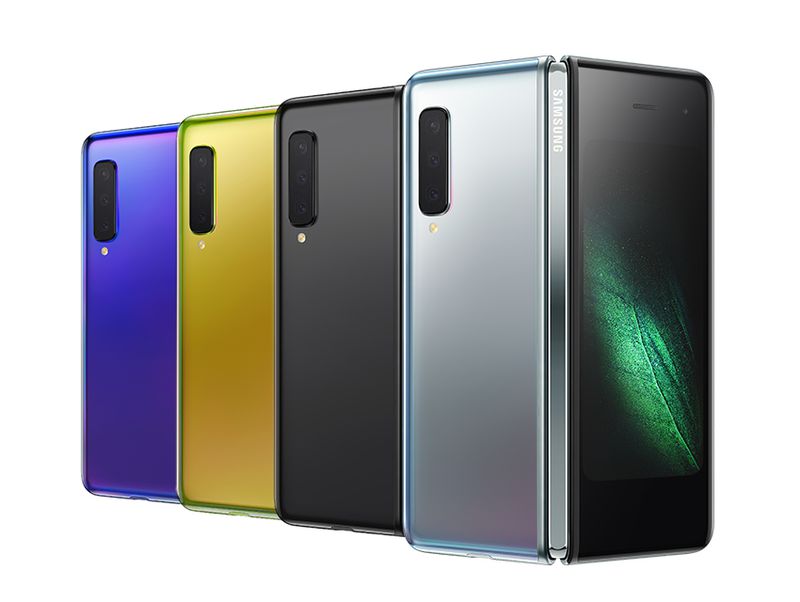 When unfolded, the front camera on the wider part includes a 10MP primary camera with f/2.2 lens, and an 8MP accompanying camera for reading RGB data and gauging depth to create bokeh selfies. It also gets an f/1.9 lens to accommodate more light in tricky conditions. When in cover (folded) mode, the Galaxy Fold will offer you a measly (but functional) 10MP camera to the front, included within the notch up front, with an f/2.2 lens.
The configurations are up to the standards of smartphone photography that we have come to see and expect of late, and the Galaxy Fold does not disappoint here. While the camera's official feature set does not include any augmented reality operations, the presence of AR applications in Samsung's official feature set for its Infinity Flex display also affirms that the cameras may be used for some AR trickery going forward.
DeX gets a new dimension with Galaxy Fold
While this is not an all-new addition, the presence of Samsung's DeX dock integration with the Galaxy Fold gives a new dimension to Samsung's initial tryst with one-device-many-form philosophy. The Galaxy Fold in itself is a multi-form device, shifting between a smartphone and a tablet at will. Furthermore, it has inside plenty of firepower (Snapdragon 855 + 12GB RAM + 512GB storage + optional 5G variant) to make for an always connected laptop.
With DeX, Samsung may just have a device at hand that can adapt itself into a functioning, Android-based laptop that can work well enough for online-based work executions. It is not a feature that Samsung is separately touting, but we reckon that it leaves a wide amount of versatility and possibility for the Galaxy Fold. It may just inadvertently have become the first, truly multi-format device that can replace at least two other gadgets with what it offers.