It wouldn't be wrong to say that the initial euphoria around foldable smartphones has faded a bit, even before these devices managed to reach store shelves. When Samsung and Huawei unveiled their foldable smartphones early this year, the idea seemed quite exciting, but then the Galaxy Fold met with Foldgate, and Huawei's Mate X (in pictures) got delayed. But Samsung has a penchant of making comebacks, and that's what it has done with the Galaxy Fold. The Chaebol went back to the drawing board to improve upon the design so that the issues that reviewers faced with the early units don't arise. While we'll have to spend more time with the handset to figure out whether Samsung's efforts have paid off or not, but for now, let's take a closer look at the all-new Samsung Galaxy Fold.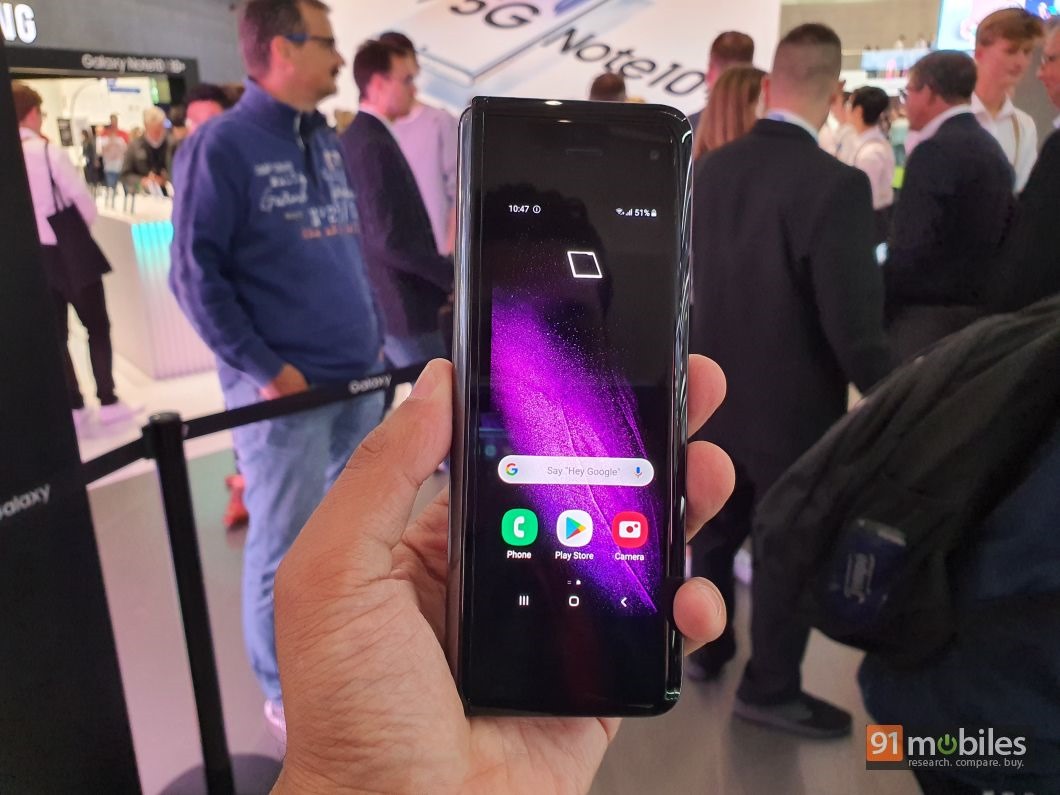 First, let's talk about what has changed. To be fair, you may not be able to see these updates as they're quite subtle. For example, with the early units that Samsung had provided to reviewers, quite a few people mistakenly removed the upper layer of the screen thinking that it's a screen protector when in fact it wasn't. Now the polymer layer extends towards the edges, thus avoiding any confusion whether it can be peeled off or not. Secondly, the Korean company has also made the display in the middle more solid by adding a layer of metal, which will ensure that the screen 'crease' isn't as prominent while providing it robustness. It also ensures that the device makes a reassuring 'lock' sound when it's closed and helps the phone look and feel like a uniformly-designed handset. Lastly, the air gaps when the device is closed have been reduced so that no dust particles or debris can enter, though it's still not completely closed.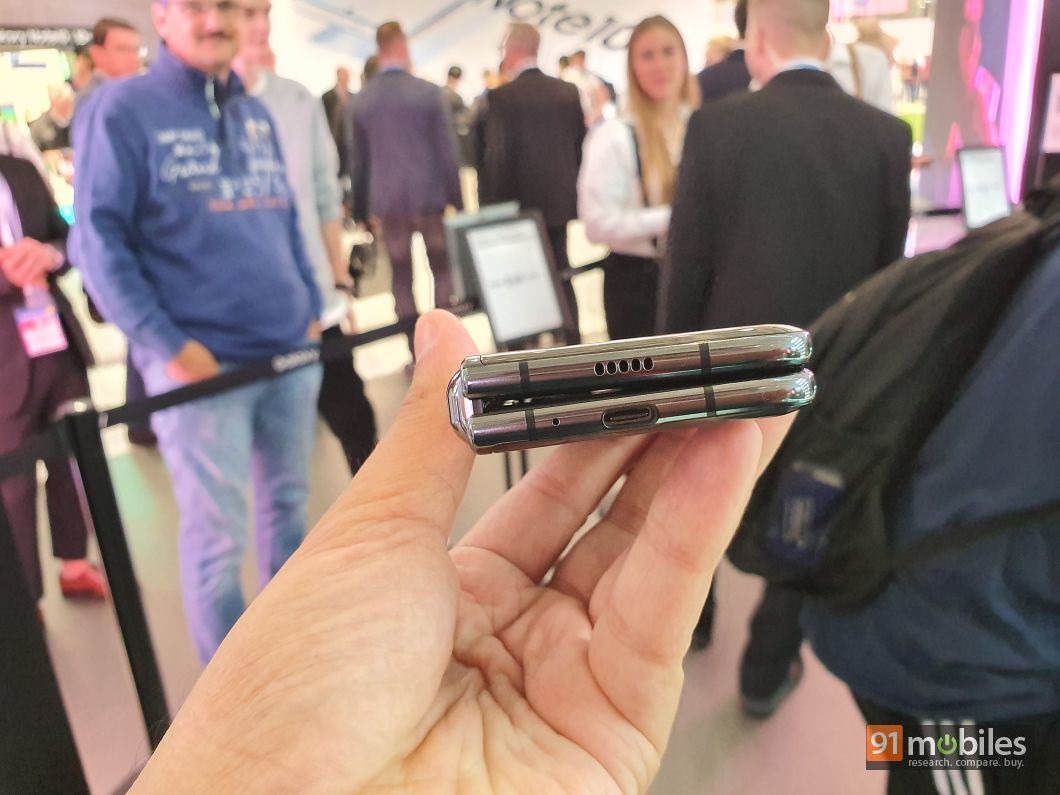 The new Samsung Galaxy Fold also comes with support for 5G networks and hence has been dubbed the Galaxy Fold 5G. It's worth noting however, that it may not launch with 5G capabilities in countries where 5G is yet to be deployed.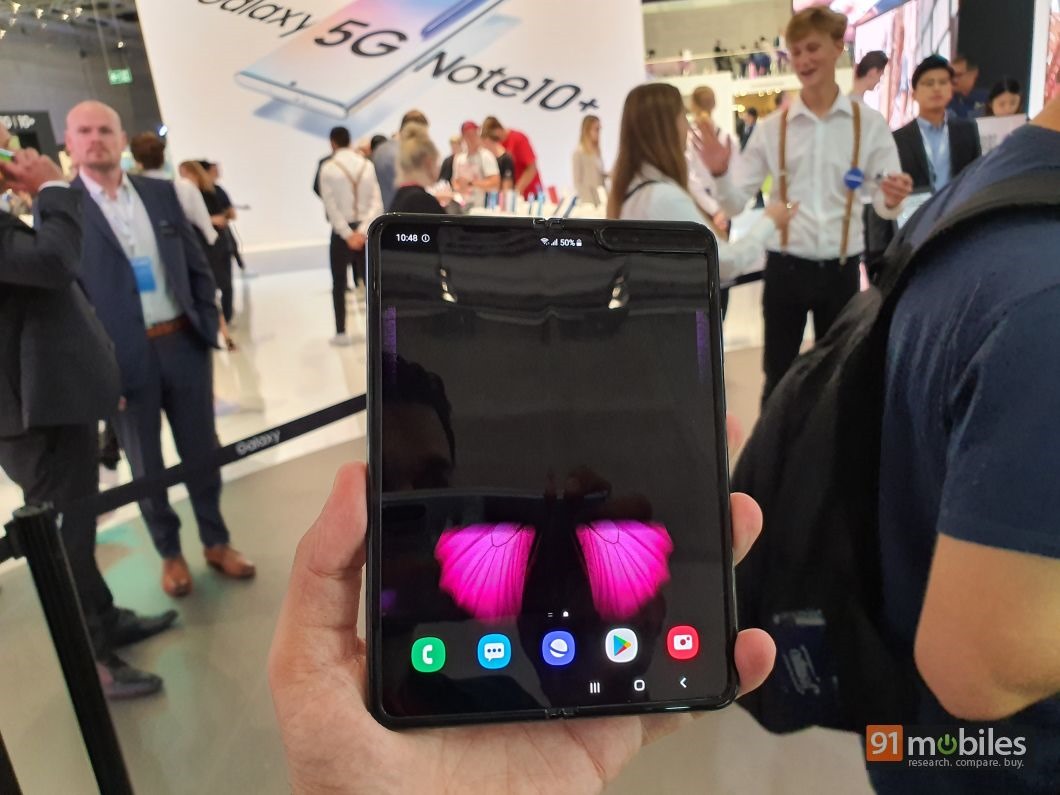 Other than that, Samsung's all-new Galaxy Fold remains the same as before. It features a 4.6-inch display on the outside, which is termed as a cover display. And once you open it up, a 7.3-inch display greets you. The brand's AMOLED panels have been considered the best in the industry, and the forthcoming phone seems to be no different, combining punchy visuals with a large screen real estate. Sadly though, the view isn't completely distraction-free as there's a notch too, which just like the S10+ (review), holds two selfie shooters of 8MP and 10MP resolutions.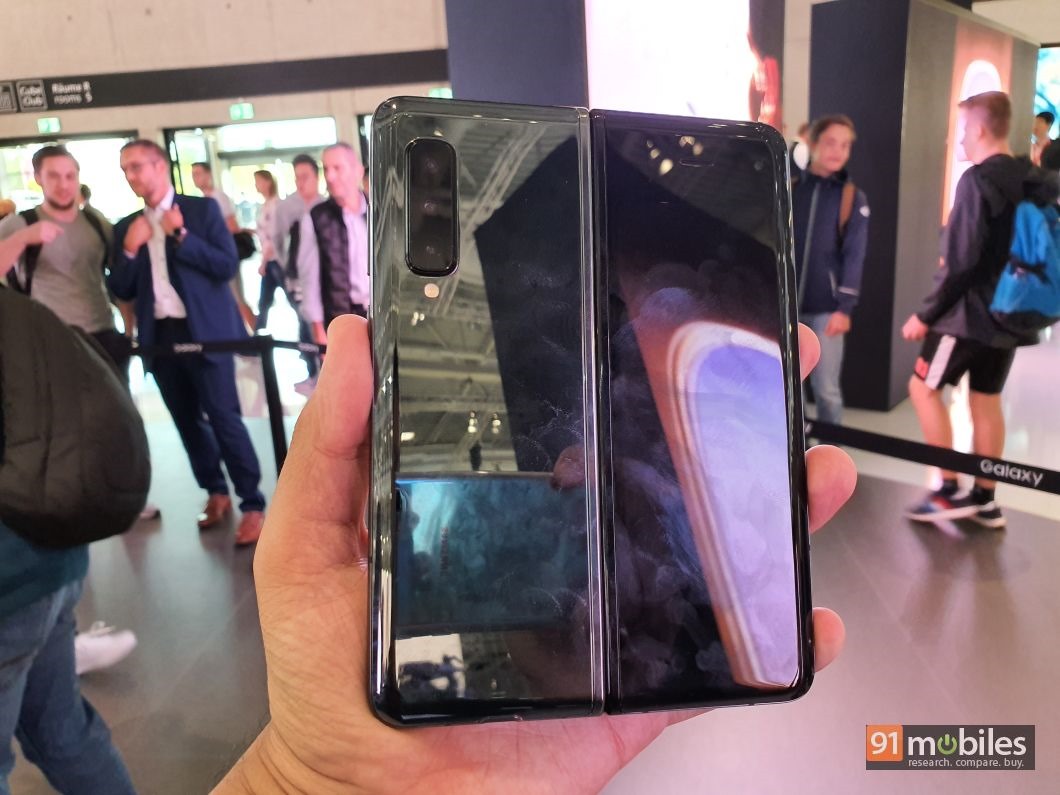 While you might think that the Galaxy Fold is heavy, but its weight has been distributed quite well and I could hold it single-handedly with ease. Having said that, in the folded state the device is quite thick and would create a bulge in your pockets if you keep it inside.
In terms of buttons and port placement, the Samsung Galaxy Fold features a power key towards the right which also doubles up as a fingerprint reader along with volume up / down buttons.
Samsung Galaxy Fold design gallery
Along with the two selfie cameras on the inside, the Fold also sports one on the fascia, which is only active when the device is closed. This is also an 8MP unit. Talking about rear cameras, the triple-camera array has been borrowed from the Galaxy S10+, i.e. a 12MP primary camera with f/1.7 aperture, a 12MP telephoto lens with the ability to optically zoom up to 2x and a 16MP ultra wide-angle camera.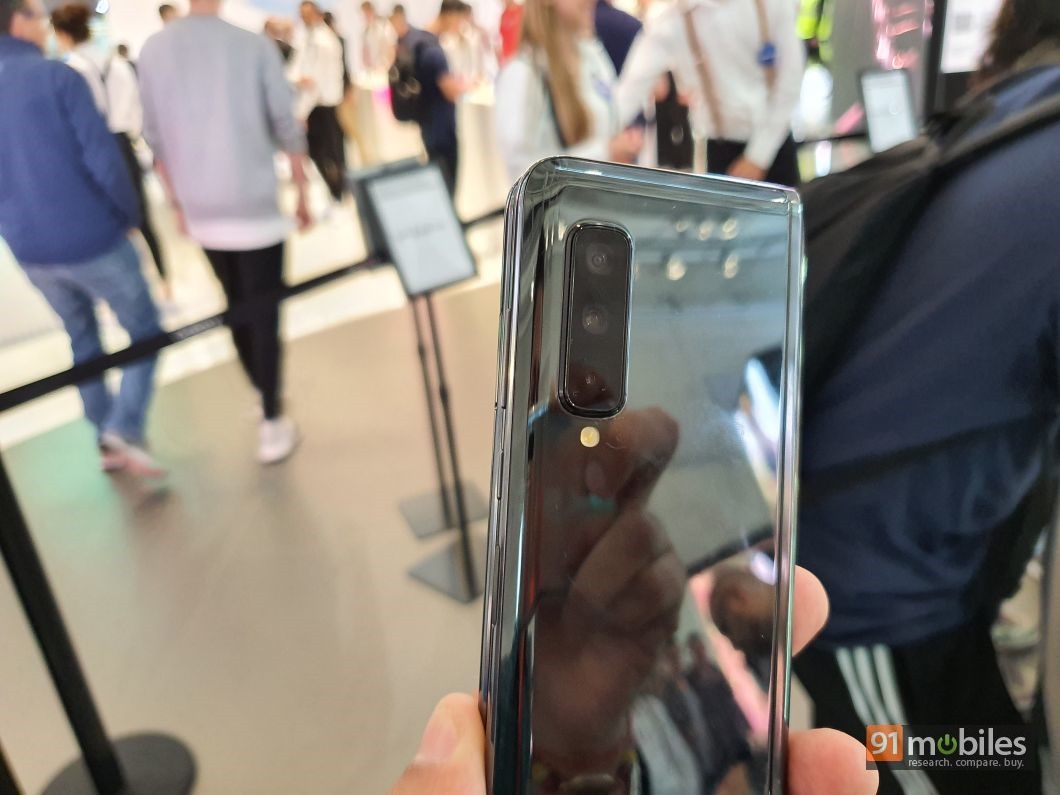 Usability-wise, the cover display is certainly a neat idea, but it seems to be useless for anything beyond handling calls or checking notifications. You won't even be able to type comfortably on the screen either. What I did like was the seamless transition of apps between the outside screen and the 7.3-inch panel as it happens automatically. Of course, you could also take advantage of the large screen at your disposal by opening as many as three apps in a split-screen mode. As if that wasn't enough, you could also open more apps in a pop-up window.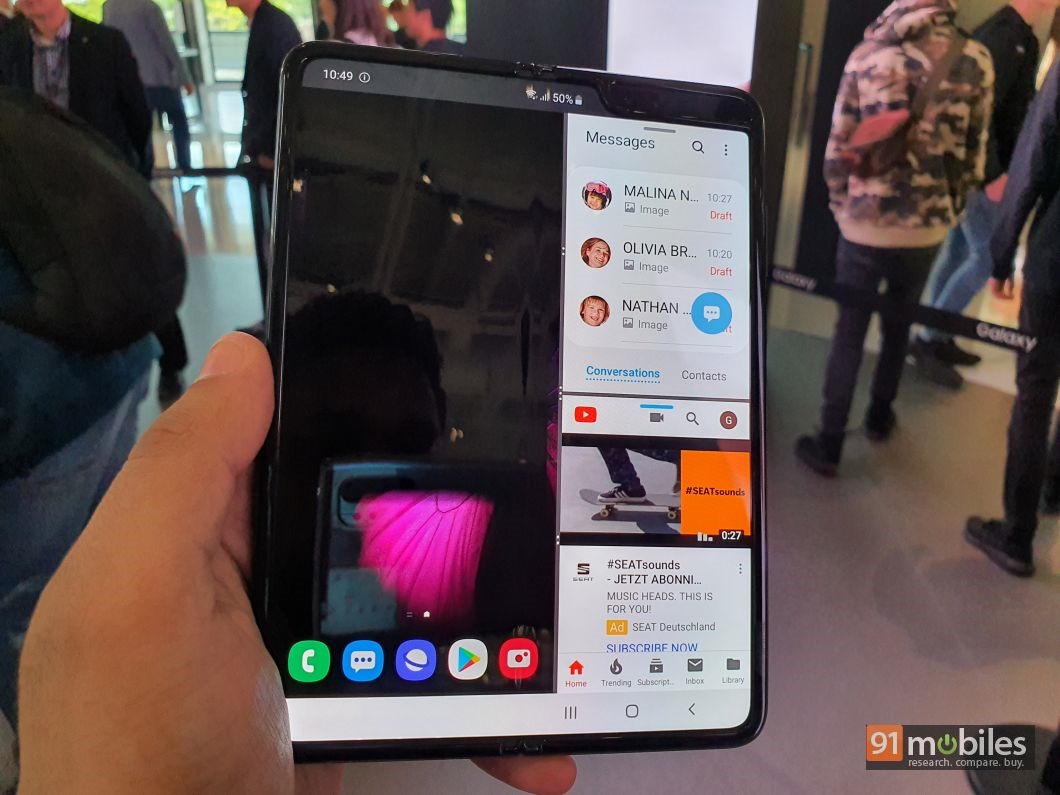 To drive such kind of performance, Samsung's Galaxy Fold 5G relies on the all-powerful Snapdragon 855 SoC, which has been paired with 12 gigs of RAM. There's no doubt this is a beastly combination, and hence the phone should be able to offer smooth usage irrespective of tasks being run. Meeting your storage demands is 512GB memory onboard, though it's worth noting that you won't be able to expand it. Juicing up the phone is a 4,235mAh battery that comes with 25W fast charging support.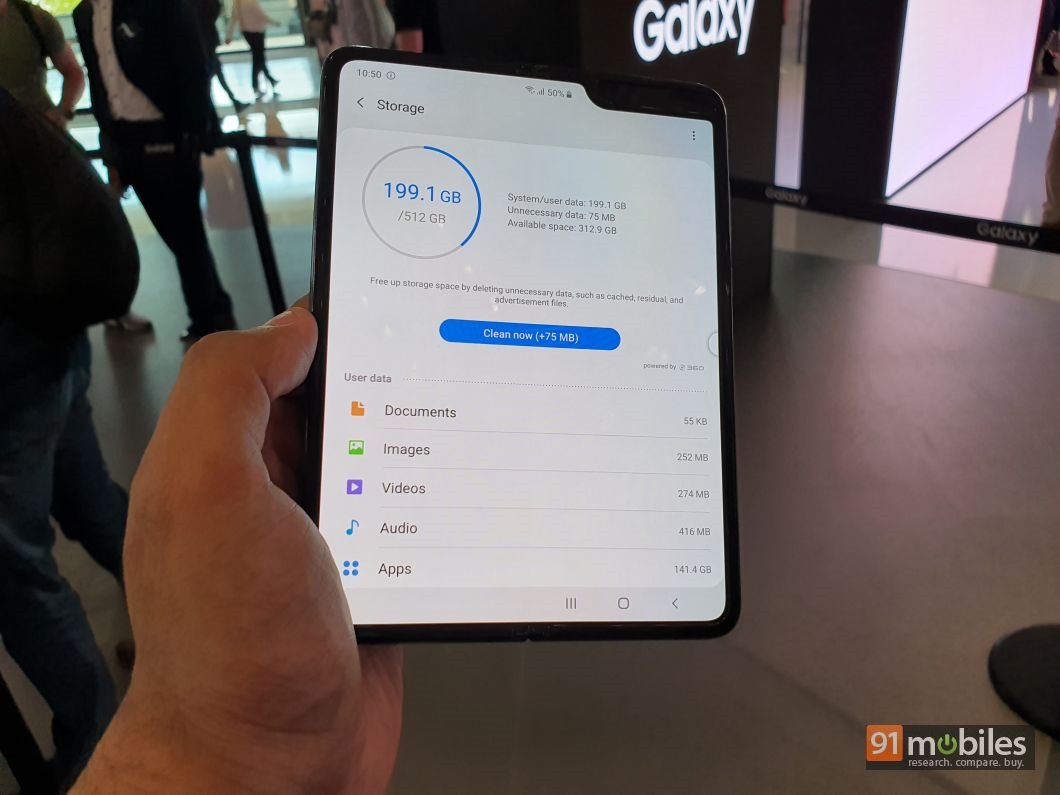 The Galaxy Fold goes on sale in Korea and US this month itself, though the Chaebol hasn't specified its India launch plans. As per our interactions with the brand's spokesperson, Samsung does plan to launch it in India. With regards to the pricing, it remains the same as before ($1,999), which translates to Rs 1,43,000, making it evident that it's a niche product, but definitely make us feel excited about the future…