Let's get this straight – it's easy to get impressed by the Samsung Galaxy Fold (first impressions). This device looks so futuristic and feels so premium in the hand, that I have to say pictures don't really do it justice. Ever since I first got the chance to play with it, I have been of the opinion that it's a highly flaunt-worthy device. However, after I'd spent some quality time with it, I think it's a very usable device too. Allow me to explain.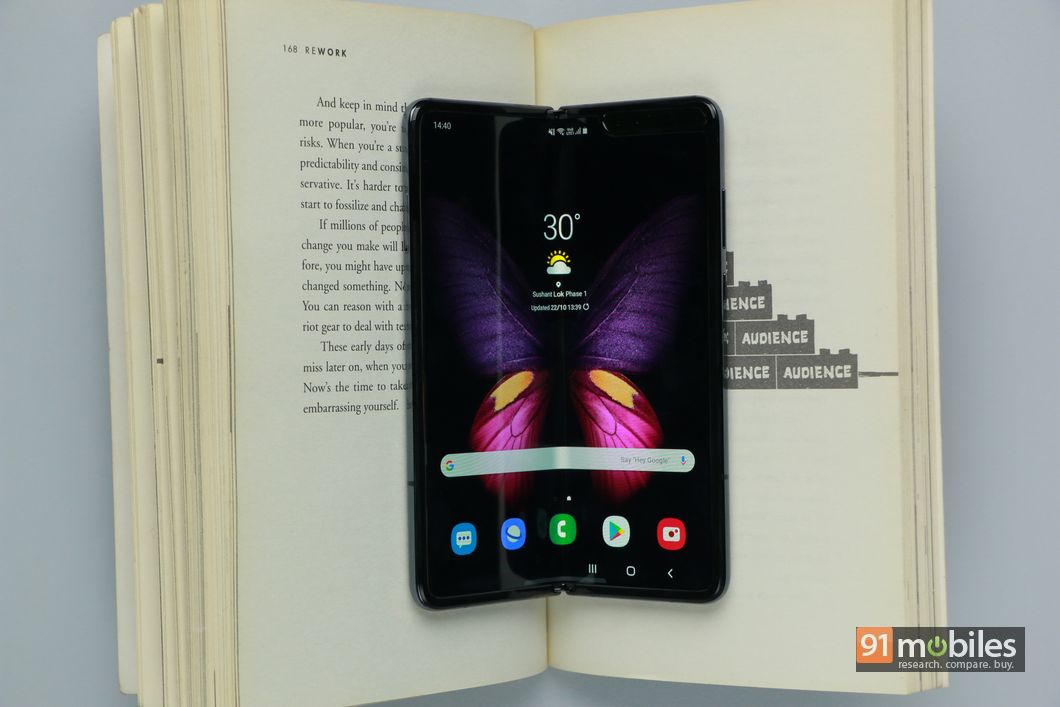 It's a phone. It's a tablet. It's a…phablet? Remember those? The smartphones that offered large screens, almost encroaching tablet territory? Well, thanks to handsets that feature bezel-less displays, phablets have almost disappeared as a product category. And thanks to the Fold's unique form factor, it'd won't be apt to call a phablet either. Yet, the word did pop up in my mind.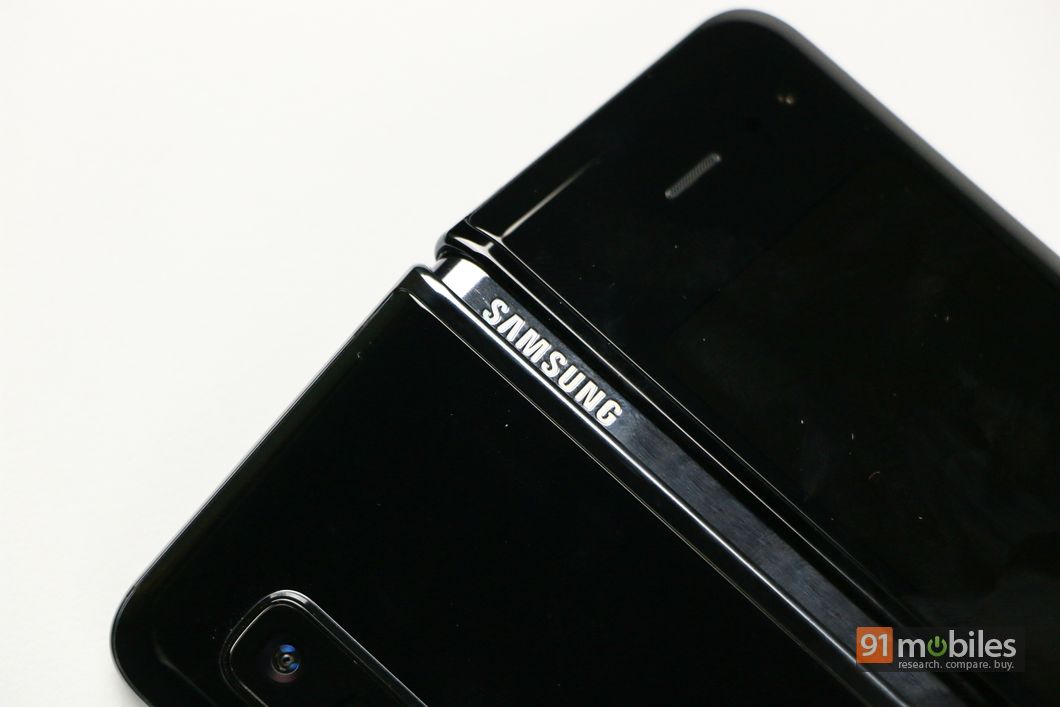 From the get go, the device screams premium. The premium experience starts from the packaging itself, thanks to the gargantuan box, the carbon fibre-finished case (that comes in two parts) and the wireless Galaxy Buds being included in the pack. As far as design goes, the Fold is like none other, and needs a behavioural shift in the way you normally use your smartphone.



When folded, the long form factor means you can't really just cram it into your jeans / trousers pocket and go about your business. Not that the 276g weight would help. That said, the narrow profile makes it great for one-handed usage, especially for basic tasks like handling calls, messaging and shooting pictures or videos while on the move.


There's a fingerprint scanner placed on the spine, along with the volume rocker and the power key. At front, you'll see the secondary display, with an earpiece on top and a 10MP selfie shooter. The 4.6-inch HD+ display handles just like a regular Samsung phone running OneUI, and can be controlled with a single hand. You can do just about anything on that display, and that includes tasks like navigation, playing videos or running games. As you'd imagine though, the small screen isn't really great for media-related tasks, which brings me to…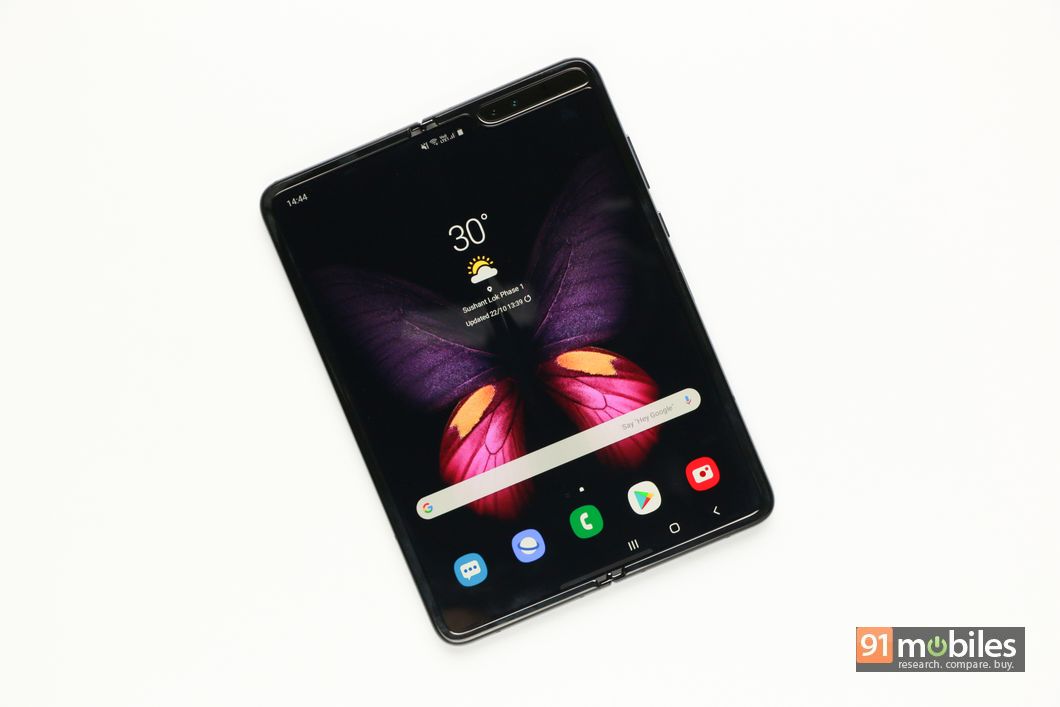 Unfolding the device is an experience in itself. You can't really do it one-handed, and need to use both your hands to reveal the 7.3-inch, 2,152 x 1,536 pixel Dynamic AMOLED screen. Dubbed the Infinity Flex display, this screen is HDR10+ compliant, and is as good as other screens we've seen on Samsung devices in the past. Maybe due to the material this display uses, it does feel as if there's a film permanently applied on it. And, there's no escaping that crease in the middle of the screen. The crease is not only visible, you can feel it too, as you slide your finger across. However, it doesn't really come in the way of the viewing experience, as it's only visible when you hold the device at an angle. Needless to say, the Fold converts to a tablet when opened, with the main screen doing wonders for the app usage / gaming / media experience. Whatever app you open on the front secondary screen continues on to the main screen too, and you can use the app continuity feature in display settings to specify apps that can do the reverse (i.e. continue from the main display on to the secondary display). The main display's 4.2:3 aspect ratio means you'll see black bands on the top and bottom of videos, but most apps and games work fine, utilising the full size of the screen.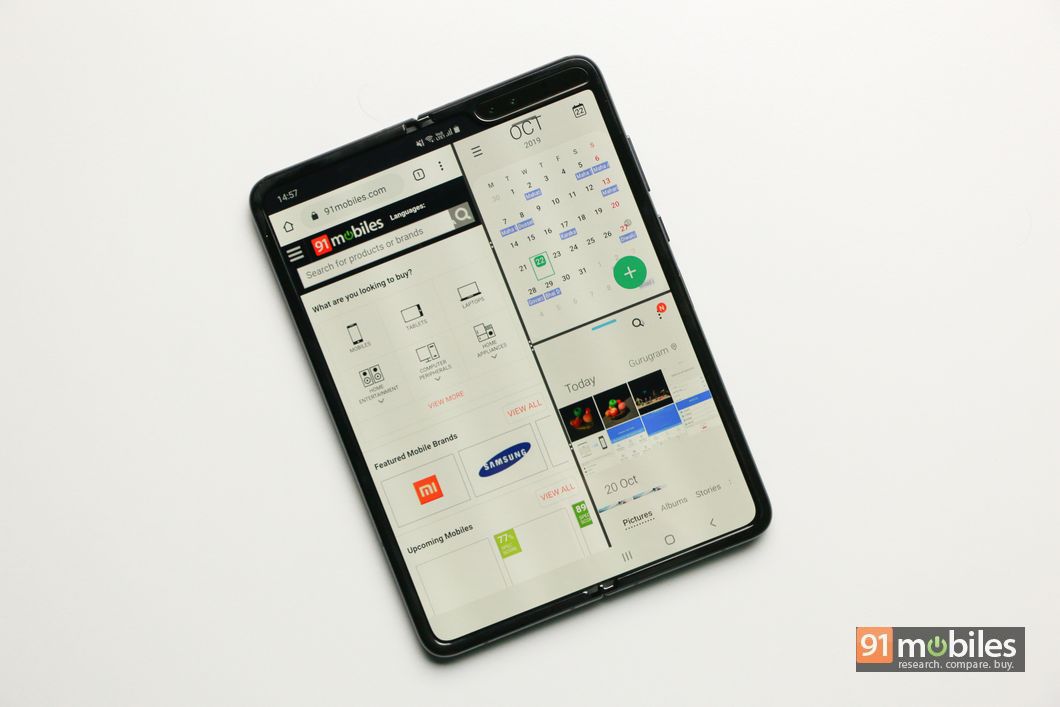 What's more, Samsung has tweaked its OneUI for the Fold and added multitasking features that allow you to use up to three apps simultaneously. This works well for the most part too, once you know how to set up different apps together for viewing. The use cases for this are many – scrolling a web page or using GPS navigation while replying to chat messages, viewing an OTP in messages while doing a financial transaction online, etc etc.

What about the shooters though, you might wonder. The Fold has no less than six of them, placed such that you can capture photos and videos no matter how you hold the device. At front is a 10MP shooter while the rear has a triple-cam array that comprises a 12MP wide, a 12MP telephoto and a 16MP ultra-wide sensor. And when you open the device, you're greeted by another pair of snappers that include a 10MP sensor along with an 8MP depth sensor. While these two work well for selfies and video calls, most users would probably end up using the cover and the rear cameras for their main shooting needs, especially since the device can easily be operated single handedly when folded. There's no dearth of features here, and you pretty much get the full gamut of camera features expected from a Samsung flagship. Scene Optimizer, Flaw Detection, Super steady video, 4K recording, and even recording in HDR10+ is supported. More importantly, the Fold delivers where it counts, churning out very good photo and video quality across a variety of different shooting conditions.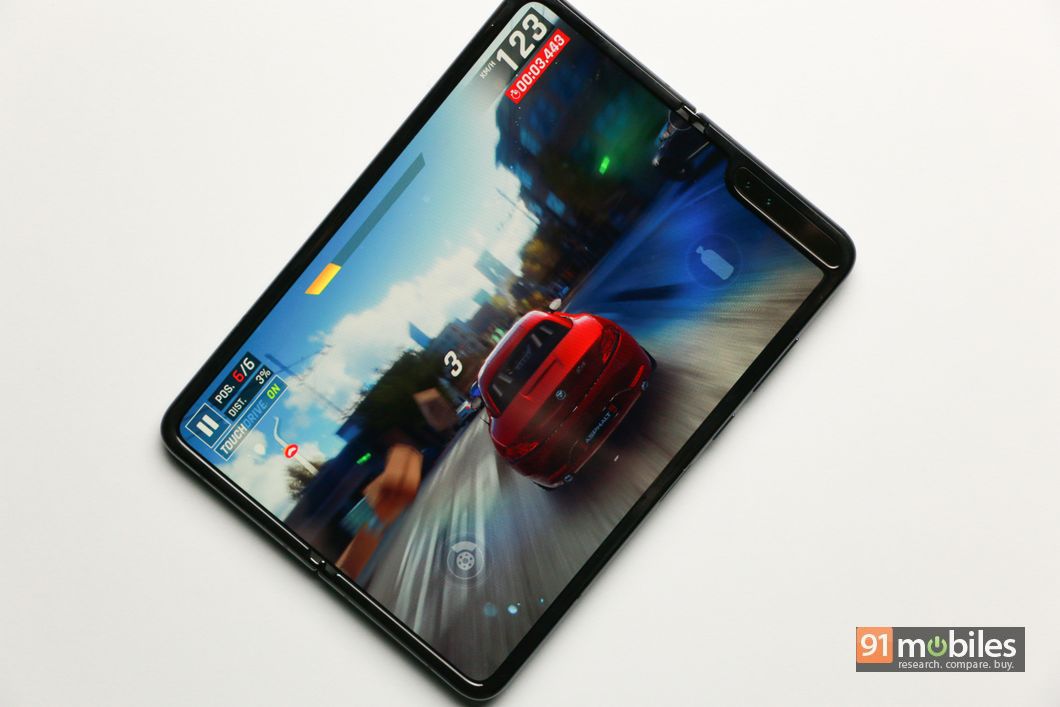 Thanks to the Snapdragon 855 SoC and 12 gigs of RAM it packs inside, performance is as smooth as one would expect. There are no jitters whatsoever, and the device handles everything with aplomb, including multitasking and heavy games. Playing Asphalt 9 is a delight on the large screen, but the fun part is that the game plays well even on the smaller front screen. The dual battery system, with a total capacity of 4,380mAh, lasts long too. Expect it to last a day with medium usage. Fast charging is supported, and you can choose to juice it up wirelessly. It also supports Wireless Powershare so you can charge the bundled Galaxy Buds directly using the Fold.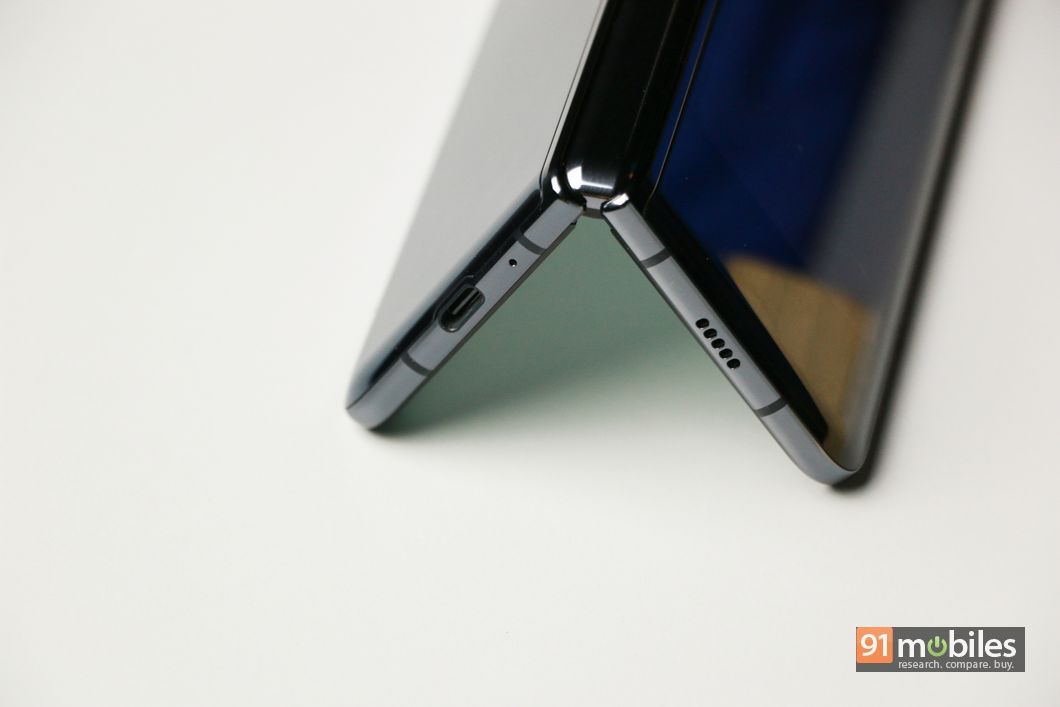 By now, you must have figured out that the Fold isn't just a beauty. It has brain as well as brawn, and delivers on most counts. However, it's not without its share of flaws. Let me address them one by one. First up, it doesn't carry an IP rating, a feature that can be boasted by pretty much all premium flagships out there. It Samsung's defence though, the unique form factor probably doesn't allow for that. Next, it's a single SIM device. Globally, the Galaxy Fold is available with an eSIM that allows one to use it as a dual-SIM device, but that feature isn't available in India yet. And addressing the elephant in the room, you do need to be careful with it. For the brief period I had the device in my possession, I handled it with kid gloves, and if you're eying one, I'd urge you to do the same too. Don't get me wrong – the device seems well put together, but still, it may not be able to handle rough usage over the long term. The folding mechanism has supposedly been tested for up to 200,000 folds. Still, I'm sure you'd want to protect your investment and wouldn't like to challenge the brand's claims.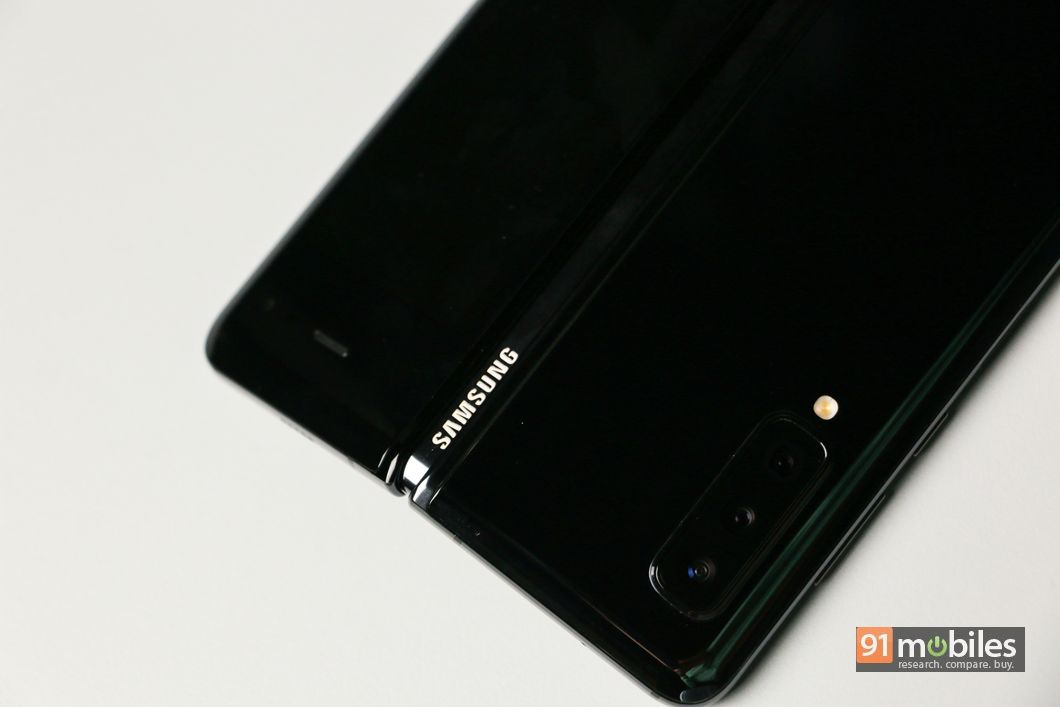 The Samsung Galaxy Fold is a first-gen product and isn't perfect by any means, but in my opinion, could pave the way for the smartphones of the future. A vertically-folding clamshell successor of the Fold is already rumoured to be in the works as you read this. The Fold stands out due to its uniqueness, and is the ideal device for you if like to flaunt your gadgets. It's bound to turn heads and kickstart conversations wherever you take it. And if you're a power user with a penchant for experimenting, it won't disappoint either. Just. Be. Careful.