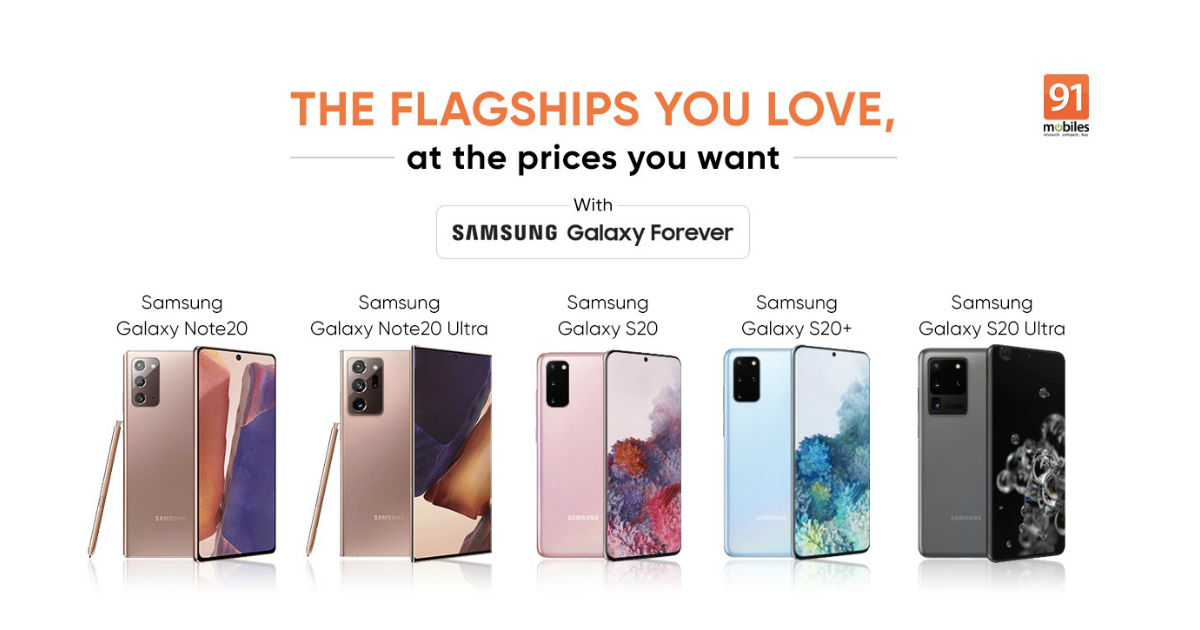 Buying a premium smartphone is an aspiration for most Indian buyers as it signifies their move to a new class. However, buying a premium smartphone and experiencing the same is something that not everyone can afford. At least that was the case till now. In its quest to make owning premium smartphones easier for Indian customers, Samsung has now introduced the Galaxy Forever program. Available for the Galaxy S20 and Galaxy Note20 series of flagship smartphones, this program lets you own a new flagship handset by paying just 60 percent of the cost! This program also covers one year accidental and liquid damage cover with Samsung Care+ and after one year you have three flexible options to choose from. Isn't that awesome? With such an attractive proposition, Samsung Galaxy Forever may become a gamechanger for the Indian market! Let's find out more about this amazing new plan.
How Samsung Galaxy Forever works
Pay 20 percent in down payment, 40 percent in EMIs
Under the Galaxy Forever program, you can own a Galaxy S20 or Galaxy Note20 series smartphone from a Samsung store. Here, you can select the handset and own it by paying just 60 percent of its actual cost, instead of the full 100 percent.
But what really makes the program easy on the pockets is the payment structure: you pay just 20 percent of the phone's cost as a down payment initially, while the remaining 40 percent is converted into 11 easy EMIs. This literally means you will be able to own a Galaxy flagship smartphone at just 60 percent of its actual cost.
Watch this video to know more:
Your options after owning the flagship for a year
Once the tenure of 12 months is over and you've paid your final EMI, you can avail any of the three following options
First one involves the simple payment of the balance 40 percent in seven easy EMIs. Thus you can continue to own your favourite Galaxy.
The second choice is to return the Galaxy smartphone to nearest Samsung Store.
Third choice is surely the most exciting one: after experiencing a flagship smartphone for a year, you can simply return it and upgrade to the next-flagship smartphone! Samsung launches industry first innovations in its flagship smartphones every year and it makes sense to be in line for its latest offerings to keep up with all the latest technologies!
Watch this video to know more:
What if your phone's screen gets damaged in these 12 months?
That's where this program provides an icing on the cake. While the Samsung flagship devices enables work and play on the move, there also runs a risk of any accidental damage.
Since Galaxy Forever program comes with Samsung Care+ that provides cover for accidental and liquid damage for 1 year, you can simply return your smartphone or return and upgrade to a new flagship even with a cracked screen. Samsung will take back the smartphone and no questions will be asked.
After changing the rules of what a smartphone can do, Samsung has brought in a change in the way one can own them with Galaxy Forever program. This surely is the smartest way to own and experience the Samsung Galaxy flagship smartphone and keep experiencing the latest technology forever, as the program name suggests. It and can be availed at your nearest Samsung Store. So, what are you waiting for? Get yourself a flagship like no other at a never-seen-before price!
To know more visit: https://bit.ly/3nJEXlm